23 Travel Tips You Need To Know Before Visiting Vietnam
Planning to visit Vietnam soon? There are certain things to know before visiting this country which is rich in culture and has a mind-blowing history. This SE Asia country is not small and covers a little more than 1600 Km from south to north.
Vietnam will not just shock you with its culture but the sheer number of bikes on the streets might give you a scare as well. 
I backpacked in Vietnam for a little over a month and here are my best 23 Vietnam travel tips that will help you in planning your next trip to Vietnam.
1. Keep your visa ready beforehand
While most countries are required to have a visa beforehand, there are still a handful of countries that can get a Visa on arrival. 
Countries like the UK, Germany and France have visa-on-arrival options available, but it only allows a stay for 15 days. It's always better to check the rules with your embassy and apply a week before you arrive because it takes 3-4 working days to process the E-visa.
Here is a list of countries that have visa-on-arrival options and the no of days one is allowed to stay. 
There are also a lot of websites promising you to provide an E-visa but the authentic link is this one: https://evisa.xuatnhapcanh.gov.vn/trang-chu-ttdt
The Vietnam visa costs 25$ for all countries!
I have seen people pay $100 extra at the airport because they thought their country had the visa-on-arrival option.
Here's a guide explaining how to apply for Vietnam travel visa for Indians
2. What is the currency in Vietnam?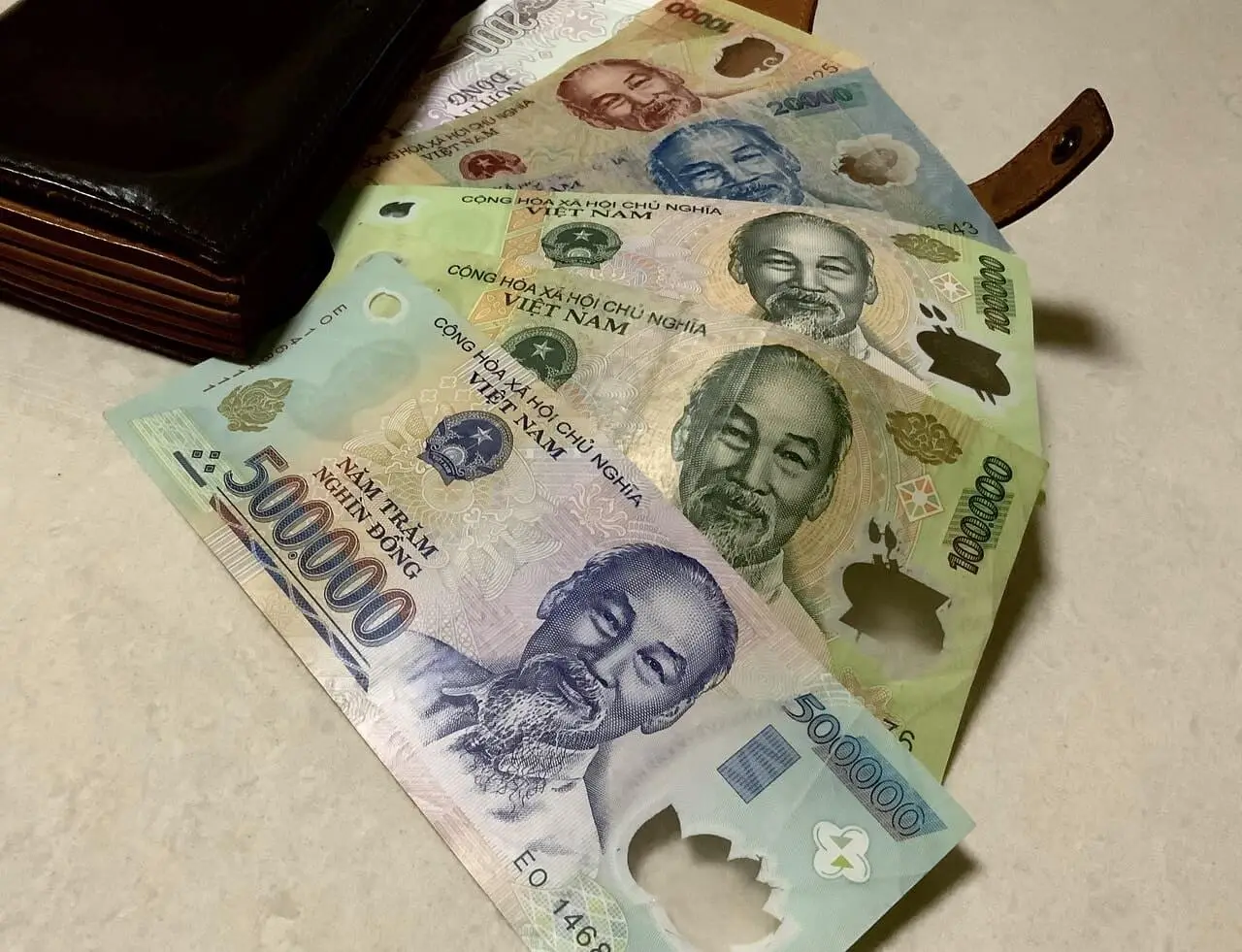 The official currency of Vietnam is the Vietnamese Dong (VND). It is best advised to carry Dollars or Euros and get them exchanged in Vietnam. The best rates in return can be found at the red and gold jewellery stores in Vietnam.
Remember the currency notes in Vietnam are in thousands so 40$ would make you a millionaire. Be careful while handling the currency notes as some of them are very similar.
You can also go to the banks, but the rate isn't as good as the jewellery stores. Withdrawing money from the ATMs is also an option but there is always a fee of 25k-30k VND.
Do not get your money exchanged at the Airports that's where you get the worst rates. The best is to do a minimum exchange there so you can reach your accommodation.
3. Choosing the Right Travel Insurance
While Vietnam is a safe country to travel to, it's always great to have insurance. It'll not just help you with theft but also any accidents, medical coverage, or loss of baggage. It'll be great if the insurance can also cover you with bike theft (mostly don't cover this).
It's always great to have travel insurance while you're on the go and after reading a lot about them I would suggest World Nomads who have multiple plans to choose from. For Indians I would suggest taking insurance from Reliance General Insurance bought via Policy Bazaar.
Travel insurance on Policy bazaar starts from 30₹/day
4. What is the best season to visit Vietnam?
Wondering when is the best time to visit Vietnam so your trip is not spoiled? Vietnam is a tropical country and has its fair share of monsoons. Heat and humidity are other things you must take note of. 
Central and South Vietnam get post-April and until the monsoons in July. On the contrary, you can also experience some snow around Sapa in the months from December to April.
The best time to visit Vietnam would be from September to April. Another thing to note is the burning season which starts in early March and the north of Vietnam is affected by it so it would be better to get done with North Vietnam first if you are travelling in March/April.
5. How to get around in Vietnam
Vietnam is a long country with a distance of 1600+ km from North to South. If you are on a short trip and have no budget issues, flights are a great option to travel around, and they save a lot of your time. VietJet is a great domestic carrier to fly around Vietnam.
The other two options to travel around are Bus and Train. While trains are more comfortable,  they are always delayed and a little more expensive than the buses.
Buses are the most ideal way of transport if you are planning to travel on a budget. There are two options to choose from in the buses: the normal sleeper bus and the VIP bus (is more spacious and comfortable).
12GoAsia is a great platform to book buses in Vietnam. Alternatively, you can also ask your accommodation for their help in booking you the bus locally which might be a little cheaper than 12GoAsia.
The trains as well can be booked on 12GoAsia, but you can also book them on Baolau which is an even more affordable alternative and popular booking platform in Southeast Asia.
6. How to get around locally
Majority of the time you'll be staying in areas when everything is at a walkable distance. The numerous ways of getting around the cities include local buses, taxis, Cyclos (Cycle rickshaws) and motorbike-taxi.
While all the above options are generally cheap to travel, knowing how much it will cost to your destination is a task.
The easiest solution to this is using Grab or Gojek, they are the Uber of the West. I used Grab most of the time as they had the least wait time and better prices. Grab offers both motor-bike taxis and Taxis. 
Pro tip: If you have two small bags while travelling you can even find a Grab bike taxi from Airport to your accommodation.
7. Getting a local sim card
One of the most important things when reaching a new country is getting a local sim card. If you're there for a short time you can at least think of travelling without a sim card because you can still find Wifi in a lot of places in Vietnam.
The two best mobile operators in Vietnam are Vinaphone and Viettel. The packs are affordable and cost as low as $5-$6 for a month's usage of Data.
The same trick that applies to money applies to sim cards as well, don't buy them from Airports as they are super costly.
Alternatively, you can get a sim card either delivered to your accommodation or you can have them ready at the airport with Klook which is a great option as well.
8. Be ready to haggle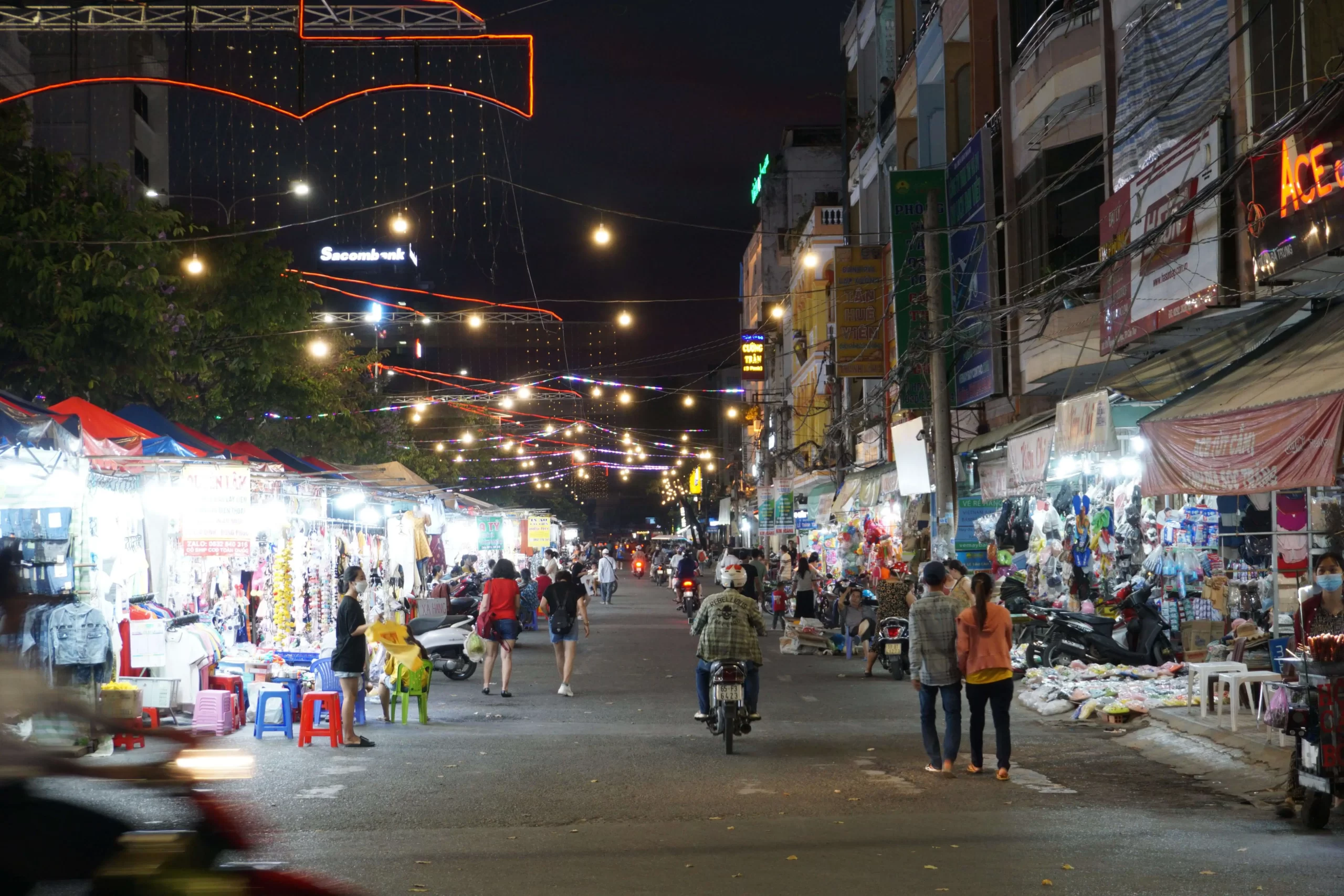 Vietnam is one of the cheapest countries to visit in South East Asia or even the world. So there's a lot to shop for, ranging from clothes, souvenirs, coffee and many other things.
But one needs to know that there is always a difference in the price that the locals pay and the tourists pay. The price for tourists is always highly inflated so be ready to do your share of haggling.
A quick tip would be to ask for a lower price than you are ready to pay so the negotiations end in your favour. Don't be afraid of haggling and asking for a cheaper price because if it was not profitable for them they'll refuse it and you can move on and get a better understanding of the price.
9. Vietnamese phrases that will help you around
A large part of Vietnam still doesn't speak English though in the tourist areas the locals are well averse to it.
It is always nice to learn a few local terms which makes the locals as well happy when you try and learn their language.
Here are a few simple terms you can learn in Vietnamese which will help you during your trip:
Hello – Xin Chào(sin chow)

See you soon – Hẹn gặp lại (hen gap lie)

How much is it – Bao nhiêu? (bow nyew)

Thank you – Cảm Ơn (gam un)

Yes – Dạ(yah )

No – Không(comb)

Excuse me – Xin Lỗi (sin loy)

More spicy please – Một chút cay (mote choot kigh) (My favourite)

Is it vegetarian – có phải là món chay(co fai la mon chai)

I don't eat meat – tôi không ăn thịt(toi khon an thit)
Cheers – Một, hai, ba, vô! (mote hi ba yo) They say it 3 times and then drink
10. No tipping needed 
Tipping is not a big thing in Asia, especially in restaurants where you have your food it's not mandatory at all. Though some of the big restaurants do charge a service fee of 5-10%.
While on a tour or a cruise, it's ok to give a tip if you are happy with their service. Sometimes you'll be asked specifically for a tip, again it depends on whether you liked the service or not.
11. Tap water is not drinkable/get big water bottles
A big mistake in Vietnam would be to drink tap water just like in other Southeast Asian countries. Tap water is not safe for drinking. 
But the real shock is when you have to pay for drinking water almost everywhere, even at the hostels for a refill you will be asked to pay. 
The best option for budget travellers is to buy big cans of water(5L) and use your reusable water bottles. 
12. Planning the Vietnam itinerary
Planning a Vietnam Itinerary might be confusing because the country is big and there's so much to do.
My best tip would be to start travelling Vietnam from Hanoi (North Vietnam) and come down south to visit all the places. The most amazing places are somewhere in between north and central Vietnam.
You would ask what's an ideal time to explore or visit Vietnam. To be honest, I spent a little over a month and I still couldn't cover the major tourist spots. 10 Days would be a great time to visit some of the most amazing places and indulge in the best adventurous activities in Vietnam
13. Travel adapter
You might need a travel adapter in Vietnam because the typical plug types are A (2 Flat Pins), C (2 round pins) and F (2 round pins and 2 earth pins). It's a little different to what we have in India, so while your mobiles would charge if you have 3-pin plugs(mostly in laptops) you'll have an issue charging them.
For other countries, it's the same so they should have no issues and might not always need an adapter.
Here is also a packing list that'll you need when you're planning your trip to Vietnam
Here is the travel adapter I'm currently using, which I bought it from Amazon
14. Apps that you need on your phone
These few Apps will make your travel even easier in Vietnam whether it would be in terms of money conversion, travelling around or conversing with the locals
15. Temple etiquettes that you need to know
Vietnam has a rich culture and abundant temples around the country. The thing that shocked the most was a lot of tourists just didn't care about the temple etiquette and just walked straight into the temples with their footwear on. Here are a few things you should take note of when visiting the temples in Vietnam
Please remove your footwear outside the temple premises

Cover your shoulders: Carry a stole for women or a shirt in the case for men

Cover your knees: Carrying extra trousers or pants in the bag always 
16. How best to book the tours
Vietnam has a lot to offer from going on a cruise on the famous Halong Bay, riding a bike in northernmost Vietnam for 4 days covering the Ha Giang Loop, exploring the underground Cu Chi War Tunnels or visiting the biggest cave in the world Hang Son Doong. 
While it's sometimes better to book the tour once you have reached your destinations, because of different reasons like weather and cost. At other times it's great to have your tours pre-booked because some of them fill quickly.
You can book the tours from these companies after comparing the prices Get your guide, Viator and Klook.
17. Street food
Well, there's nothing else like street food in South East Asia, it's cheap and delicious at the same time. 
Vietnam is famous for some of its street food and they can be found in shops, street markets or from hawkers on the road.
When in Vietnam you have to taste the Banh Mi which is also one of the best street foods in the world. Other prominent street food dishes you must try in Vietnam are Pho(Rice noodle soup), Chè(Vietnamese sweet dessert) and Bánh tráng nướng(Vietnamese Pizza). These dishes are so cheap and would cost anywhere between 50 cents to a few dollars.
But you also need to be very careful as it's street food and might affect you the next morning :p
18. Drones are not always allowed in Phu Quoc
I had previously seen a few Instagram stories of travellers and their drones being not allowed on Phu Quoc island. When I did my research I found out that sometimes the travellers were not allowed to carry their drones because they were directly flying from a different country into Phu Quoc Island. 
Nothing of this sort has been experienced at the other Vietnam airports. In my opinion, it would be better to take your drone via boat or if flying directly into Phu Quoc Island. Also please check with others who have travelled recently and other travel forums.
19. Crossing the streets in Vietnam
Being from India i thought I was ready for this adventure, yes, it's an adventure to cross the streets in Vietnam. Though there is a lot of traffic the vehicles are always on the run, and no one stops for you.
It is easier when you are on a pedestrian crossing, as everyone follows the traffic rules. But in instances when there is no crossing, going across the streets is a challenge. 
The saying "With experience, you'll get better" is an apt representation of how one should deal with crossing the streets in Vietnam. 
20. What is a rough budget for Vietnam?
Tammy, who is a travel blogger, did a poll on Twitter about the cheapest countries to travel to in the world and Vietnam was the winner. Undoubtedly, Vietnam is cheap to travel but you might still wonder what should be the budget to travel to Vietnam.
If you are a budget traveller you would be surprised to know that Hostels in Vietnam start from even $2 per night. A meal on the streets would vary anywhere between $1-4. Renting a motorbike is usually $5-8. 
Now these are very budget options and not everyone wants to travel on a budget, thus here are the three ranges for each type of traveller
Budget Traveller: $25 – 35 per day would be an ideal budget for budget travellers
Medium Budget Travelers: $40 – 50 would be ideal for travellers who want to have some luxuries
Luxury Traveller: $80-100 this budget will let you have an amazing luxurious trip.
Note the above costs are based on per person and include the cost of accommodation, meals, rental and approximating the tour costs. It does not include flight and visa expenses.
21. Don't forget to shop in Vietnam
By this time, you would have understood how cheap Vietnam is. You can spend a good amount of money on Shopping here and get loads of stuff for yourself and your family.
I would even suggest just getting a carry-on while visiting Vietnam and buying clothes here. Vietnam is also famous for tailor-made suits and blazers which are delivered within 2 days. All you have to do is choose the fabric and the style and they start from less than $100. A lot of these branded sportswear by Adidas and Nike are also made in Vietnam.
Vietnam is the 2nd largest coffee producer country in the world and for coffee lovers, you have a lot of varieties to choose from.
Apart from Clothes and Coffee, you can also buy souvenirs(don't forget the lanterns) and other house decoration items from Vietnam.
22. Vegetarians don't worry
Being a Southeast Asian country you might wonder what Vietnam has to offer for vegans/vegetarians. And I kid you not when I say this, some of the best food dishes I had in Vietnam were either Vegan or Vegetarian. 
Ranging from Banh Mi with mushroom to tomato pepper sauce tofu, the Vegan/ Vegetarian dishes are going to delight you when in Vietnam.
The best way to find these places is to look for the words quán chay' or 'cơm chay to find a vegetarian place to eat. You can also search for vegan places on google maps to find the best vegan restaurants. 
Alternatively, you can also find vegan and vegetarian options on Happy Cow .
23. Must do things in Vietnam
This has to be my favourite section of the best things you should know before travelling to Vietnam. Which are the places to be not missed and must-do activities in Vietnam?
Starting with the best thing I loved in Vietnam, has to be the canyoning tour in Dalat. It was so adventurous and filled with so much adrenaline rush, this is a must activity you can not miss in Vietnam. 
The other activity would be exploring the caves in Phong Nha Ke Bang National Park. This is also where the largest cave in the world exists, but it is expensive. Thus, I took a day tour exploring the caves and swimming under them which was the highlight of my trip when I was in Vietnam.
Other things you should not miss include visiting Ninh Binh which is the Halong Bay on land. Ninh Binh is also famous because the movie Kong was shot there. You need to go on the tam coc boat tour and also climb the Hang Mua Viewpoint. 
Finally you need to do the Ha Giang loop, no matter what this bike trip can not be missed when you are exploring Vietnam.
Lastly, an unpopular opinion but Halong Bay is not worth the money, you can find similar and much more beautiful places in Thailand.
This would sum up the best things one should know before visiting Vietnam. I hope this guide helps you in having a memorable trip to Vietnam!
Please know this post may contain affiliate links. When making a purchase through one of my links, I earn a small comission at no extra cost to you and it's a big help to keep the site up and running. Rest assured, I only promote products and services that I personally use and recommend.