Solo Travel In Nepal For 9 Days In Under 9k – Nepal Travel Blog
How everyone always dreams of taking a solo trip to a nearby place. Weeks go in planning and searching about the place. Planning and dreaming about solo travelling isn't as tough as it was to get permission from the parents. I too planned for my solo trip(in 2018) and it was to Nepal and I packed my bags within 3 days and left. So here are all the details to solo travel in Nepal in less than 11k". At the end of the blog, I'll also tell you how to do this trip in a much cheaper manner.
---
Note: The full expense table is present at the bottom of the article
---
Best time to visit Nepal
The best time to visit Nepal would be after the monsoon from mid-September to May. Make sure to carry your winter clothing in the month of December and January as it gets quite cold in the higher regions like Nagarkot. Going to Nepal in June and July is not advisable as it starts raining and a lot of landslides happen which block the roads for hours.
Day 1
How to reach Nepal from India?
I started my journey with very less planning and the only way to convince my parents for letting me go on my first solo trip was to take a direct bus. Yes, you read it right, there is a direct bus from Delhi to Nepal which takes approx 29hrs. The bus starts from Delhi(Ambedkar Terminal Delhi Gate) after a high-security check at 10:30 am. Though the DTC website lists the bus to reach by 1 pm the next day it rarely happens. You can find more details about the bus on the DTC website and the bus can be booked here. The direct bus ticket cost me Rs 2300. The bus reaches the Sonauli border by 2 am in the morning. The Indo-Nepal border only opens at 6 am so you have to wait there for a longer time. Although this is not the best way to reach Nepal but it can be your reserve option.
The bus started at 10:30 am and till the time we were in Delhi a police van accompanied us. I was lucky because there were barely 15 people on the bus that day so I got to sit peacefully because it was a seater bus. Just before Mathura, they stop the bus for lunch on one of the dhabas. Since I was carrying my lunch I had that while sitting on the bus itself. In the night by 9 pm, they stopped the bus for dinner for which I had 2 aloo parathas which cost me Rs 90. The bus reached the border by 2 am in the night and we waited for the border to open.
Alternative on How to reach Nepal
Another alternative would be taking a train from Delhi to Gorakhpur and then taking a bus from there to the Sonauli border. After crossing the border, you can find a lot of local buses there which takes usually 6 – 7 hrs from the border. The total price breakdown can be found here.
The cheapest way to reach Nepal
| Delhi To Nepal | Price |
| --- | --- |
| Train to gorakhpur + Bus to sonauli border + Bus to Kathmandu | Rs 400 + Rs 90 + Rs 450= Rs 940 |
| Bus to Gorakhpur + Bus to Sonauli + Bus to Kathmandu | Rs 550 + Rs 90 + Rs 450 = Rs 1090 |
| Direct bus to Sonauli + Bus to Kathmandu | Rs 1350 + Rs 450 = Rs 1800 |
| Direct bus to Kathmandu | Rs 2300 |
| Flight | Rs 5000(Booked 2 months prior) |
Trains from Delhi to Gorakhpur
| Train No | From > To | Train Name | Timing (Dep - Arv) | Travel time |
| --- | --- | --- | --- | --- |
| 15706 | Old Delhi - Gorakhpur | Chamaparan Hmsfr | 13:45 - 04:55 | 15:10 |
| 12566 | NDLS - Gorakhpur | Bihar S Kranti | 14:15 - 02:45 | 12:30 |
| 12558 | Anand Vihar Terminal - Gorakhpur | Sapt Kranti Exp | 14:42 - 05:45 | 15:03 |
| 15280 | Anand Vihar Terminal - Gorakhpur | Poorabiya Exp | 17:10 - 08:05 | 14:55 |
Day 2
Nepal border crossing and the mesmerizing view
In the morning they started by checking our documents. Passport or voter Id card is mandatory but sometimes they do accept the Aadhar card as well. After the checking, we waited at the border for another 15 mins. Meanwhile, a guy came in our bus from whom I exchanging money(INR NPR). I got some money exchanged. 
The exchange rate is 1 INR = 1.6 NPR
After crossing the border we had to go through multiple security checks. As soon as we were 10 mins into Nepal I was mesmerised by the beauty of the place. The way to Kathmandu reminded me of the valleys in Himachal. On one side there was water flowing and on the other side huge mountains. I was in total awe of the beauty of the place and could not decide which side to look at.
At around 10 am they stopped the bus for breakfast. I usually happen to eat less while travelling so I ate the snacks that I was left with. As soon as I entered Kathmandu I didn't have a great opinion about it. The city was too crowded with buildings built even in the smallest of places and a lot of pollution. I felt it was even worse than India. I reached Kathmandu by 4 pm in the evening.
 As soon as I got down from the bus, I was surrounded by taxi drivers. When I told them that I wanted to reach Thamel, they started asking for 800 Npr. I was shocked when I converted it to Indian rupees it was Rs 375(approximately). For a distance of not more than 4 Km, they were charging such huge amount. Luckily one of the friends I had made on the bus he told we can share the cab to which I agreed and it ended up costing me only 150 Npr(90 Rs approx).
Where to stay in Nepal: Hostels in Thamel Kathmandu
Staying in Nepal is considerably cheaper to India. One can find a lot of cheaper places to stay. Being a novice in planning I had confirmed my booking in zostel. After getting down from the cab I had to find my way to the Zostel(Backpacker hostel) which I had booked. On reaching there I found out that  I was sharing my room with 7 other fellow travellers. The hostel cost was Rs 450 per day, as compared to nearby places. 
There are a lot of other cheap hostels in Thamel which can be found on Hotelworld. But I would suggest you stay in Thamel only as it is closer to all the tourist places and has a great nightlife. You can even try Fireflies hostel beside Zostel which charges just Rs 223 per day(When Booked via Hostelworld)
I kept my bags in my room and the first thing was to make a call back home to let them know I have reached safely. I freshened up and came down to the cafe to have my lunch at 5:30 pm. Had egg noodles which cost me 250 NPR. I was so full that I didn't want to have anything for my dinner. 
A walk to the Kathmandu durbar square in the night
After having the food I asked the receptionist about the procedure for getting a sim card. I  tagged along with another guy from Hyderabad who was in zostel and we planned to visit Kathmandu durbar square. On reaching one of the shops for sim they asked me 1200 NPR for sim and 1GB of internet. Since I had checked the pricing of sim which was 200 NPR I negotiated that but got scammed for buying the internet pack. So I got both the things for 650 NPR. After coming back, I did a lot of research and the best price for Nepal sim card and the internet can be found here.
After that, we wandered around the Kathmandu durbar square. It is one of the three durbar squares in Kathmandu and is also a UNESCO heritage site. A majority of buildings had collapsed during the earthquake in 2015 and we could see a lot of reconstruction happening. 
Thamel is also known for its amazing nightlife. We did go to a club but didn't like the place as it was too crowded. Once we were out of the club we were approached by a guy. I just moved from there knowing what he was talking about but my friend didn't hear what he spoke, so he asked us again and his words were literally boom boom(Prostitution). We just ran away from their having a good laugh. We reached the room by 9:30 pm. Upon reaching the room I just researched a bit about the places I was going to visit tomorrow. Before going to sleep I just had this thought in my mind whether I'll be able to finish this trip or will I be scammed again. The first time I could see my confidence going down because of solo travelling.
Day 3 
Going Around Kathmandu: Places you should not miss visiting in Kathmandu
I got up early in the morning by 8 am and since it was drizzling had to delay my plan a bit. I had bread omelette for breakfast which cost 70NPR. By 10 am I was out I inquired about the scooter and it was around 500 INR. I rather felt I should take the local transport as that would be easier. If you are looking for a scooter you can ask the receptionist at zostel. 
I started by taking the bus from Sorhakhutte bus stop to Swayambhunath which cost me 20NPR. I even spoke to a local on the bus and he explained how he travels every 3 months to meet his family in the mountains. Reached Swayambhunath(Also known as the monkey temple) in 20 mins. At the starting, you'll see the three big statues. This place is Buddha Park. Till one week before the blog published, I thought i saw Swayambunath but instead, i had just been to the Buddha Park. Swayambhunath was a little ahead on the same road. After researching a bit I came to know there is an entry fee of 50NPR for Indian Citizens(SAARC INternationals). After clicking some photos i left from there.
Next Stop: Boudhanath Stupa
 I took a shared van to Boudhanath which cost me 30NPR. On the way, I could see the amount of pollution and the construction which was done in a very haphazard way. The entry fee to Boudhanath Stupa for Indian tourists is 100 NPR. It is also a UNESCO Heritage site in Nepal. It is a really big Stupa and is visible from the entrance itself. The place is crowded with monks going around the stupa and reciting their prayers. I had a great time in the main temple of the stupa where it was very peaceful. After relaxing and taking some photos I left from there. 
Pashupatinath Temple: The famous Indian temple in Nepal
My next stop was the Pashupatinath temple which is just 2km from Boudhanath Stupa. I took a bus from outside to Pashupatinath and it cost me NPR 10 only. The entry to this temple gives all the Indian vibes like the stalls outside selling clothes, food and pooja items. You can see a huge amount of Indian crowd here. Basically this temple is where lord shiva is worshipped. It is also considered as one of the most important religious sites in Asia who worship Shiva. There is no entry fee for this temple and it is also another UNESCO Heritage site.
By the time I left this place, it was already 2 pm. I was feeling very hungry. So after coming out I walked a bit and found a good restaurant for my lunch. For my lunch, I had keema paratha which cost me 130NPR. Since I was on a limited budget and time I had to choose between the Patan Durbar Square and Bhaktapur Durbar Square. So i chose Patan Durbar square as it was much closer.  
Patan Durbar Square – a UNESCO Heritage site
Reaching Patan Durbar Square is again a tough task. As I was already tired from walking so much and there were no direct buses went to  Patan, I had to take a cab for the first time. And believe it or not, the cab guy asked me 500NPR for just 5km of distance. And with some amazing bargaining skills that I have acquired from my mother, he finally agreed for 200NPR. Patan Durbar Square has an entry of 275NPR but including the museum and a few other places it comes to a total of 500NPR. A lot of Patan Durbar square was also demolished in the earthquake of 2015. The museum had all the old artefacts dating almost a thousand years old. This place gave me vibes of how it would have looked a few hundred years back, with some really old buildings. 
In one of the parts of the durbar, there was a ritual going on. The ritual to sacrifice the goat, the head was cut right in front of me and there was blood all over the place. It was a terrific experience. I explored the place took, some photos from outside and decided to leave the place by 6 pm.
Street food in Thamel
For coming back from there I had to take two vans. The total cost of reaching the hostel was NPR 35. After reaching the hostel I just relaxed after walking so much during the day. I didn't even have the power to go for dinner. But then I always wanted to try the momos in Nepal. I searched for a good restaurant which served momos in Thamel and found one decent looking restaurant. It was already 9 pm and I decided to leave and come back soon. I ordered chicken momos which I have to say were one of the worst momos I have ever had. They were so bad that I could barely finish them. The momos cost me 90NPR. After coming out I took a bottle of coca-cola to forget the taste of those momos. After reaching the hostel I just crashed and slept by 10 pm because I had to leave for Nagarkot the next day. 
Day 4
How to reach Nagarkot
The next morning I got up a bit late by 8:30 am. By the time I got ready, one of my friends from college had come to meet me. So i asked his dad to drop me till Hattisar bus stop from where I could reach Bhaktapur. The only way to reach Nagarkot is via Bhaktapur and you can find a lot of buses from Hattisar bus stop. The bus from Hattisar to Bhaktapur cost me NPR 35. If you can leave early from your hostel then you can even try visiting Bhaktapur Durbar Square at this time. I took approximately 45 mins to reach Bhaktapur.  From there I had to change the bus to Nagarkot. 
The buses are so frequent here so I didn't have to wait for long. The bus was full just like any other UPSRTC buses. But this was one of the best bus journeys I took in Nepal, mainly because of the views and also the interaction with the local people I had on the bus. Nagarkot is just 12 km from Bhaktapur but because of the elevation and the road conditions, it is normal to take 1hr. 
Where to Stay in Nagarkot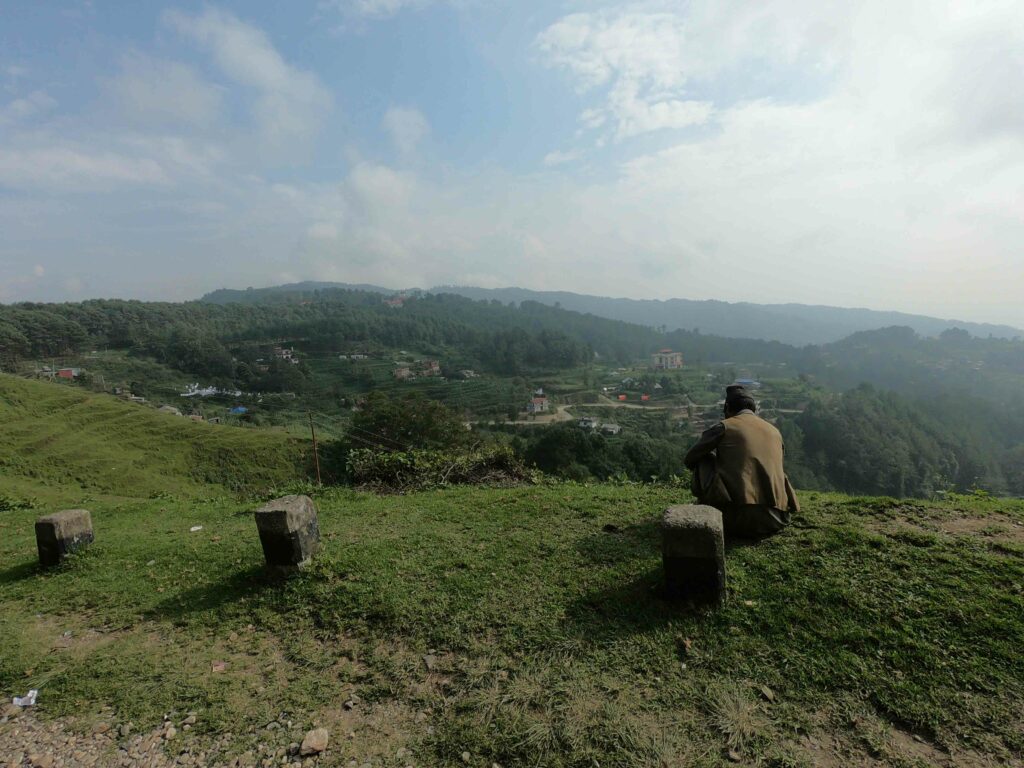 I reached Nagarkot by 1 pm. The next big task was to find a place to stay as I had no prior bookings done. I walked around the place and checked for rooms. I had inquired at zostel about the rooms to be around 400- 500NPR but when i enquired here the lowest i could find was 800NPR. Kept looking and one of the shop guys told me about his hotel which was not yet opened for tourists. And finally, he agreed for 500NPR. He even had a restaurant where i had my lunch. For lunch, I had authentic soupy noodles and they were 1000 times better than the momos which I had last night. So I had one Egg soupy noodles which cost me 80NPR. 
Now you might be wondering why I came to Nagarkot, as it is a famous destination among honeymooners. The main reason for me to come to Nagarkot was to see the Everest. So yes this is one of the closest places from Kathmandu from where there are slight chances of spotting the Mt. Everest. Nagarkot doesn't have much tourist places just a few viewpoints and a stupa which was on the way to Nagarkot. 
After having the delicious lunch i kept my bag in the hotel. The room had two beds a quilt because it was cold and a few charging points. The place had a common washroom. It was a decent place to stay in.
View of Mount Everest from Nagarkot 
After dropping my bags i just walked around Nagarkot and later planned to see the sunset from Nagarkot view tower. Though there are higher chances of seeing Mount Everest during the sunrise still I planned to see it during the sunset. 
I reached the Nagarkot view tower by 4:30 pm and stayed there watching the view of taking lots of photos. But I wasn't able to watch the Mt.Everest as that part was always covered with clouds. So I thought I'd give it another try in the morning. By the time I came down it was already dark and instead of coming back from the hotel again for dinner, I planned to have my dinner that time itself. For once I thought I'll get a chance to eat the momos but they were already finished. So i once again had the delicious Egg Soupy Noodles. 
The owner dropped me at the hotel. Since the hotel was new and was in a secluded place, it kind of felt spooky. I was actually scared and for the first time, i left the lights open of the room while sleeping as well.
Day 5
Nagarkot to Kathmandu
In the night around at 3 am it started raining heavily and power also went. The place got so dark and due to this I wasn't able to sleep. At 5 am I again got up to go to the watchtower but because it was very cloudy and still drizzling i cancelled that plan and thought to leave to Kathmandu from the first bus itself. So I took the bus to Kathmandu in the morning at 6:30 am. I had to follow the same route back to reach Kathmandu. I reached Kathmandu by 8:30 am. My next stop was going to be Pokhara which was another 6-7 hours of journey from Kathmandu.
Kathmandu to Pokhara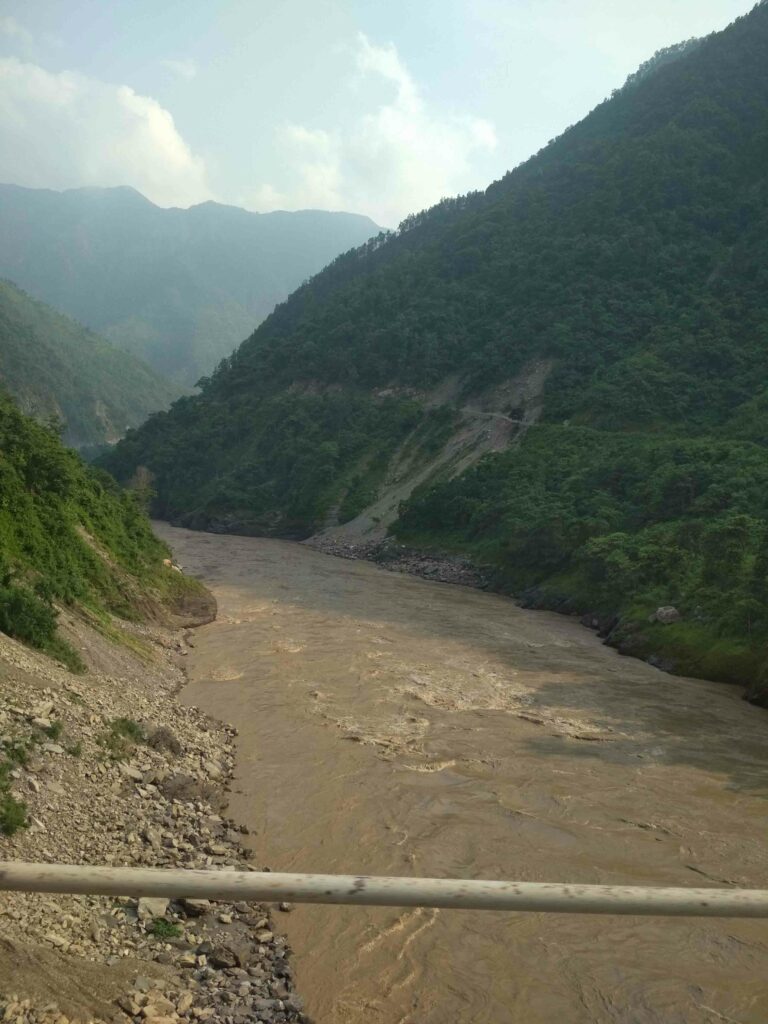 The buses to Pokhara can be found from Sorakhutte Tourist Bus Park. There are deluxe buses which charge you NPR 700 but also leave at sharp 7 am. Since there was no way i could have reached by then, I decided to hop on the private buses which charge you 500NPR. Just so you don't get scammed ask for the tickets also. The bus started at 9 am and was supposed to take 6-7 hours to reach Pokhara. But because it rained heavily things were going to take a toll. Before leaving I had my breakfast of bread and omelette again which cost me 60NPR.
The beautiful bus journey started with some great views again. The bus from Kathmandu to Pokhara cost me 500 NPR. After lunch, we got stuck in so much traffic that by 5 pm we were only halfway through. For lunch, I had a thali(the local cuisine in Nepal) which cost me 80NPR. I ended up sleeping till the evening and by then we thought the traffic was over. But the bus busted one of its tyres. So we got stuck for another couple of hours. After 11 hrs of starting my journey, I reached Pokhara at 8 pm. For a bus that was going to take 6-7 hrs took 11 hrs. So if you are planning to travel later after June, be very careful about the bus timings. Since there is just one main highway in Nepal and if there's any landslide on it you are doomed for hours. 
After reaching Pokhara i had to find a way to reach the Zostel. Since it had gotten really dark and at the bus stop, everyone wanted to scam so barely anyone helped either. I walked a little front and start looking for a taxi and eventually, it cost me 200NPR. 
Where to stay in Pokhara
On reaching the Pokhara zostel, I see the same friend with whom I went to see the Kathmandu Durbar Square. For the second time, I was going to stay in zostel on my Nepal trip. I hadn't booked this zostel and to add my misery there was no room available. But luckily I knew few people in Pokhara Zostel because i had volunteered a few days back at Zostel Agra. So the person who was handling the Zostel shared his 6 Bed dorm room with me. The dorm for one night cost me Rs 350(Indian currency). I didn't search more about this zostel or checked its pics but what i was going to see next morning was going to be mind-blowing. 
So there are other hostels as well in Pokhara near the Phewa lake which start from Rs 250 per night. But for the views, it's totally worth paying Rs 100 extra. In the night it started raining very heavily and only then did I know there was a lake on the backside of the hostel. For dinner, I had some egg noodles and a cold coffee which cost me NPR 300 in total. Before sleeping I did a check on places to visit in Pokhara.
Day 6 
Morning View from the hostel
I got up in the morning at 7 am. Since my room was on the top floor and i had access to the terrace I was mind blown by the views. I could even stay there for a month and still not get bored of the view as it was that beautiful. I woke up and got ready and planned to visit the next place. Planned on having breakfast outside. Outside the zostel, if you walk up a bit, there are many shops which will serve you breakfast. So by this time i had decided my breakfast was going to be Bread and Omelette because it's cheap and I love eggs. Secondly, I was only surviving on Noodles the whole time.
To get any transport I had to go to hallan chowk. In the meanwhile, I was also checking out some shops for buying some souvenirs for the family. I decided on buying it later in the night when I'm back after exploring the places.
Davis Falls, Gupteshwar cave: The mystery unsolved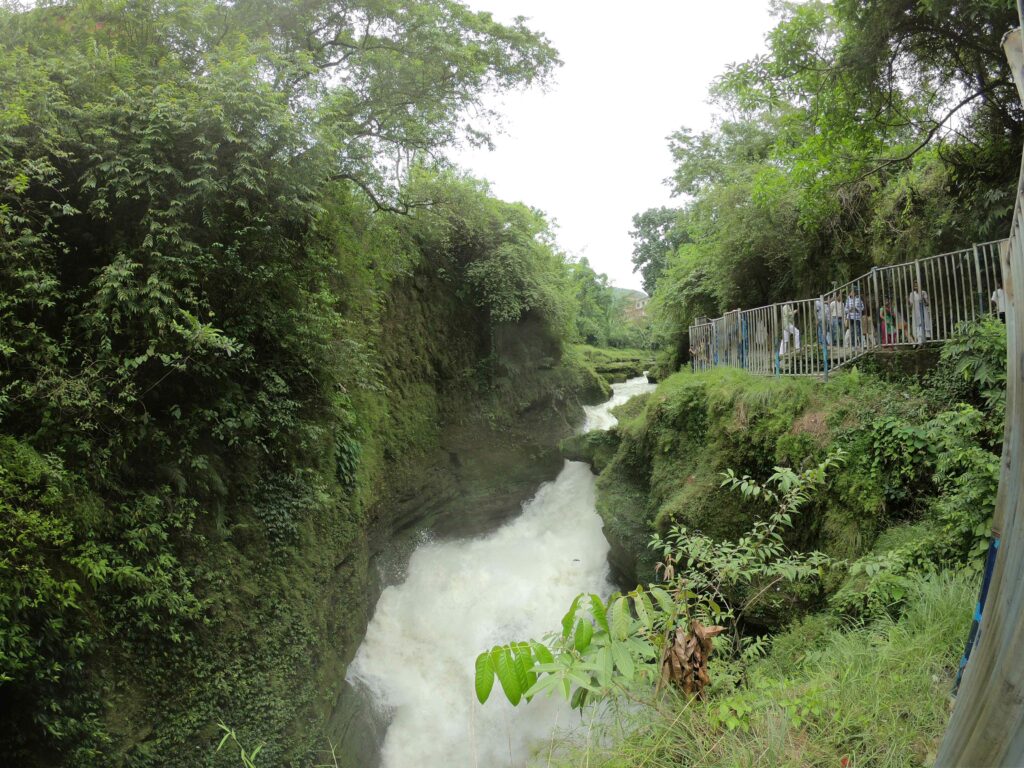 I took a bus from the lakeside bus stop to Davis Falls which cost me 25NPR and took me 20 mins to reach there. The entrance fee of this Davis Falls is 50NPR. The falls is very beautiful and the water has a lot of force because of which they have put barricades. The falls has become a famous tourist place because of its unsolved mystery. The Falls actually go underground and just vanish. There is no other exit place of water through which it could pass nor there are any places where the huge amount of water comes out from. To unsolve the mystery one should go the Guoteshwar cave which is on the other side of the road.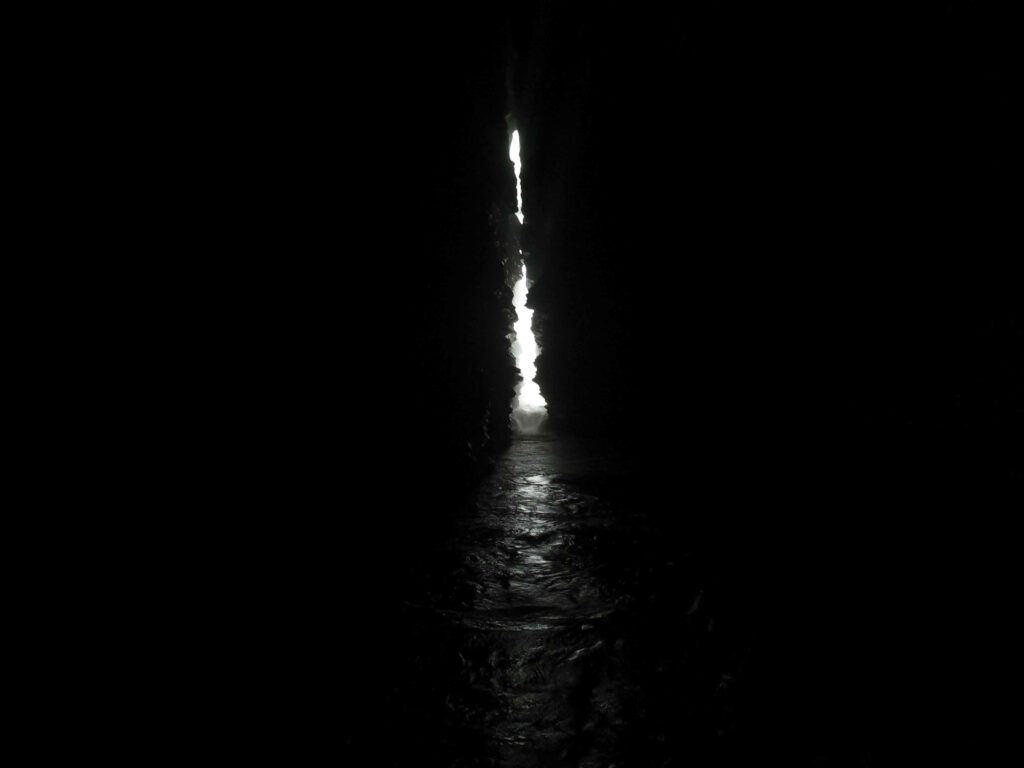 On the other side of the road, there is a temple and a cave underneath it. To enter the cave, one needs to pay 100NPR. Once you enter the cave it starts getting dark. Also, water is seeping through the top. There was a lot of construction work going on and in the end there is a lot of water which can be found. This water is coming from the same Davis falls. The water in the Davis falls had a lot of force but when i saw here, it was a light stream. We could still hear the force of the water as it was hitting the walls but it was nowhere to be seen, where it went eventually. So till today, no one knows where so much of water is actually going because eventually there has to be an exit for the water to go through and the mystery remains unsolved. It got so hot inside that I came out and bought a bottle of water.
I lost my GoPro
 So for the whole trip, I was capturing all the moments with my new GoPro Hero 6. So after buying a bottle of water I left from that shop leaving my Gopro there. I next had to go to the hilltop to visit the Peace Pagoda. To reach the peace pagoda i had to walk a little and then catch the bus. I was halfway through when I remembered, forgetting the GoPro. I checked all my backpack, it wasn't there. Ran back to the same place and in the meanwhile, all the thoughts of never getting my camera back started coming to me. I reached the shop and ask the lady about the camera, at first she asked which camera and then showed me my Gopro and asked was this it. I had tears in my eyes by this time and I thanked the lady shopkeeper many times. 
Peace Pagoda: Best view of Pokhara from the top
I reached back to the place where I had to catch the bus from. The people there told me there is a bus every 45 mins and the next bus should be here at any moment. If you don't want to go on the bus there are a lot of taxis available which charge 800NPR for the whole trip. The bus came and there was barely any space to stand. The place from where I caught the bus and the World Peace Pagoda is just 2km but it is very steep and after running for my Gopro I had no energy left. The bust trip cost me 30NPR and I reached there in 40 mins. It was already 2:30 pm by now. On reaching top I found one of the best views of Pokhara city.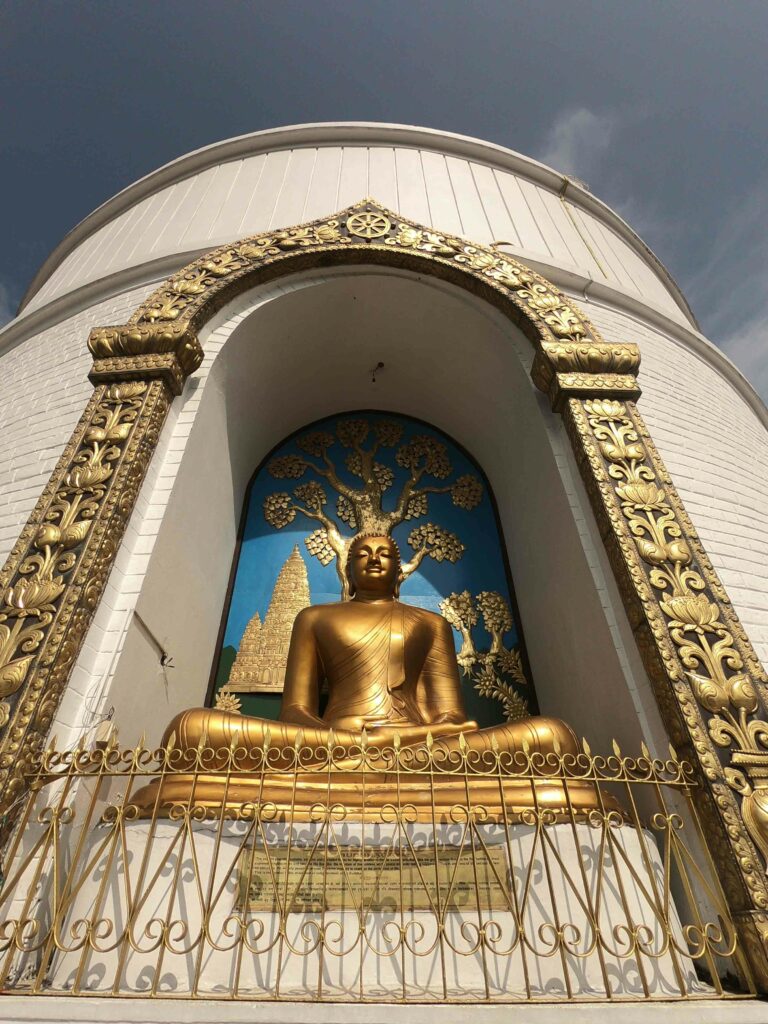 There are a total of 80 Peace Pagoda in the world and the one in Pokhara was the first Peace Pagoda made in Nepal. They symbolise World Peace. I rested for quite a good time enjoying the view and relaxing. Another way to reach the Peace Pagoda is by crossing the lake by boat and hiking to the top. One can see a total of 8 Big Mountains from here. One of them, being the Mount Annapurna. Though I had missed out on seeing Mount Everest, I did get to see the Annapurna range. After clicking photos I left from there. And yes I hadn't had lunch and it was already 4:30 pm. I thought of having some chips and later on in the night eat something heavy. I waited 10 mins for the bus and it was no were to be seen, so I thought to trek down. Within 30 mins I was down and then I took the bus back to Hallan Chowk.
The beautiful Phewa lake and night shopping
Since I didn't find a direct bus to Hallan Chowk, I had to change at Shanti Nagar Bus Chowk. Don't exactly remember but to reach Hallan chowk it cost me 40 NPR. I planned to walk around the lake and there is a spot to enter the lake for which you had to pay 50NPR. I paid and clicked some really good photos from there. It was already 6:30 now and it had started to become dark, so I went back to the Hostel to get some money for shopping. I bought some singing bowls, Nepalese caps and a fridge magnet for my family. 
Be careful about bargaining there or else you would end up being looted. At least bargain to half the cost that's when you will be somewhere closer to the actual cost. After the shopping, i reached the Hostel and had any guesses? Ok, this time I had Egg fried rice and milkshake which cost me NPR 280. The next day I planned on going to a short trek so I researched about it and slept early.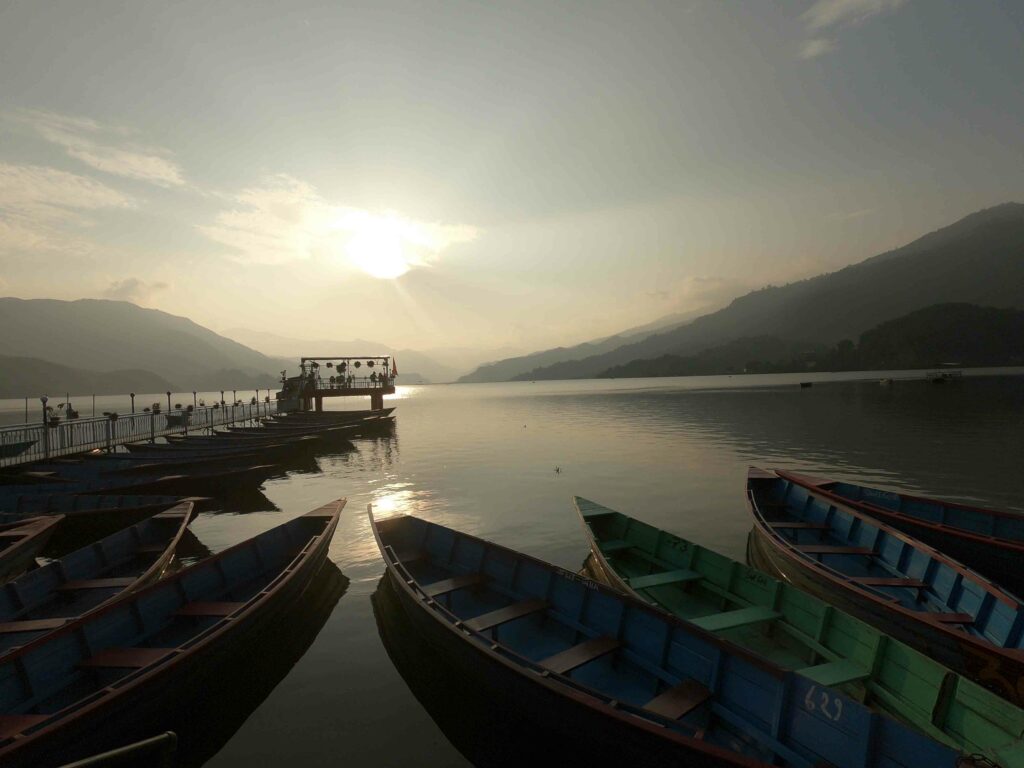 Day 7 
A failed attempt to Sarangkot trek
I was awake by 4 am and was really excited to go on this trek. But it was drizzling at that point,I had to leave at 5 am to see the sunrise at the top. From the top one can see the Annapurna range close and clear. By 5 it had stopped drizzling I started my trek soon by the time it was 5:45 am it started drizzling gain and after some time it started to rain heavily. I, unfortunately, had to come back. Since I had nowhere to go in Pokhara I slept again till 9 am. 
I packed and left the hostel by 11 am on the way I had my mandatory breakfast of Bread Omelette(NPR50).  
Pokhara to Lumbini
I reached the Pokhara Bus Stand and had to catch my bus to Lumbini, It's a 6-7 hour journey from Pokhara but i don't know by this time i knew I was never going to reach on time. Since i was going to reach late i thought of trying couch surfing but it was no good. Finally, I found a person who was ready to show me Lumbini tomorrow but there was no option of staying to which I happily agreed. The bus started by 1 pm and it cost me 500NPR. I Had rice baath for lunch which was decent to fill my stomach. It cost me 70NPR. By the time I reached it was already 11 pm another tragic bus story. This time the problem was I didn't have any hotel bookings and finding something at 11 was going to be tough. Once the bus dropped me and few other Indians at Siddharth Nagar which was the last stop, there were a few lodge people waiting to take us into their room.
I didn't have any other option other than to join the people. So we got one room in the lodge and then we asked the lodge guy to make some noodles for us. We barely had anything and left all of it and slept.
Day 8 
Morning in Siddharthnagar
In the morning they had to leave early so even i checked out of the room and waited for my couch surfer host. The total cost of staying and the barely edible noodles was NPR 230. When I was waiting for the cs host I asked another nearby shop guy to make me some noodles and that was my breakfast. Again the noodles cost me 50NPR. By this time Anup(CS host) had also come. I dropped the luggage at his place and we left to Lumbini on his bike.
Places to visit in Lumbini: The birthplace of Lord Buddha
Lumbini is famous for being the birthplace of Lord Buddha but there other places to visit in Lumbini as well. We started by seeing another World Peace Pagoda which is similar to what I saw in Pokhara as well. The next place was going to be a group of monasteries in the Lumbini garden. There are a lot of monasteries here of countries like Japan, China, Thailand, Germany, Indian, Korean and many more. 
Since this park doesn't have an entrance fee i tried visiting all the places. Here is the list of Monasteries i visited in the Lumbini Garden.
Sokyo Japanese Temple

Chinese Temple

France Buddhist Temple

Nepal Vajrayana Mahavihara

Linh Son Monastery

Korea Temple

World Centre for Peace and Unity

Golden Temple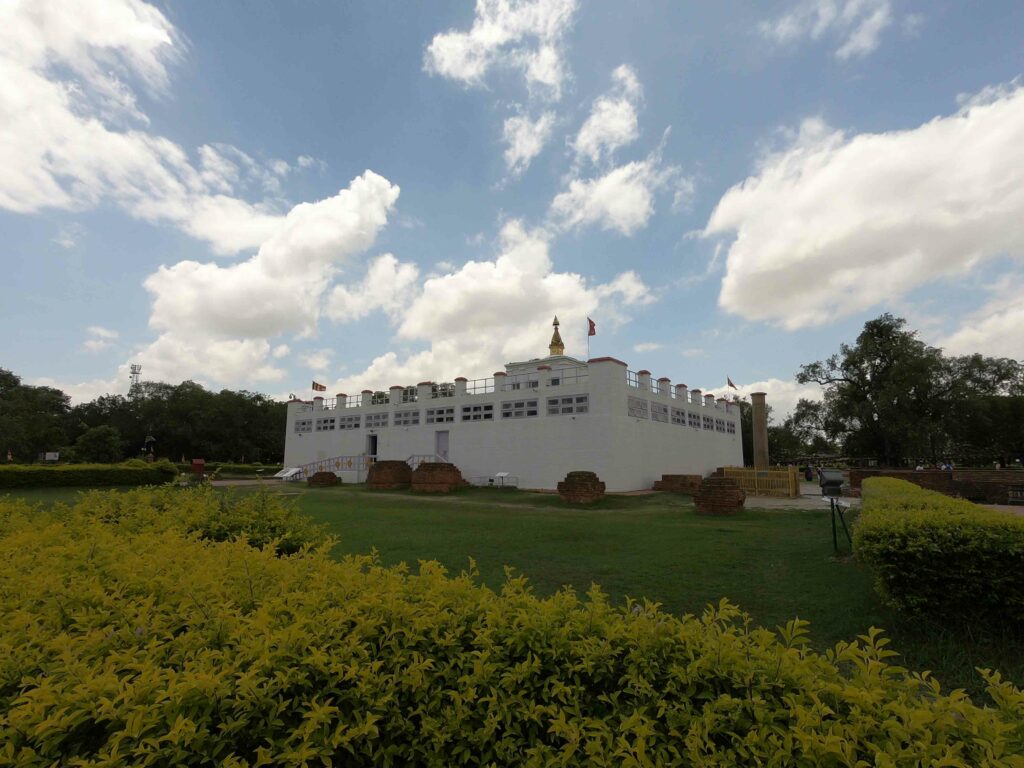 After this, i planned on seeing the main attraction Maya Devi Temple (Birthplace of Lord Buddha). There is an entrance fee of 100NPR. The building from the outside is completely white but when you enter inside you can find the old structured dating 2200 years old. In the middle of those things were the first footprints of Lord Buddha from the 14th century. The pond just behind the temple is believed to be where Maya Devi bathed before giving birth to Buddha. There is a tree close to pond where I sat in peace for some time. The wind was blowing and it did make me realise though this trip has its ups and downs I surely did learn a lot about myself and Nepal. We came back to his house where he served me some sweets, noodles tea and quite a lot of other things. And if it was not him I would have struggled to see so many places. He dropped me till the bus stop I bid him goodbye.
Cross the border and back to Gorakhpur
The bus from Siddharth Nagar to the border cost me 15NPR. Went through the security check and crossed the border on foot. It felt great to be back to your own country. I now took a bus from Sonauli to Gorakhpur which cost me Rs 80 and it took me 1 hr to reach from there. It was already 5 pm now and I had to get to another place to catch the bus to Delhi. I had my dinner early. After almost 8 days i was going to have roti(chapati)  it sure felt amazing. The dinner cost me Rs 110 for 4 chapatis and veg curry. The bus was at 9:30 at night and it got delayed a bit.
Day 9
Back to Delhi
So i slept peacefully and got up by 8 am. The bus was running a little late(this story for some other time) and I reached Delhi by 12 pm. So this was about my first solo trip to Nepal. I hope I was able to share all the information possible with you guys. It was an amazing life-changing trip, you can find all the cost details below.  I have also put a comparison where it tells you how much money is needed for you to plan this solo trip to Nepal. 
| Food,stay, attractions, transport | How much i spent (Per person) | How much you can spend(Per person) |
| --- | --- | --- |
| Transport to Nepal | Rs 2300 | Rs 1000 |
| Food on Day 1 | Rs 90 | Rs 100 |
| Cab to Hostel | NPR 150(Rs 93) | Rs 200 |
| Stay in Kathmandu | Rs 900 | Rs 500 |
| Food on Day 2 | NPR 250(Rs 156) | Rs 300 |
| Sim Card+ Internet | NPR 650(Rs 406) | Rs 200 |
| Travel Expense through Kathmandu | NPR 295(Rs 184) | Rs 200 |
| Boudhnath Entry Fees | NPR 100(Rs 62) | Rs 62 |
| Patan Durbar Square Entry Fees | NPR 500(Rs 312) | Rs 312 |
| Food on Day 3 | NPR 290(Rs 181) | Rs 250 |
| Kathmandu to Nagarkot Bus | NPR 85(Rs 53) | Rs 53 |
| Stay in Nagarkot | NPR 500(Rs 312) | Rs 312 |
| Food on Day 4 | NPR 250(Rs 156) | Rs 300 |
| Nagarkot to Pokhara | NPR 575(Rs 359) | Rs 359 |
| Food on Day 5 | NPR 440 (Rs 274) | Rs 300 |
| Stay in Pokhara | Rs 700 | Rs 700 |
| Travel Expense through Pokhara | 100 NPR (Rs 62) | Rs 62 |
| Davis Falls Entry Fees | 50 NPR (Rs 31) | Rs 31 |
| Entry to Gupteshwar cave | 100 NPR(Rs 62) | Rs 62 |
| Food on Day 6 | NPR 330(Rs 206) | Rs 300 |
| Pokhara to Lumbini | 530 NPR (Rs 331) | Rs 331 |
| Food on Day 7 | NPR 170(Rs 106) | Rs 200 |
| Stay in Lumbini | NPR 180(Rs 112) | Rs 112 |
| Food on Day 8 | Rs 110 + 50 NPR (Rs 141) | Rs 200 |
| Lumbini to Delhi | NPR 15 + Rs 120 + Rs 1275(Rs 1404) | Rs 500 |
| See Around Lumbini | - | Rs 200 |
| Snacks | Rs 500 | Rs 800 |
| Total | Rs 9500 | Rs 8000 |
Nepal travel guide: Everything you need to know about Solo travel in Nepal
A solo trip to Nepal can be of 8 – 9 Days covering (Chitwan, Kathmandu, Nagarkot, Pokhara and Lumbini )

Travelling in local transport is one of the cheaper ways to see the place and to know about people.

Getting a sim card is not necessary until you plan ongoing for more than 10 days.

Always bargain or else you will be charged hefty amount or scammed

Try to eat more fruits as the street food is not hygienic in most of the places.

Must-visit places in Nepal are Patan Durbar Square, Boudhnath Stupa, Nagarkot, Phewa Lake and Lumbini.

Top things to do in Nepal are Having soup noodle and local cuisine, view of Pokhara from the Peace Pagoda and travelling in local transport.

Don't do shopping from Kathmandu as it is the most expensive place compared to the others

A total budget of Rs 10,000 for 9 days is more than sufficient for your solo trip.
FAQs about Nepal travel
Q1. Is Nepal safe for solo women travellers?
Yes Nepal is safe for women travellers but still, you have to be cautious at your end
Q2. Is it safe to travel alone in Nepal?
Absolutely yes i have done it so can you.
Q3. How to get around in Nepal?
Getting around Nepal is easier as there are a lot of transport options available like bus, van, taxi…
Q4. What should i Avoid in Nepal?
Avoid getting in touch with people in Thamel who provide massage and other kinds of services.
Q5. Is Nepal worth visiting?
Nepal is definitely worth visiting once. For history buffs, spend time in Kathmandu but for adventure lovers head to Pokhara.
Let me know if I should write about solo travelling hacks/how to plan your first solo trip in the comment section.
Also, go through my other travel adventures – Gokarna Travel Blog, Hampi Travel Guide and Kayaking in Alleppey