Kayaking in Alleppey: Alleppey Travel Guide In Rs 3000
After completing my previous two solo trips, I wanted to try Kayaking next. A couple of my friends had already asked me to join on my next journey. So after a long time, this was going to be a group trip rather than a solo trip. It always used to happen back in college, when we made a plan, and in the end moment most of them backed out. I didn't want this trip to be like this. I made a rough plan and booked tickets so that they don't back out. Kayaking in Alleppey was on my list.
More than anyone backing out, there was an even more difficult task of getting confirmed train tickets in the peak season.
| Things to know | Details |
| --- | --- |
| Distance from Bangalore to Alleppey | 600 km |
| Time taken to reach Alleppey | 12 - 13 Hrs |
| Best time to visit Alleppey | Oct-Apr |
| The ideal number of day to be spent in Alleppey | 2 Days |
| Alleppey is famous for | Houseboats and Kayaking |
| Kayaking in Alleppey | Oscar cruise |
| Hotel in Alleppey | Golden beach(Ph No: 9496795323) |
| Budget for Alleppey | Rs 3000 -3500 |
---
*All the prices missed and other relevant information will be present at the end of the article*
---
How to reach Alleppey?
The distance from Bangalore to Alleppey is approx 600km. There is only one direct train, but since it had odd timings, we didn't take that. Instead, we took a train till Ernakulam and then went on the bus from there. Bangalore to Ernakulam takes 12hrs, and from there on in the bus, it takes an additional 2 hrs. Being a peak time we didn't get the tickets, tried tatkal too. We booked general tickets but it was too crowded so went in a sleeper coach. After some time the sleeper also became like a general.
Direct train from Bangalore to Alleppey(Train Name: Kochuveli Express, Train Number: 16315)
Train from Bangalore to Ernakulam Town(Train Name: Kanyakumari Express, Train Number: 16526)
Day 1: Reaching the hotel and setting off for Kayaking in Alleppey
On reaching Ernakulam town in the morning by 8 am. We took an auto till the bus stand. The distance from Ernakulam to Alleppey is 48 km by road, and it approximately takes 2 hrs. The buses are fancy in Kerala with a unique bell system and shutter windows instead of glass ones. The bus ticket from Ernakulam to Alleppey is Rs 58. After reaching Alleppey, we walked towards our hotel which was just 1km from there.
My first impression of Alleppey was – "A simple city with less or no traffic and beautiful canals". It just happens you see the place and fall in love with it, Alleppey was precisely that. After reaching the hotel, we could hear the waves hitting the shore as our hotel was just 100mts from the beach.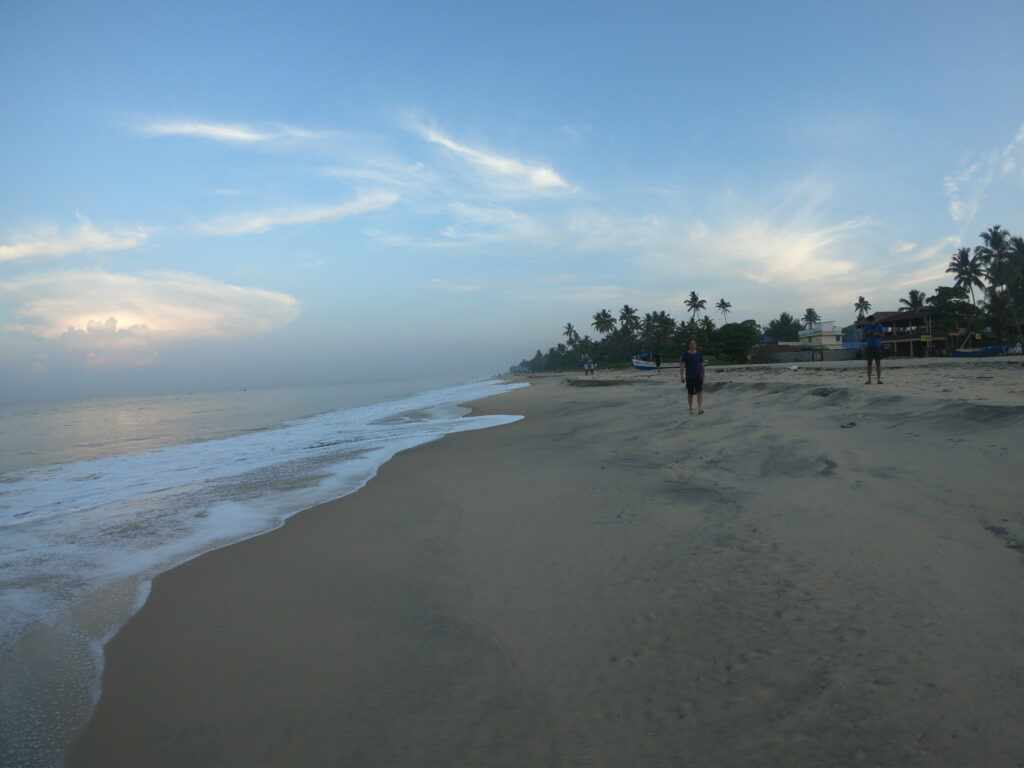 We got two rooms for us which in total cost us Rs 1000 (Rs 250 per person). It was a good deal. The floor had two rooms only, so the whole floor was for us. First, we set off to the beach to take a dip in the water. The waves are very harsh here so be careful and don't go too deep in the water until and unless you know swimming. After spending almost 90 mins on the beach, we went back to the room.
Post freshening up we had some delicious brunch at the hotel prepared by the family who was owning it. Since the only thing we came Alleppey was for seeing the beauty of backwaters and what can be a better way other than kayaking to explore it. We set off to the place. The auto guy charged us Rs 100 for dropping us till the starting point.
Kayaking in Alleppey backwaters
This Alleppey travel guide mainly focuses on kayaking and how it is one of the best things to do to explore the backwaters. I had once experienced Kayaking before but not the others. This whole Kayaking trip was 4hr long and started at 2:30 in the afternoon. It is also called as the sunset cruise. We are first taken in the motorboat to the starting point where we are given some refreshments(Coconut water).
Another friend of mine and I thought of going in the double kayak. And the other two took the single Kayak. In the starting, it took us some time to get used to paddling, but later we were somewhat comfortable. (Though my partner didn't understand the basics and I had to struggle a bit, which the other two will also agree with :p)
It was a great experience to pass through the backwater villages and small canals where the bigger houseboats couldn't go. That according to me is the best way to explore it. After kayaking for almost 2 hrs, we had a small snacks break. In which we had coffee/tea and fried Banana which was yum! We reached the point from where we started. All of us thought the kayaking was over. But after the snacks break we got to know we had to Kayak till the beginning from where we came in the motorboat. I was dead and wanted to change my partner. Luckily another friend of mine went in the double kayak, and I went in the single one(He still curses me for this).
On our way back it had started to drizzle, so all our gadgets were kept inside. We couldn't record anything, but when the rain stopped, it was a beautiful sight. The sun was almost going to set, and colours in the sky made this kayaking a worthwhile experience. It was almost dark by the time we ended the trip. The whole Kayaking trip costed us Rs 1200 per person.
Dinner and relaxing at the beach
Once we were done with Kayaking all 4 of us were almost dead and wanted to eat something as all we had was a brunch that too at 1 pm. We found the restaurant near the bus stand and had a good meal. The whole meal cost us 200 for 3. After having dinner, we came out and decided to buy some fruits in case we need something to eat in the night. We also had soda which made us refreshing, and we were ready for 2nd round of kayaking(Just kidding). We took an auto back to the hotel, and this time he charged us Rs 80.
After reaching the room, we relaxed for a bit and then again went to the beach. Sat there in the sand for a while and went back to the room. For the next day, we decided to see the sunrise.
Day 2: Sunrise
All of us got up by 6:30 and went to watch the sunrise. We spent a good couple of hours clicking photos and playing with the dog. Then again we decided to take a dip in the beach. By the time we reached back, it was already 10. We freshened up and went to have breakfast in the cafes nearby. We had french toast, and it wasn't that great at all.
On the way to Fort Kochi
After breakfast, we came back to the room and started packing, to check out. We took an auto till the bus stop, and it costed us Rs 80. By the time the bus came, it was already 1:30. The bus ticket was approximately Rs 60 per person, and it took us almost 2 hr to reach Ernakulam bus stand. We got down at Thoppumady, so it became more comfortable for us to travel to Fort Kochi. It was almost four and we were already starving. We took an auto to a famous restaurant in Fort Kochi named as Kayees Ramathulla Cafe. On our way to this restaurant, we were shocked to see so many Gujarati's staying there. The lane names were also written in Gujarati and all the houses built were also in Gujarati structure.
So this was a small cafe which could accommodate almost 40 people. They don't have a menu, so you have to ask the owner what all things are there to eat. He told us some varieties of things which got us confused. When we saw most of the people having puttu and chicken curry we made our mind and ordered the same. It is made of rice and cylindrical in shape. The lunch costed us around Rs 80 per person. Then, we decided to go to the beach.
Sunset at the beach
We took a bus from Thoppumady, till the beach (Rs 12 per person). The time was already 5:15, we had to catch our train from Ernakulam at 8:40 pm. The fishing nets and beach is an overcrowded place, or maybe it was because of Christmas Eve the next day. We clicked photos and saw the port on the other side. Saw some big cargo ships coming, this was the first time I saw such big ships in real life. Though the beach is very dirty a lot of people come and enjoy the beach. We just sat there for a while and watched the sunset. After some time it started to drizzle, and we also had to leave to catch our trains.
To reach from Fort Kochi to Ernakulam, there are Government ferries which charge only Rs 4 per person. We were a little tense because there was too much rush at the counter and it was already 7:30 pm. Our train was in another hour, and we still didn't have dinner. Luckily by 7:40 pm we got on the ferry which took another 10 mins or so. From the ferry station, we took an auto till the railway station which cost us around Rs 60. By the time we reached the station, it was 8:05 pm. We checked the timing of the train, and it was running late by 15 mins, so we had dinner at the restaurant in the station. Finally, the train arrived at 9:00 pm. This time we had confirmed tickets, so we slept peacefully and came. The train reached Bangalore by 8:30 am in the morning.
---
Alleppey travel guide: All the things you need to know in one place
The distance between Bangalore and Alleppey is 600 km and takes 11 – 12 Hrs

There is one direct train from Bangalore to Alleppey.

Train name: Kuchuveli Express, Train number: 16315

Best time to visit Alleppey is Oct – April

The place is safe for women in the night

The whole kayaking trips cost was Rs 1,200 per person(Oscar Cruise)

The usual time to be spent in Alleppey is  2 days
Check the below table for the complete cost breakup of the trip
| Train,bus,food,stay... | Price(Per person) |
| --- | --- |
| Train from Bangalore to Ernakulam town | Rs 345 |
| Ernakulam station to Bus stop(Auto) | Rs 20 |
| Bus from Ernakulam to Alleppey | Rs 58 |
| Stay in Alleppey | Rs 200 |
| Brunch in Alleppey | Rs 70 |
| Auto to reach Oscar Cruise(Kayaking) | Rs 25 |
| Kayaking in Alleppey | Rs 1,200(Apply coupon code 'RAKU1000' to get discount ) |
| Dinner in Alleppey | Rs 110 |
| Auto back to the hotel | Rs 20 |
| Breakfast (Day 2) | Rs 110 |
| Auto to the bus stop | Rs 20 |
| Bus back to Ernakulam | Rs 60 |
| Lunch in Fort Kochi | Rs 80 |
| Travelling around fort Kochi(Auto and Bus) | Rs 100 |
| Ferry from Fort Kochi to Ernakulam | Rs 4 |
| Auto till the Railway Station | Rs 15 |
| Dinner in Ernakulam | Rs 90 |
| Train from Ernakulam to Bangalore | Rs 345 |
| Total | Rs 2,972 |
This being the first outstation trips with my college friends was an amazing one. Kayaking in Alleppey was a great experience. Hope this Alleppey travel guide helped you with all the things you need to know about Alleppey like where to stay, where to eat and what all things to do.
Have you read the travel guide to Gokarna and a perfect monsoonhike to Kudremukhtravel Blog yet?
---
If you liked this blog, do let me know if you want me to cover any particular place in the budget. Drop a comment or message me on Stories of Raku if you have any other queries regarding this blog