The Ultimate 3-Day Gokarna Itinerary (With Prices)
Are you planning a 3-day trip to Gokarna? Gokarna is a small town situated on the coast of Karnataka, famous for its beaches and temples. I have been visiting Gokarna since 2017 and this was my fifth trip to Gokarna. Yes, that's how much I like this place, and can never get bored of it.
In the 3-day itinerary, I mention some of the best places to visit in Gokarna, where to stay, and the best places to eat. Is this the only 3-day itinerary you have to follow? Not really, this itinerary gives you a good experience of Gokarna visiting all the beaches via the beach trek, visiting the waterfalls and some of the best temples of Karnataka!
Don't worry, I have also shared alternative 3-day itineraries at the end of this blog for all types of travelers. Gokarna can be visited on a budget. I have shared a breakdown of the cost at the end.
How to reach Gokarna
Reaching Gokarna is relatively easy whether traveling by air, train, or road. 
How to reach Gokarna by air
The nearest airport to reach Gokarna is the Dabolim International Airport (Goa). It takes another three hours to reach Gokarna from the airport as it's approximately 150 km away. Since the Goa airport is well connected to other parts of the world, it makes reaching Gokarna easier.
How to reach Gokarna by Train
The Gokarna railway station is 10 km away from the main town. Trains from several cities like Bangalore, Mangalore, Mumbai, and Madgaon (Goa) halt at the station every day. Gokarna Road Railway Station code is GOK and you can find all the details about the train below: 
| Train No | Train | From(Station) | To(Station) | Dep | Arrival | Travel Time | Days |
| --- | --- | --- | --- | --- | --- | --- | --- |
| 16595 | Panchganga Exp | SBC(Bangalore) | GOK(Gokarna Road) | 18:50 | 06:57 | 12:07 | Everyday |
| 16515 | Karwar Express | YPR(Yeshwantpur) | GOK(Gokarna Road) | 07:00 | 21:02 | 14:02 | Monday, Wednesday, Friday |
| 12619 | Matsyagandha Exp | LTT(Lokkmanya Tilak) | GOK(Gokarna Road) | 15:20 | 04:20 | 13:00 | Everyday |
| 12978 | Maru Sagar Exp | BSR(Vasai Road) | GOK(Gokarna Road) | 04:10 | 16:44 | 12:34 | Saturday |
| 1185 | LTT Majn Special | LTT(Lokkmanya Tilak) | GOK(Gokarna Road) | 22:15 | 10:48 | 12:33 | Friday |
| 11097 | Poorna Express | PUNE(Pune) | GOK(Gokarna Road) | 22:25 | 14:52 | 16:27 | Saturday |
| 6601 | MAO MAQ Special | MAO(Madgaon) | GOK(Gokarna Road) | 13:50 | 15:39 | 01:49 | Everyday |
All the trains from Mumbai and Pune also go via Goa(Madgaon)
For trains from other destinations, please check the IRCTC website.
How to reach Gokarna by Bus
The easiest and budget-friendly way to get to Gokarna is by bus. You'll find direct buses from nearby cities like Mangalore and Bangalore, as well as from farther places like Hyderabad, Pune, and Mumbai. It takes 8-12 hours, depending on the location you are traveling from. Since I was traveling from Bangalore, it took me 9-10 hours to reach Gokarna town. You can find all the bus details on Redbus.
Since all the buses reach in the early morning no matter the destination you are coming from, this Gokarna 3-day trip itinerary can be easily followed by everyone.
The best time to visit Gokarna
Gokarna is a coastal town and thus the best time to visit Gokarna is from October to March as there is little to no rainfall. If you want to beat the crowd, you should visit from April to June. But do know that it gets really hot. Monsoon is not a great time to visit if you want to experience the beaches, but one should not miss the waterfalls nearby like the Jog Falls or Vibhuti Falls.
Places to stay in Gokarna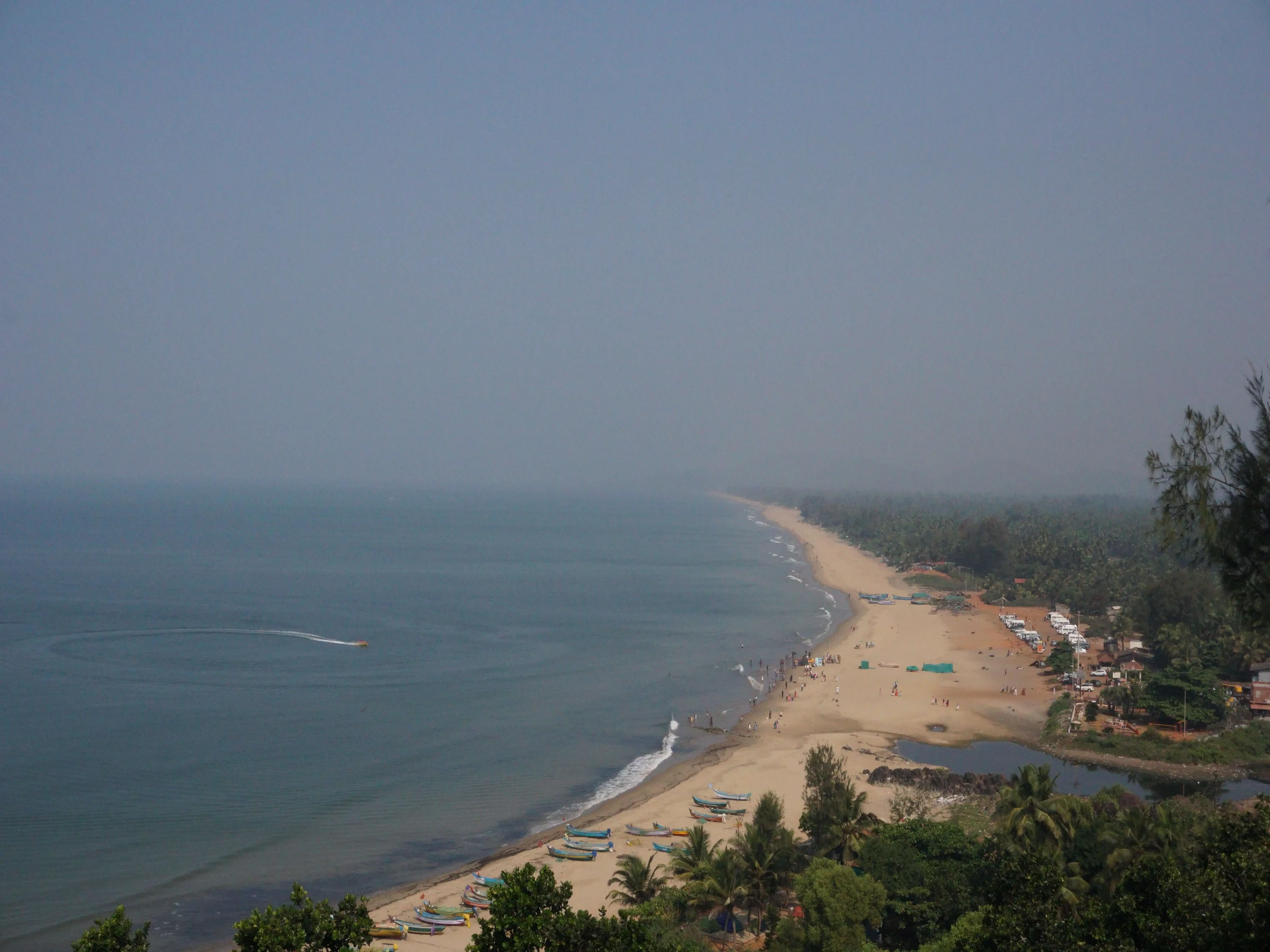 While there are many budget options for a stay in Gokarna, I loved my stay at both Trippr and Zostel. While Trippr is a little far from the main town and situated on the middle beach, it has the best beachfront views. The middle beach still hasn't gotten crowded, thus making it a great option for a stay.
Book your stay at Trippr at no extra cost using this link: Trippr
Zostel, on the other hand, offers incredible views of Gokarna Beach and is an excellent spot to connect with fellow travelers. The property is stunning, and don't forget to enjoy the cafe's scenic views and delicious food.
Other great budget options are staying on the shacks on the Kudle Beach for which you'll have to go there and check! 
So let's get started with my 3-day trip plan to Gokarna, starting from Bangalore.
Day 0: Taking the bus from Bangalore to Gokarna
I started from Bangalore, taking the bus from Anand Rao Circle. It takes close to 8-9 hours to reach Gokarna. The bus dropped me off early in the morning by 7 a.m., and I had booked the stay in Trippr, which is 2.5 km from the main bus stand. Now the confusion is, should I pay for the auto to go to the hostel and then come back or rent a scooter straightaway? I chose the latter because why not save some money?
Where to rent the scooter in Gokarna
While searching for scooter rentals online, I found many operators providing them. Based on the highest Google rating, I decided to choose We Gokarna Bike Rental. The bikes provided by Gagan Anna were almost new and in very good condition. I rented the scooter for two days to cover some amazing spots near Gokarna. 
Scooty Cost: ₹400/day on weekdays and ₹500/day on weekends
Scooty Rentals Company in Gokarna: We Gokarna Scooty Rental
You also need to submit a govt ID, which will be returned when you return the scooty. The "We Gokarna shop" is very close to where the bus will drop you off. The shop usually opens at 7 am, and even if the shop is not open, you can call Gagan Anna and go to his house to pick up the scooties.
One more important thing you need to note is there is only one petrol pump in Gokarna.
Location: Indian Oil Petrol Pump 
Staying at Trippr Hostel on the Middle Beach
After renting the scooter, I directly headed to Trippr Hostel to check-in. Since it was still early, I enjoyed sitting by the beach. After my check-in, I refreshed quickly and was on my way to the first spot, the Yana caves! But before that, some breakfast.
Before heading to Yana Caves, I made a stop in town to have breakfast at my favorite place, "Dattaprasad Tiffin Canteen". If you want to try some authentic South Indian food in Gokarna, this has to be your go-to place. After having a nice masala dosa and coffee, I started again towards Yana Caves.
Visiting the mysterious Yana Caves
Yana caves are approximately 50 km from Gokarna town, and it will take you close to 1 hour 30 mins to reach there. Take the route that also has Vibhoothti Falls on the way. There are two ways to reach Yana caves, which I didn't know until I reached there. The first one is you can drive to the Yana caves parking from where the caves are just five minutes away
The second route involves hiking for 2-3hrs.
Yana Caves are famous for their special rock formations that took thousands of years to form naturally. The main attractions here are two huge limestone rocks called Bhairaveshwara Shikara and Mohini Shikara. These caves are considered holy by Hindus and are visited by pilgrims. Read more about the Mythology of Yana Caves here.
There is also a small temple at the entry of the caves, and you can also go under and around the caves. The caves do have a bad smell because of the bats living there. You can spend a good 30-45 minutes exploring the caves before heading to relax at the Vibhhooti Falls.
Swim under the Vibhoothi Falls
Vibhoothi Falls is just a 30-minute drive from Yana Caves. I parked my scooty in the parking and then walked towards the waterfalls. The waterfall is inside the forest and is an easy 10-minute walk from the parking. Once you reach the waterfall, you can see it cascade down from a height of 25 feet.
Since the waterfall is inside the forest, there are very few spots that receive the sunlight, making the water super cold and refreshing. The water is continuously flowing, which makes it a great spot for swimming. Don't forget to get your swimming clothes.
You can also jump in the pool of water, but be very careful as it can be dangerous. If you don't know how to swim and want to get near the waterfall, there is a shop renting life jackets.
Vibhoothi Falls Parking Fees: ₹10
After spending a good one hour near the waterfall, I was starting to feel hungry again as it was already 3 p.m.
Sunset at the middle beach
After reaching back from the waterfall I immediately went to Bhagvan Cafe, which is located in the middle beach and just a 5-minute walk from Trippr. They serve some of the best starters, I guess it was also because I was very hungry.
After spending a good one hour eating and watching the beach, I decided to head back to Trippr. It was almost time for sunset. I picked my spot and got my camera to watch one of the best sunsets I have seen in Gokarna. It's a tough competition for which is a better spot for sunset, the Kudle Beach or Middle Beach!
I then headed to Sunset Cafe Beach, which is right beside Trippr. You have to order the Shakshuka there, it was so delicious! So amazing and you can hear the waves while having food, I could sleep right there after a tiring day.
Day 2 in Gokarna: Staying at Zostel
I woke up early in the morning to have a little swim and sit by the sea. These are some of my favorite things to do, spend time by myself. I then decided to check out from Trippr and headed to Zostel.
After an amazing first day, it was time to get back to the routine of having breakfast at Dattaprasad Tiffin Canteen. I ordered the dosa and the coffee again.
Today was going to involve a lot of riding because I had planned to visit Murdeshwar. Murdeshwar is approximately 82 km away from Gokarna, and it takes two hours to reach there.
Visiting the Murdeshwar temple and the Gopuram
While on the way to Murdeshwar, you will also pass through Honnavar, where you can explore the backwaters. Murdeshwar temple is a popular Hindu pilgrimage site, which is dedicated to Lord Shiva. The temple is famous for two main things:
2nd Largest Shiva statue in the world, standing at a height of 37m(~121ft)

2nd Largest gopuram, which is 18 storeyed at a height of 72m(237ft)
You can see the Gopuram as soon as you enter the Murdeshwar town. After parking, I directly headed towards the temple first for the darshan. If you're going on a weekend, you will find it really crowded and the darshan can take you anywhere between 30 minutes to 1hour. 
Just behind the Gopuram is the Shiva state, which is really humongous! Even taller and bigger than the one in Kemp Fort in Bangalore. Now comes the best part, there is a lift which takes you to the top of the Gopuram on the 18th floor, isn't that exciting? The 360° view from the top is really breathtaking.
With the big Shiva statue at the back and the huge Arabian Sea in the background, the view couldn't get any better. 
Cost to go to the top of the Gopuram: ₹20
After enjoying the panoramic view from the top of the Gopuram, I headed to see the Shiva statue from close and also visited the temple underneath it. 
It was such a calm and serene feeling visiting the Murdeshwar temple and no Gokarna trip can be complete without visiting this place.
Murdeshwar Temple Timings: 7 a.m – 1 p.m. & 3 p.m – 8:15 p.m.
Raaja Gopura Timings: 6 a.m.  – 8:15 p.m.
After spending a good two hours at this place, it was time to get back to Gokarna. But before that, it was time for lunch. I had a quick lunch at Kamat restaurant just outside Murdeshwar town and headed towards Mirjan Fort!
Stop by the historic Mirjan Fort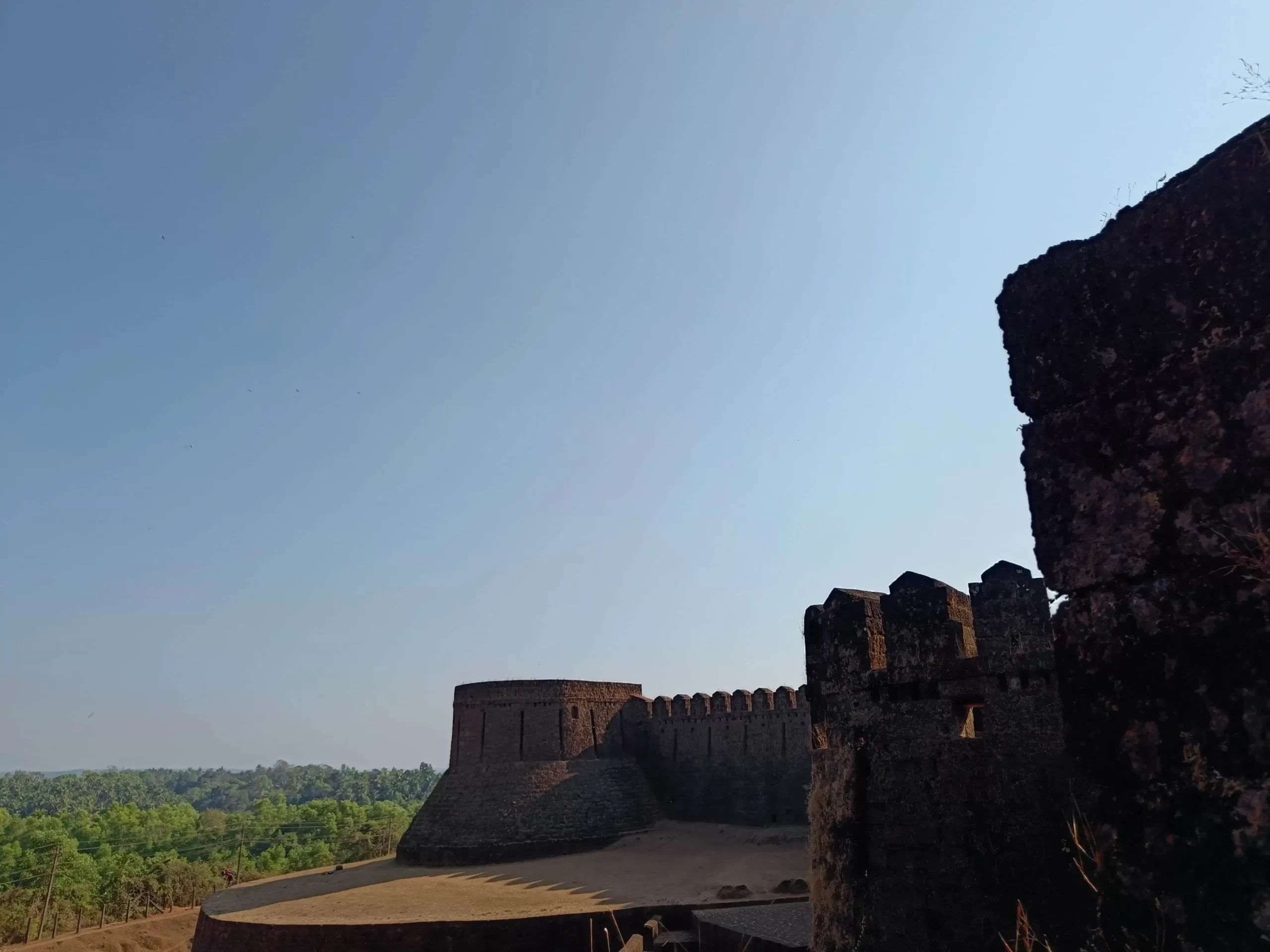 Mirjan Fort is a historic fortress built in the 16th century by the rulers of the Vijaynagar Empire. You can see the great bastions, escape routes, and watch towers at the fort. It's best to visit the fort during the monsoon or just after it, as it turns all green because of the overgrown grass on the walls of the fort.
It's a great spot for history lovers, though they don't let you take your cameras inside. I spent a good 30 minutes and then headed back to Gokarna.
Timings of the Mirjan Fort: 8 am – 5:30 pm
You can also visit Belekan Beach if you have time. Near the beach, there is also a Hanuman temple, which gives you a great view of the sea and the beach! One can also do the Gokarna beach trek starting from Belekan Beach!
Once I reached back at Zostel I spent the rest of the evening resting on the sunbeds and watching the sunset from there. 
Visiting Mahaganapati Temple & Mahabaleshwar temple 
After relaxing for a good time, I planned to visit the temples by walk as it is very close to Zostel. Start by visiting the Mahaganpati temple and then heading to the Mahabaleshwar temple, which is dedicated to the Hindu god Shiva as well.
You will not be allowed to visit the temple if you are not wearing a dhoti. You can either rent or buy it from nearby shops. The same applies to girls, no short/revealing clothes are allowed inside the temple.
A little history about the temple is that it was built in the 4th century. According to mythology when Shiva gave Raavan the Aatma linga while on his way back to Lanka, he was not supposed to keep it down. Everyone was afraid if Raavan reached Lanka, he would be the strongest, thus Shiva made him drop the Aatma linga, and that place happened to be Gokarna. 
Since he tried to lift the stone back and wasn't able to do it, he named the stone/linga Mahabala, which translates to the strongest. Thus the temple got its name as the Mahabaleshwar temple.
Temple timings: 6 am – 12:30 pm & 5 pm – 8 pm – Everyday
The temples also serve Prasad Bhojana. I did try it on my first-ever trip to Gokarna and would definitely recommend it.
Prasad Timings: 12 pm – 2 pm & 7:30 pm – 8:30 pm
Having dinner at Zostel Cafe
Once I got back from the temple, I was very hungry and decided to have food at the cafe in Zostel. The cafe has some amazing panoramic views and they serve delicious food. You definitely need to try the non-veg starters, though a little expensive but totally worth it.
It was nice to talk to fellow travelers after dinner and then go to bed as tomorrow was going to be another long day.
Day 3:  Walk to Kudle Beach
I woke up by 8 am and then headed to the town as I had to return the scooter. After returning I planned to have breakfast at Zostel. After a great breakfast watching the sea, I was ready for the famous Gokarna beach trek, which covers all the famous beaches of Gokarna. I checked out and kept my luggage in the waiting area.
Zostel to Kudle beach is just a 1km walk and takes 15-20mins. As soon as you start to descend to Kudle Beach, there is a small Hanuman temple there, which they say is also the birthplace of Lord Hanuman.  Not really sure if it's this or Anegundi in Hampi.
Kudle Beach is one of the most beautiful beaches in Gokarna, which is covered with hills on both sides. It's best to walk barefoot and traverse the long lengths of the beach! 
You can either swim or enjoy the different water sports here. Since I wanted to experience all the beaches, I thought to try water sports later! Towards the end of Kudle Beach, you'll find steps that lead you to the most famous beach of Gokarna," Om Beach".
Reaching the beautiful Om Beach 
It takes another 20-30mins to reach Om Beach from Kudle Beach. Once you have climbed the steps from Kudle Beach you'll reach a road, instead of following the road climb the volcanic rocks and you'll find the arrows on the ground pointing you to Om Beach.
The beach gets its name because it resembles the Hindu religious symbol "Om". The shape can only be seen when you're on the way from Om Beach towards Half Moon Beach. 
As soon as you reach Om Beach on the left side you'll see the famous Namaste Cafe. It's best to have a quick lunch here, and then move towards the other beaches. The food at Namaste Cafe is pretty average, not sure why the hype. Maybe because the restaurant overlooks the sea!
After having a quick lunch, I moved towards Half Moon Beach. If you don't want to hike, you can also take a boat from here directly to Paradise Beach. If you're lucky, you'll also be able to spot dolphins!
You can also swim at Om Beach, but be very careful as it has a sudden drop. 
The sun was at the top, and I thought It was better to keep moving and rest after Half Moon Beach.
Gokarna Beach trek: Heading toward Half Moon Beach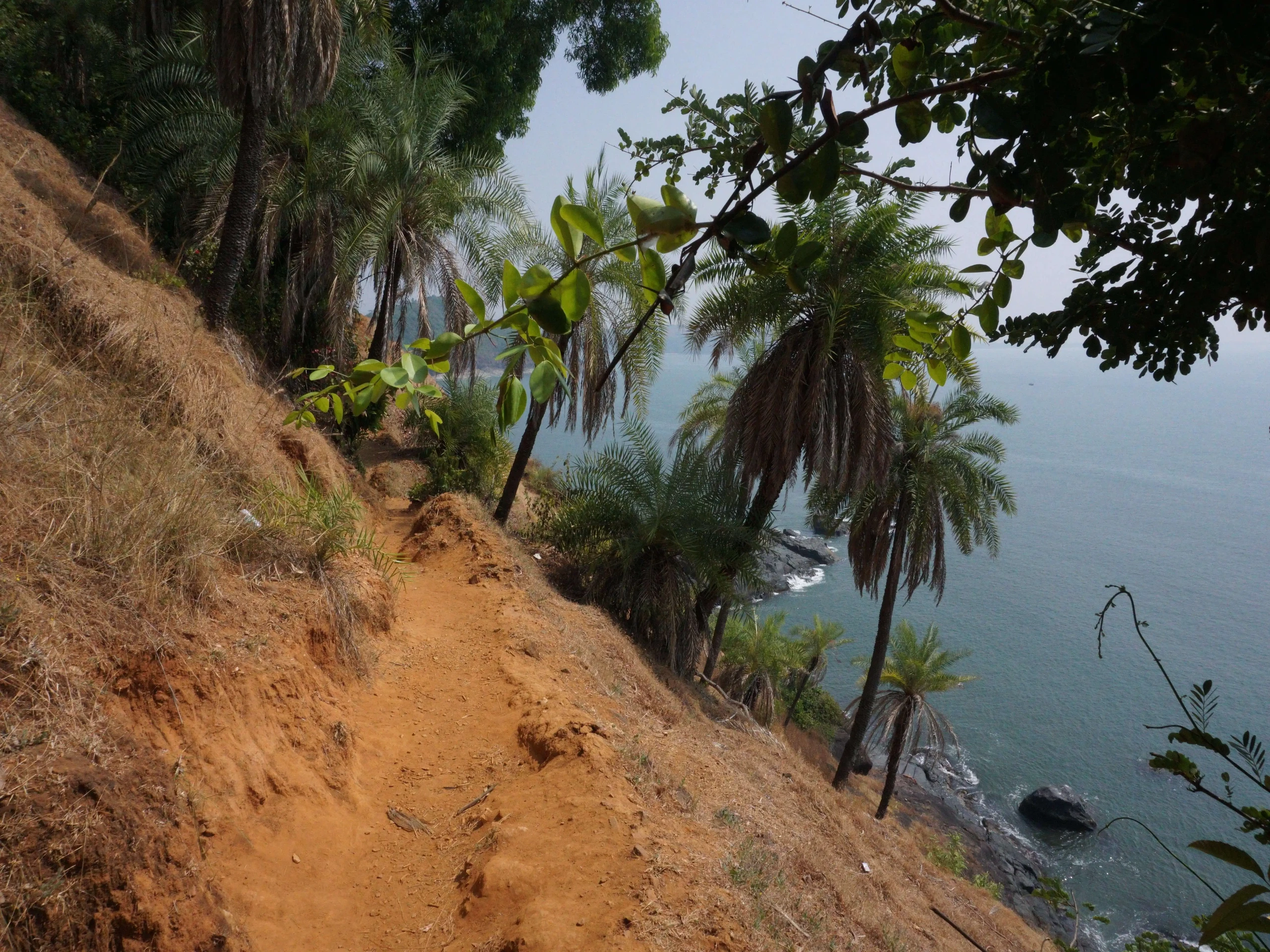 The route from Om Beach to Half Moon Beach is not an easy path, and at times you are walking with a drop of 60ft on your right side. It's better to do this with other travelers as you might get lost and the path is not straightforward.   
When you have just started from Om Beach, you'll find a path near a restaurant going toward your right, which will lead you to Om Beach viewpoint. Make a stop there and see the Om Shape being formed by the beach.
It takes 30 to 40 minutes to reach Half Moon Beach from Om Beach. 
The beach gets its name because of the crescent-shaped beach. It's not really a big beach, but it's nice to just relax in the water here.
You can also find a few shacks here providing snacks, I relaxed for some time and then started to Paradise Beach.
Is Paradise really found at Paradise Beach?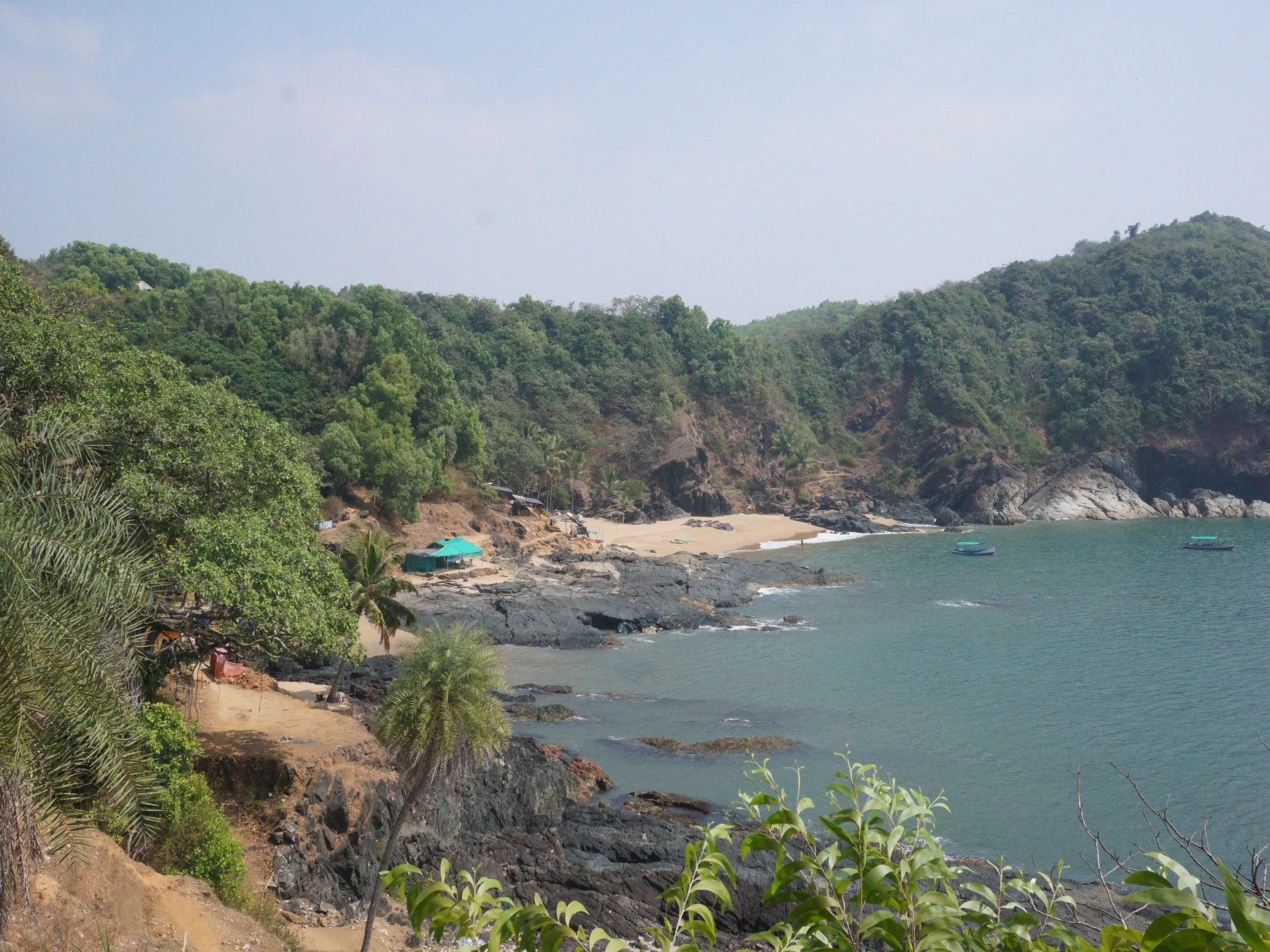 The path might not be clear after Half Moon Beach. You need to start from the back of the last shack. This is the toughest part of the Gokarna beach trek, but you have an amazing view of the Sea on the right. It takes close to 40 minutes to reach Paradise Beach. Before reaching Paradise Beach, you'll find a small beach called the Small Hell Beach. This was my favorite beach a few years back, as I had camped here for three days.
Paradise Beach is just a few meters away, you'll find a lot of smaller shops selling you chips and cold drinks here. When you reach Paradise Beach, you'll also find a camping site. Yes – people come and camp here for a night! 
Back in 2018, the beach was not known by many travelers and thus was very offbeat. Over the years with so much infrastructure being built, the beach has lost its charm. I swam for a while and rested near Small Hell Beach. Since it was already 4 p.m., I headed back to Kudle Beach to experience the sunset from there!
Sunset at Kudle Beach
It took me close to two hours to reach back to Kudle Beach from Paradise Beach, and as soon as I reached Kudle Beach I dropped dead. There was barely any time for trying any water sports so I decided to watch the sunset by myself.
And don't just leave after the sun has set. Wait for the magic to happen after that. I sat there thinking how amazing this trip had turned out to be. This was a power-packaged Gokarna trip where I got to experience so many amazing places!
 Since my bus was at 9 p.m., I decided it was time to get back to Zostel and freshen up. Before heading back, I stopped at my favorite spot for dinner. Any guesses? By this time, you guys already know it's Dattaprasad Tiffin Canteen, which doesn't just serve breakfast but all the meals! 
After that, I walked to the bus stop and took my bus back to Bangalore.
Gokarna itinerary for 3 days in brief
Day 1
Yana Caves

Vibhoothi Falls

Sunset on Middle Beach
Day 2 
Murdeshwar Temple

Mirjan Fort

Mahaganpathi & Mahabaleshwar Temple
Day 3
Kudle Beach

Om Beach

Half Moon Beach

Hell Beach & Paradise Beach

Sunset at Kudle Beach
As I had mentioned earlier, this is not the only Gokarna 3-day itinerary that you have to follow thus sharing all the other alternative 3-day itineraries.
Gokarna Relaxing 3 Day Itinerary
Gokarna, Jog Falls & Murdeshwar 3 Days trip
Gokarna & Honnavar 3 Days Trip
Day 1
- Relax at Kudle Beach
- Mahabaleshwar Temple

Day 2
- Jatayu Teertha
- Gokarna Beach Trek

Day 3
- Middle Beach
Day 1
- Kudle Beach
- Om Beach

Day 2(By Cab)
- Mirjan Fort
- Jog Falls
- Murdeshwar

Day3
- Middle Beach
- Mahabaleshwar Temple
Day 1
- Yana Caves
- Vibhuti Falls
- Middle Beach

Day 2
- Mirjan Fort
- Honnavar Backwater Boating
- Honnavar Mangrove Walk
- ApsarKonda Falls
- Belekan Beach

Day 3
- Gokarna Beach Trek
- Mahabaleshwar Temple
Gokarna 3 Day trip budget breakdown
| Gokarna 3 Day Trip Budget | Price for 3 days |
| --- | --- |
| Accommodation | ₹1800 - ₹2200 |
| Food | ₹1200 - ₹1800 |
| Transport(Scooty) + Attractions | ₹1500 - ₹1700 |
| Transport To Gokarna(Bus) | ₹1500 - ₹1900 |
| Total | ₹6000 - ₹7500(per person) |
Where to eat in Gokarna
Here is a list of places you should try when in Gokarna
Hope this guide helps you plan a perfect 3-day trip to Gokarna, If you have any other questions about Gokarna drop them below and I'll try my best to provide you with all the answers!