6 Most Amazing Cafes & Restaurants in Hampi
Hampi, popular for its ancient ruins, temples, and palaces is a UNESCO World Heritage site. The town dates back to the Vijayanagar Empire and is a popular tourist destination. Apart from its historical significance, Hampi also offers a wide range of cafes and restaurants where you can enjoy traditional South Indian dishes and international cuisine.
After visiting Hampi twice since 2019 and seeing it change so much, here are a few cafes and restaurants that you cannot miss on your trip to Hampi!
Let's first talk about the most popular cafe in Hampi
Mango Tree Restaurant(temporarily closed
)
The famous Mango Tree restaurant of Hampi is temporarily closed and also has been moved to a different location. The once famous restaurant in the temple town was shut for a long time since 2022 and was open in 2023 for a short while but in a different location. 
More to be updated once the restaurant is again open.
Location: It's been moved close to the Kamalapur Lake(Mango Tree Updated Location)
This doesn't mean Hampi doesn't have other top places to eat, let's get started with them.
Best cafes and restaurants in Hampi
1. Taste of Brahmins
Taste of Brahmins is an authentic South Indian restaurant, which you cannot miss when in Hampi. It's a pure veg restaurant that serves mostly breakfast. Every dish that you try here is delicious. The restaurant is run by a local family that is very hospitable. The restaurant has both indoor and outdoor seating and everything that they serve is cooked right in front of your eyes.
This is one of the best places to have breakfast in Hampi, the only drawback this place has is it closes really early by 11 a.m. You can not miss the paddu, idli, and filter coffee from this place, truly authentic!
Location:  Taste of Brahmins
Timings: 6:30 am – 11 am
Price: ₹100-₹200 for 2 people
2. Shambhu Dosa Centre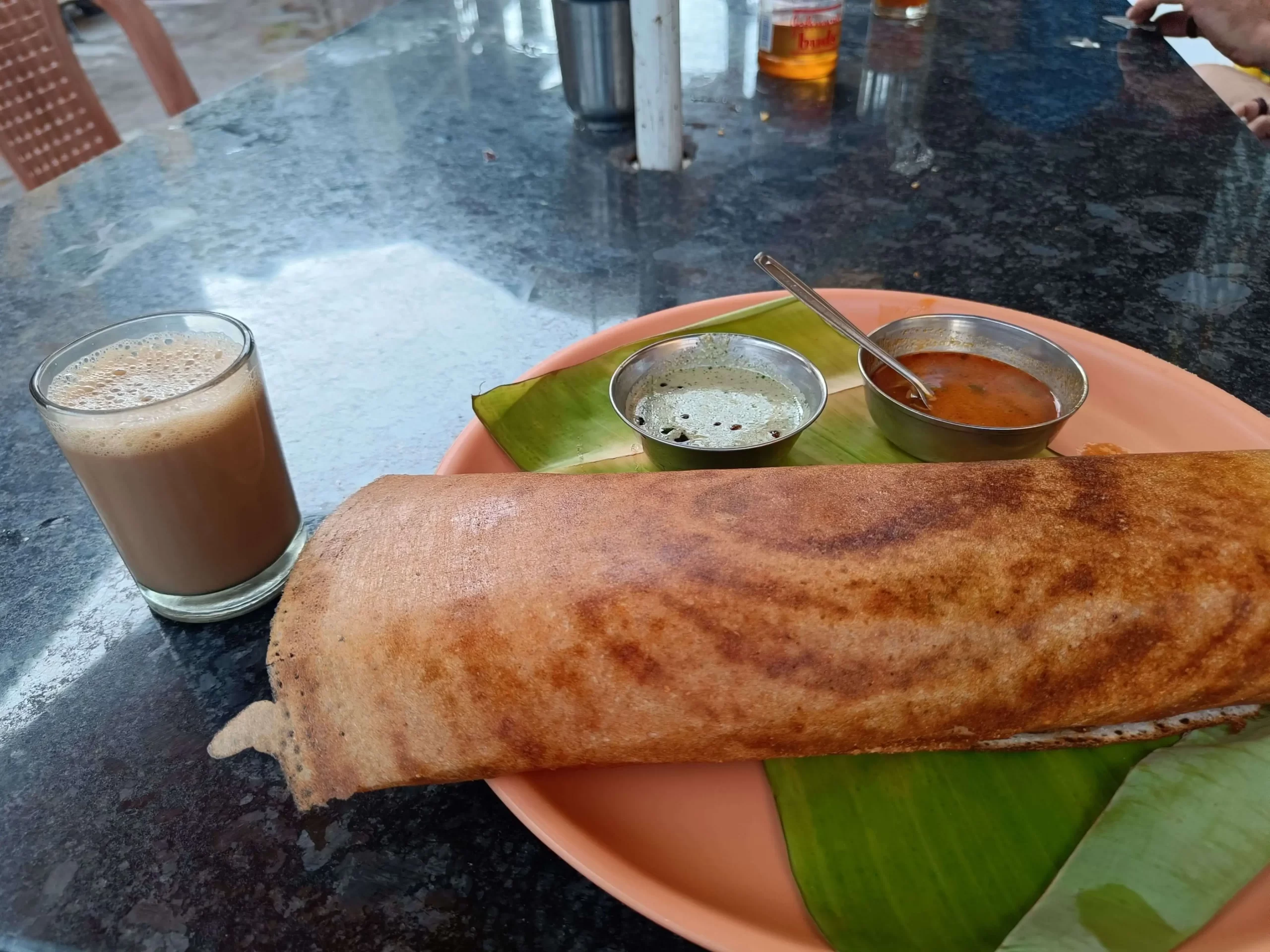 There are only two great spots to have breakfast in Hampi, the first one is Taste of Brahmins and the other one is Shambhu Dosa Center which is situated near it. Santosh Anna makes some of the best dosas and uttapams. I even stayed at their accommodation and the view during the sunset from the roof is something you cannot miss.
This is not a pure veg restaurant and they'll serve you eggs when requested. Overall a great budget place to have your breakfast!
Location: Shambhu Dosa Centre
Timings: 7 am – 12 pm
Price: ₹100-₹200 for 2 people
Also read: How to plan your trip to Hampi on a budget
3. Old Chillout Ganesh Restaurant
This is my favorite and one of the best restaurants in Hampi. Old Chillout Ganesh Restaurant is a sit-down restaurant that Hampi is famous for. As the name says a great spot for chilling and a perfect spot for having dinner in the temple town!
Everything that I have had here was delicious! The place is very ambient and has some great vibes during the night. 
Don't miss the pasta and the starters here and the staff too is very friendly.
Location: Old Chillout Ganesh Restaurant
Timings: 7 am – 11 pm
Price: ₹400-₹500 for 2 people
Tip: If you want to have non-vegetarian food look for Polo on the menu.
4. Laughing Buddha Restaurant
Earlier situated on the hippie island and very close to the ferry point, the restaurant has been moved to Sanapur Lake since 2022. The restaurant no longer has riverfront views, but the new location is still very ambient. They still serve some really good and delicious food.
It's a perfect place for lunch, whether you're visiting Sanapur Lake or heading back to Bangalore. Don't forget to try cliff-jumping at Sanapur Lake as it's one of the best things to do in Hampi.
One thing that you should probably not order is the Pineapple pizza (why do restaurants even have it on their menu?). Yes, we made a mistake because one of my friends wanted to try it, probably one of the worst decisions taken!
Location: Laughing Buddha
Timings: 9 am – 10 pm
Price: ₹500-₹600 for 2 people
5. Brown Elephant Cafe
Brown Elephant Cafe is very close to Hippie Island which is now closed. The restaurant is very secluded but serves some amazing food with great views! The place also has a great sunset spot, do ask the staff there for this!
You might also be able to spot the crocodiles from here. The path to reach the restaurant is difficult by car so it's better to park it before and walk the last few hundred meters.
Location: Brown Elephant Cafe
Timings: 9 am – 10 pm
Price: ₹400-₹500 for 2 people

6. Hotel Swagath
This restaurant is very close to the Virupaksha temple and was one of the very first places I had food back in 2019. They serve some delicious dosas, idli, and Mirchi Bhaji. It's a very small stall and as for seating, you can find several plastic stools to sit on.
Overall a great place to have breakfast, but my current favorites are still Taste of Brahmins and Shambhu Dosa Centre.
Location: Hotel Swagath
Timings: 7:30 am – 9 pm
Price: ₹100-₹200 for 2 people
Hampi Hippie Island Shut Down – Update 2023
Hampi has been seeing a lot of change in recent years, both in good and bad ways. The Hippie Island has been shut down since 2022, and all the cafes and restaurants have either been shut down completely or have moved to far-off places in Anegundi or Sanapur.
Some of the restaurants which were in the temple town have also been shut, therefore this list is small. I'll be updating this guide as more restaurants open up.
Some of the other restaurants that are highly rated on Google are
Hope this guide on the best places to eat in Hampi helped answer all your hunger questions!