25 Top Places to Visit in Gokarna(Things to do Included)
Are you planning a trip to Gokarna and looking for the top places to visit and things to do? Your search ends here! After visiting multiple times, I've put together a complete Gokarna guide. This guide will take you on a virtual tour of Gokarna's top attractions and activities. You'll discover the hidden gems and must-visit spots in Gokarna, from exploring the picturesque Om Beach to embarking on a thrilling beach trek.
Best Places to visit in Gokarna
1. Gokarna beach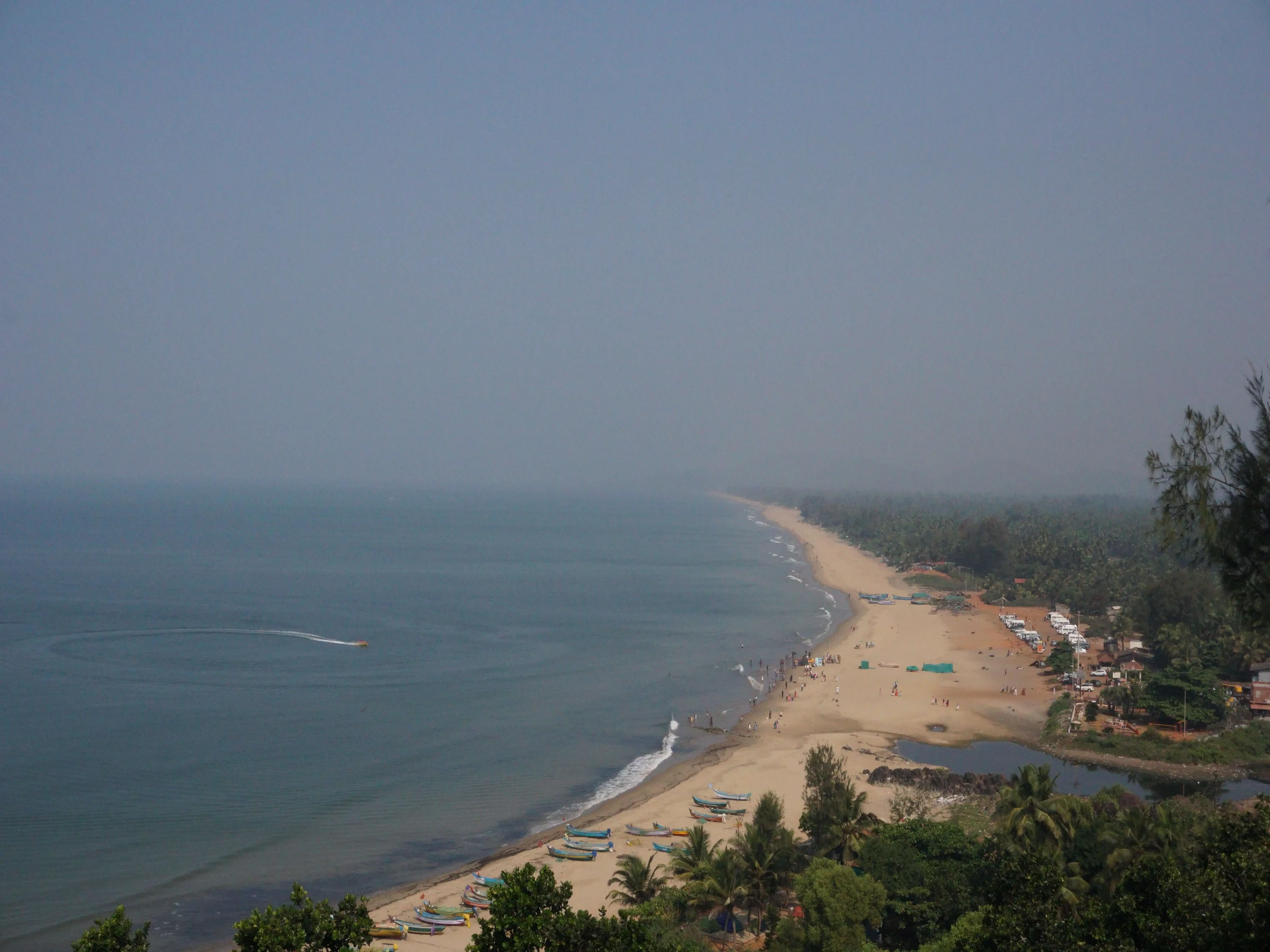 The main Gokarna beach is a famous tourist spot amongst the locals and is very close to the Mahabaleshwar Temple. The pilgrims who come to the temple first visit the beach to take a dip. You can also do various activities like camel riding or water sports at Gokarna Beach. 
Gokarna Beach is also the starting point of the famous Gokarna beach trek, which covers other beaches of Gokarna.
Read More: Budget trip to Gokarna in under ₹3000
2. Kudle Beach
One of the most famous beaches of Gokarna, Kudle Beach is a long-stretched beach covered with hills on both sides. 
To reach Kudle Beach from either side, you need to trek down a few hundred meters. Kudle Beach is a famous tourist spot amongst both local and international travelers. You can also opt for different water sports on Kudle Beach like jet skiing, parasailing, a banana boat ride, and many more activities.
If you are looking for a great spot to watch the sunset, Kudle Beach has to be your choice! It's one of my favorite spots to watch the sunset.
The beach also has a lot of shacks where you can stay for cheap!
Where to Eat on Kudle Beach: Sea Rock Cafe
Where to Stay on Kudle Beach: Sea Rock Cafe has its own accommodation which you can directly reach and book
3. Om Beach
Om Beach has to be the most famous beach in Gokarna. It's called Om Beach because it's shaped like the 'ॐ' religious Hindu symbol, representing the sound of 'Om'.
To see the Om shape of the beach from a height, it's best to view it from the Om Beach Viewpoint which lies between Om Beach and Half Moon Beach.
To reach here you can either take an auto from the town or also trek from Kudle Beach. 
The famous Namaste cafe is also situated on Om Beach, which has some amazing beachfront views. The beach is also getting popular with other activities like camel rides and dolphin-watching tours.
One can also take a boat from here to reach Paradise Beach if they don't want to trek.
Note: Parts of Om Beach have a sudden drop in a sandbank, which can be dangerous for people who don't know how to swim.
Where to eat on Om Beach: Namaste Cafe, Nirvana Cafe
4. Half Moon Beach
Half Moon Beach is a cute little beach on your Gokarna beach trek. It's a small beach shaped like a half-moon, thus the name. What's also exciting is the scenery behind the beach with all the rice fields, it makes the whole scene very picturesque.
To reach the Half Moon beach you can either trek from Om Beach or Paradise Beach or you can take a boat from Om Beach. I would really prefer the trek, as it's very thrilling and offers some amazing views of the sea.
There are two small restaurants on Half Moon Beach which are a great spot for a quick snack on your Gokarna Beach trek.
Read More: The perfect 3 day Gokarna itinerary
5. Paradise Beach & Small Hell Beach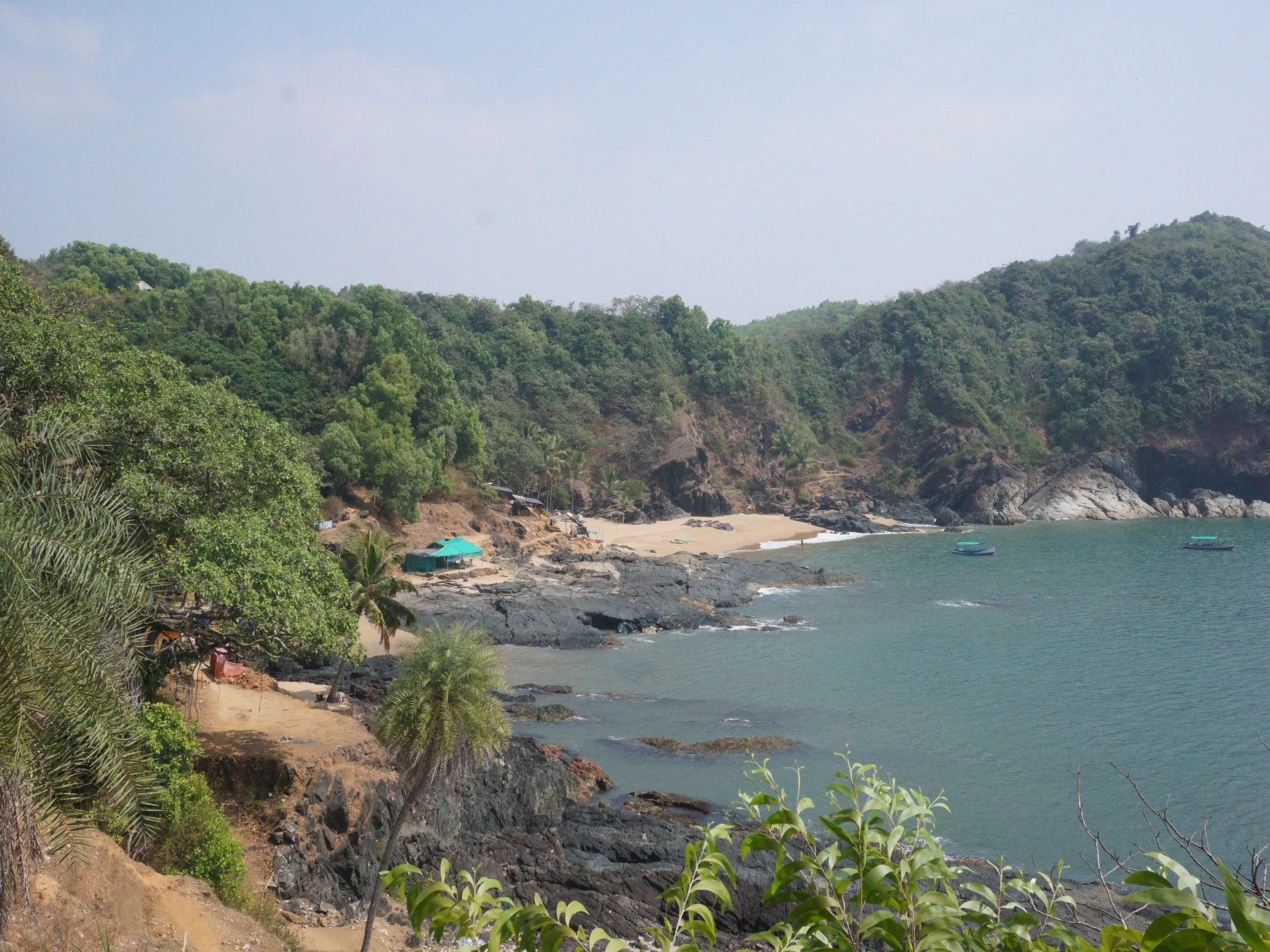 Paradise Beach is your last stop on the Gokarna beach trek if you start from the town or Kudle Beach. It is a very secluded beach which can only be reached via the beach trek or boat. The beach has some amazing views and I have seen one of the best sunsets when I was camping here in 2019. 
While on the way from Half Moon Beach, you will also find a small beach on the way to Paradise Beach, this beach is called Small Hell Beach. 
Earlier, there was no official camping in Paradise Beach, so if one had to camp they had to manage everything by themselves. Currently, there is a company that manages everything for you. 
But because of this, I feel Paradise Beach has lost its charm, with so many small shops and the camping setup it's become a tourist hub!
6. Mahabaleshwar Temple & Mahaganpati Temple
The Mahabaleshwar temple in Gokarna is one of the most prominent religious sites in the region. It is dedicated to Lord Shiva and holds great importance among Hindu devotees. 
According to the legends, Lord Shiva dropped the Atmalinga (a form of himself) into the sea at Gokarna, and it is believed that the temple was built around this sacred object. Another mythical tale associated with the temple is that it is the place where Lord Ravana performed penance to please Lord Shiva. The temple is also believed to be one of the seven sacred Muktikshetras (places of salvation) in Karnataka.
When Lord Ravana couldn't lift the linga, he called it 'Mahabala' or 'the strongest.' That's how the temple got its name, Mahabaleshwar.
Just beside the Mahabaleshwar temple is the Maha Ganpati temple which you should visit first according to the Hindu religious beliefs. 
Note: For men, a dhoti is mandatory to enter the temple. For women, no short or revealing clothes are allowed.
Temple timings: 6 am – 12:30 pm & 5 pm – 8 pm – Every day
The temples also serve Prasad Bhojana which I will highly recommend
Prasad Timings: 12 pm – 2 pm & 7:30 pm – 8:30 pm
7. Middle Beach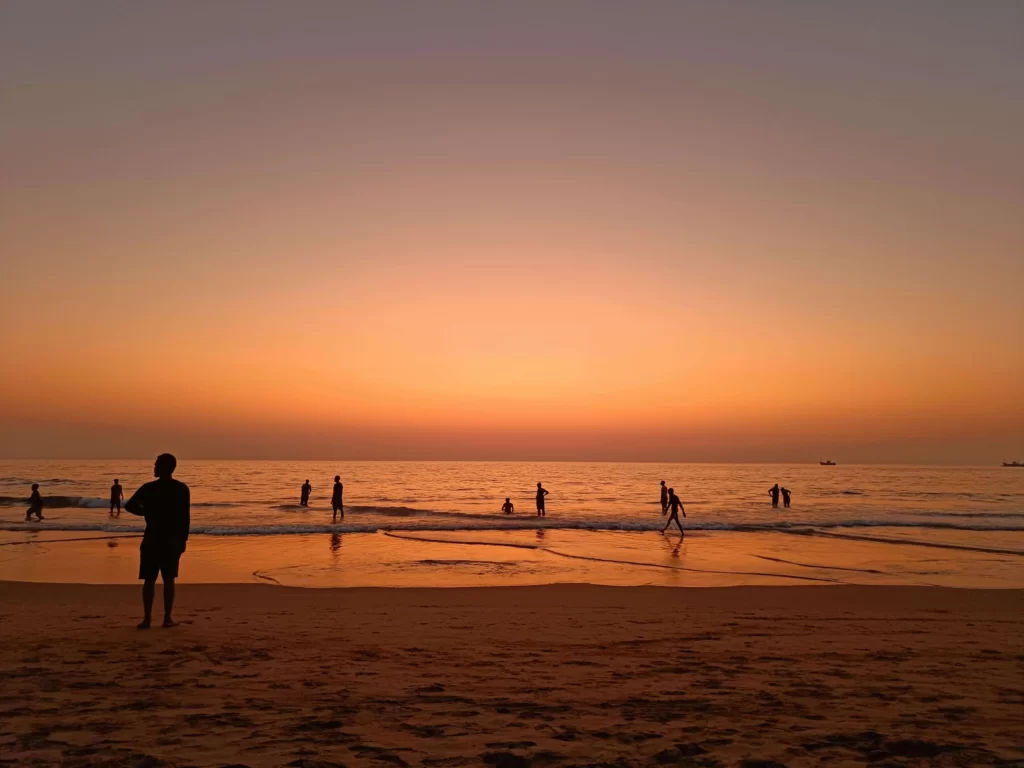 Middle Beach in Gokarna is on the same stretch as Gokarna Beach but a little ahead and it might also be one of my favorite beaches in all of Gokarna. There are two main reasons for that. All the other beaches in Gokarna have started to get very crowded and Middle Beach is still a little untouched. The other reason is this beach actually has the best sunsets. 
If you want to experience the other beaches, it's better to stay near Kudle Beach. But if you want a crowd-free beach, then Middle Beach is a great option.
Where to eat in Middle Beach: Bhagvan Cafe, Sunset Cafe, Chez Christophe French Cafe
Where to Stay in Middle Beach: Trippr Gokarna
8. Jatayu Teertha
Jatayu Teertha is another scenic spot that is also famous because of it being linked to Ramayana. Some say when Jatayu was trying to save Sita from being taken away by Ravana, he was killed and fell at the exact same spot. According to Hindu mythology, his wing was first cut, which landed at this spot, and he fell in a place near Varkala which is famously known as Jatayu Earth's Centre.
This spot has some of the best views of the sea, just like the beach trek. While not many tourists know about this place, the place still has a lot of garbage.
There is no beach, but you can get closer to half-submerged rocks. The path can be a little risky, so it's advised to not go there alone.
Jatayu Teertha falls between Gokarna Beach and Kudle Beach.
Location: Jatayu Teertha
9. Gogarbha Cave
Gogarbha Cave is still an offbeat spot in Gokarna, and not a lot of people know about it. It is also known as the Shiva Cave or Gokarna Cave and is near Kudle Beach
According to Hindu mythology, the cave is said to be where Lord Shiva came out from a cow's ear, which is why it's called Gogarbha.
Inside the cave, there's a Shiva Lingam. They say that if you make a wish here, it can come true.
Location: Gogarbha Cave
10. Belekan Beach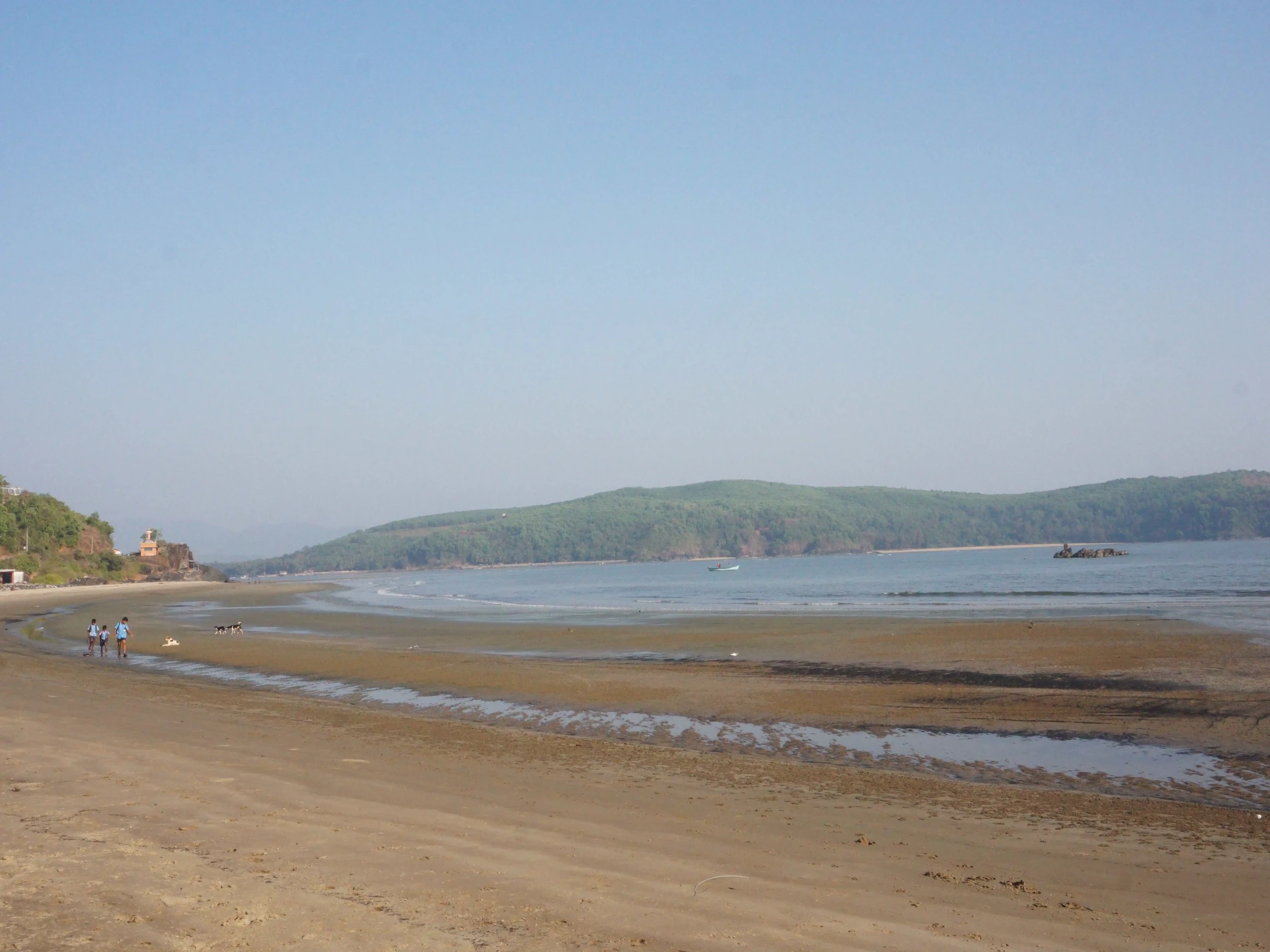 If you want a quieter beach than Middle Beach, Belekan Beach is the one for you. The beach is famous because you can also start the Gokarna beach trek from here. The trek from here first leads you to Paradise Beach, Half Moon Beach, Om Beach, and all the way to Kudle & Gokarna Beach.
While the beach doesn't have many activities to do, you should visit the Anjaneya Temple which is situated close to the beach.
Places to eat in Belekan Beach: Om Shanti Paradise Cafe
These were some of the best places to visit in Gokarna. The next section focuses on places to visit near Gokarna, which can either be visited by a scooty or car
Places to visit near Gokarna(Within 100kms)
11. Yana Caves
Yana Caves are well known for their unique rock formations that took thousands of years to form naturally. The main attractions are two big limestone rocks called Bhairaveshwara Shikara and Mohini Shikara. These caves are sacred for Hindus and pilgrims visit them.
At the entry of the cave is also a small temple which you must visit.
There is also a mythological story behind the formation of the caves. It is said that a demon king named Bamasura was given a boon by Lord Shiva, because of which he could burn anyone to ashes. He then started to misuse his powers. Lord Vishnu then transformed into Mohini, a seductress, and then made him burn himself to ashes, and thus the caves were formed.
The best time to visit the caves is during Maha Shivratri as the people around celebrate a 10-day-long festival at Yana Caves.
Cave timings: 8 am – 6 pm
Location: Yana Caves
Distance from Gokarna: 57 km
12. Vibhoothi Falls
Vibhoothi Falls is a beautiful waterfall located 45 km away from Gokarna. The waterfall is nestled inside the forest, and one needs to walk a few 100 meters from parking to reach the waterfall. The waterfall cascades down from a height of 25 feet and is a beautiful sight to watch. 
Don't forget to pack your swimming gear as you can take a refreshing dip in this waterfall. For people who don't know how to swim and want to get under the waterfalls, you'll find a local providing life jackets at a very minimal cost. 
While there are spots to jump into the waterfall, it can be dangerous. Thus I advise you to be cautious.
Timings: 8 am -5:30 pm
Location: Vibhoothi Falls
Parking Fees: ₹10
Distance from Gokarna: 45 km
13. Murudeshwara Temple
How can a trip to Gokarna be completed without visiting the Murdeshwar Temple? Murdeshwar temple is a well-known Hindu sacred place devoted to Lord Shiva. People visit it for two main reasons:
It has the world's second-largest statue of Lord Shiva, towering at 37 meters (about 121 feet).

The temple boasts the world's second-largest gopuram (entrance tower), with 18 floors and a towering height of 72 meters (about 237 feet)
And this is not all. You can also climb(take a lift) to the 18th floor of the Gopuram and have an amazing panoramic view of the temple and sea. 
There are several other watersports that you can try near the temple. This has to be one of the most beautiful temples one can visit.
Murdeshwar Temple Timings: 7 a.m – 1 p.m. & 3 p.m – 8:15 p.m.
Raaja Gopura Timings: 6 a.m.  – 8:15 p.m.
Distance from Gokarna: 82 km
14. Mirjan Fort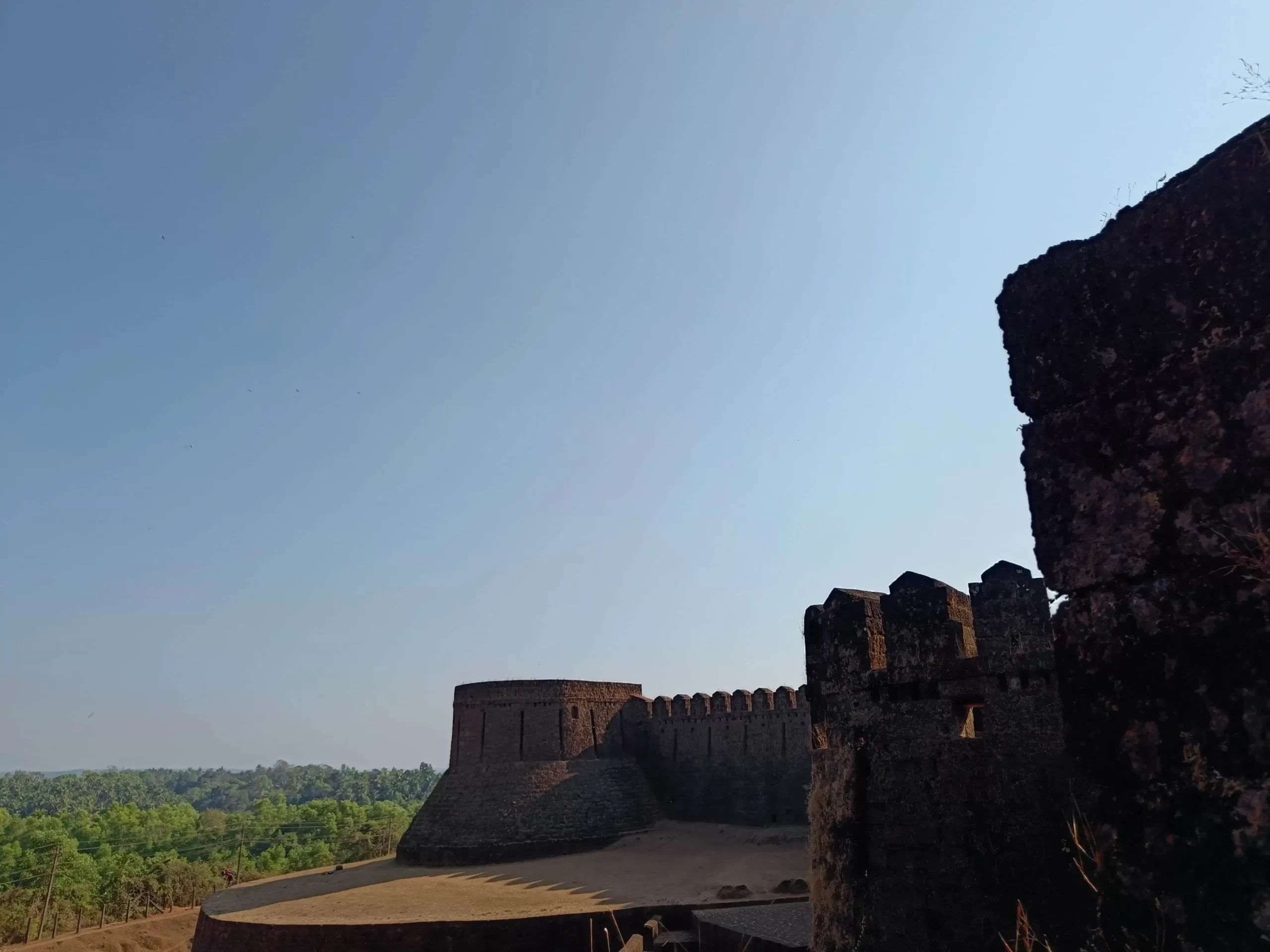 Mirjan Fort is an old fortress constructed in the 16th century by the Vijaynagar Empire leaders. When you go there, you can check out the strong walls, secret pathways, and tall watchtowers of the fort. 
The best time to visit is during or just after the monsoon season when the fort's walls turn lush and green due to the overgrown grass.
This astounding fort should be on your list when you visit Gokarna.
Note: You are not allowed to take your camera inside the fort, only mobile photography allowed
Fort Timings: 8 am – 5:30 pm
Distance from Gokarna: 25km
15. Nirvana Beach
Nirvana Beach is the most secluded beach near Gokarna. The beach is famous for its sandy shores and mesmerizing sunsets. To reach here, you can either take a ferry from Om Beach or come by road.
While there are few resorts to stay on this beach, it's not crowded like any other beach in Gokarna. 
If you are looking for some quiet time, who knows you might find nirvana at this beach here.
Distance from Gokarna: 48 km
16. Honnavar Mangrove Walk
Honnavar Mangrove Walk, also known as Sharavathi Kandla Mangrove Boardwalks, is a popular tourist attraction known for its natural beauty and serene ambiance. Located in Honnavar, 45 km away from Gokarna, this nature walk has recently gained popularity because of Instagram.
The elevated wooden pathway takes you through the dense mangroves, providing stunning views of the surrounding river and its inhabitants. You can read more about the boardwalk here. This unique tourist spot is one of the best places to visit near Gokarna.
Entry Fees: ₹10
Timings: 9 am – 6:30 pm
Location: Sharavathi Kandla Mangrove Boardwalk
Distance from Gokarna: 58 km
17. Apsarakonda Waterfalls
After visiting Vibhoothi Falls, I was really excited to visit the Apsarakonda Waterfalls. Though it's a very popular waterfall near Honnavar, it is very important to understand it's a very small waterfall and should be best visited during the monsoon.
When I visited in January, it seemed more like a stream of water dropping from a height.
The waterfall has very picturesque surroundings and is popular amongst couples for their pre-wedding shoot.
Parking Fees: ₹10
Timings: 6 am – 6 pm
Location: Apsarakonda Waterfall
Distance from Gokarna: 70 km
Waterfalls to visit near Gokarns within 150kms 
18. Jog Falls
The majority of you would have heard about the famous Jog Falls in Karnataka. Jog Falls is situated in the Shimoga district of Karnataka and makes for a great day trip from Gokarna.
The Jog Falls is also considered to be one of the highest waterfalls in India, falling from a height of 830ft. The waterfall is formed by the River Sharavathi, which cascades down the rocky landscape in four distinct segments known as Raja, Rani, Rocket, and Roarer.
Without giving away too much about the falls, this is a must-visit for nature lovers and adventure enthusiasts visiting Gokarna during monsoon.
Jog Falls Entry Fees: ₹10
Timings: 7:30 am – 9:30 pm
Location: Jog Falls
Distance from Gokarna: 117 km
19. Sathodi Falls
Sathodi Falls is a beautiful waterfall located in the Yellapur district in Karnataka. It is nestled amidst the lush green forests of the Western Ghats, making it a popular destination for nature lovers and adventure enthusiasts. The waterfall cascades down from a height of around 50 feet.
To reach the waterfall, you have to walk a few hundred meters to reach this picturesque waterfalls. While you might see a lot of people swimming, it is really not advised as it can get really dangerous because of the flow of water.
To have a real experience of how this waterfall unfolds, check this video by Not in Office.
You should also visit Shivpura Hanging Bridge, which is close to the waterfalls.
Timings: 6 am – 5 pm
Sathodi Falls Entry Fees: ₹10
Location: Sathodi Falls
Distance from Gokarna: 106 km
These were some of the most prominent tourist attractions in and around Gokarna that you must visit. But this is not all Gokarna has to offer. Let us look at some of the best activities and things to do in Gokarna.
Things to do in & around Gokarna
20. Water sports at Kudle Beach
As I mentioned earlier, Kudle Beach has become a great hotspot for water and adventure lovers. You can try different water sports like jet skiing, kayaking, banana rides, and parasailing. 
If you're looking for an adrenaline-pumping experience, you should try the water sports at Kudle Beach.
21. Dinner in a Chez Christophe French Cafe
Chez Christophe is one of the hidden gems of Gokarna. If you are looking for a nice ambient cafe with great music, you need to visit here.
The cafe offers chilled vibes with authentic French Cuisine, you read that right. During the evening, you can find an artist performing at the cafe and making the atmosphere more lively.  
Finding this place can be a little tricky, but it is all worth it. Do try the crème brûlée dessert as it is a specialty here. Overall they have great food and a good ambiance.
22. Gokarna Beach Trek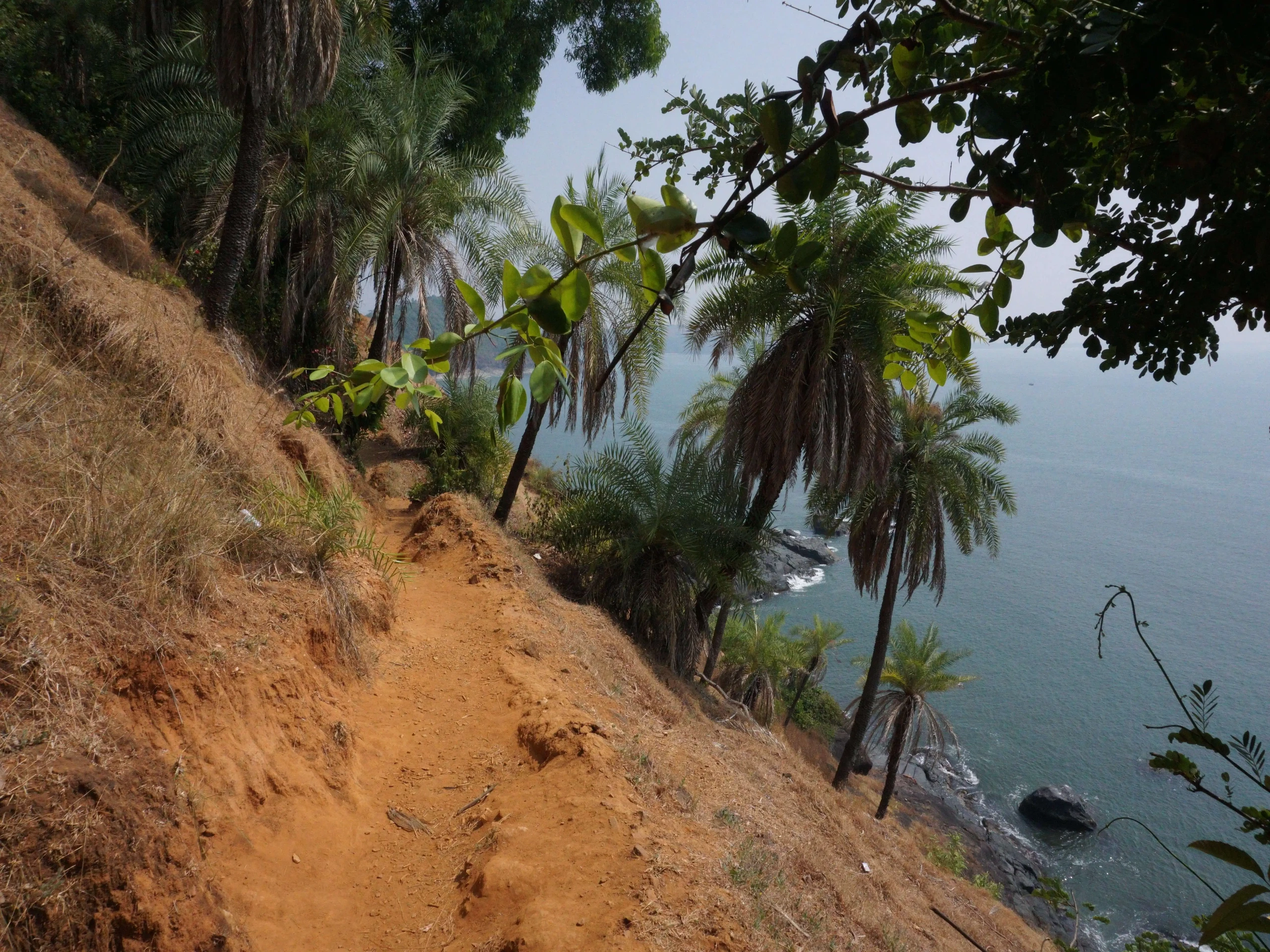 Gokarna is famous for its beaches, but what it's also famous for is the beach trek to reach these beautiful beaches. The trek starts from Gokarna town or Gokarna beach, covering all the other famous beaches like Kudle Beach, Om Beach, Half Moon Beach, Hell Beach, and Paradise Beach. Each of these is 20-40mins apart and offers some of the best views of the landscape Gokarna has to offer. 
Some parts of the trail are very risky and it's advised to do it with a group.
23. Sunsets from different beaches
If you're like me and love sunsets, Gokarna is not going to disappoint you. I have seen some of the most beautiful sunsets here and there's not just one spot, there are multiple spots where you can enjoy the sunset. Here are my top spots to watch the sunset from in Gokarna:
Middle Beach

Kudle Beach

Jatayu Teertha

Small Hell & Paradise Beach
24. Dolphin Watching from Om and Kudle Beach
Apart from beaches and temples, Gokarna is also famous for spotting dolphins. One can spot the dolphins in these two ways
Take a boat tour early in the morning from Om Beach or Kudle Beach

While trekking, there are spots between Kudle Beach to Om Beach, and Om Beach to Half Moon Beach.
While there is no surety as to when one can see them, you can try your luck.
25. Honnavar Backwater Boating
Did you think the backwaters only existed in Kerala? The Honnavar Backwater might not be as famous as the Alleppey Backwaters, but you can't miss this unique experience when visiting Gokarna. 
Both sides of the river are filled with coconut trees, offering an amazing boating experience. It's best to go boating either during sunrise or sunset.
How to reach Gokarna
Gokarna is a popular tour spot, and there are several ways to reach Gokarna depending on where you start.
If you're traveling from Bangalore or Mumbai you can easily reach Gokarna via air, bus, or train.
The closest airport to Gokarna is the Dabolim Airport in Goa, which is 140 km away from Gokarna.
If you prefer to travel by train, Gokarna Road is the nearest railway station. 
The best time to visit Gokarna
If you want to experience the beaches of Gokarna, it's best to visit during October and March. The weather is pleasant after the monsoon, and it's not really hot. If you want to visit Gokarna to experience some of the best waterfalls, it's best to visit during the monsoon from June to September.
If you're looking for fewer tourists, the months from April – June would be best but the weather would also be touching 40°
Frequently Asked Questions about Gokarna
Q1. Which is the best month to visit Gokarna?
Ans. It totally depends on your preference. If you want to experience the beaches, it's best to visit between the months of October & March
Q2. What is the budget for Gokarna?
Ans. Gokarna is a great place if you're looking for an affordable trip. You can explore and enjoy the town for 2-3 days with a budget of around 3000 to 5000 rupees.
Read more: Budget trip to Gokarna
Q3. How many days are enough for Gokarna?
Ans. It's best to visit Gokarna for 3 days so as to cover all the amazing beaches and temples in and around Gokarna.
Q4. Is Gokarna safe for female travelers?
Gokarna is safe for female travelers, but unlike any other place, it's best to be cautious and not go out to the beach by yourself.
If you have any other questions about Gokarna drop them below and I'll try my best to provide you with all the answers! Let me know which place should I cover next in the comments!