Tanzania Tourist Visa for Indians(2024): How to Apply
Planning a trip to Tanzania in 2024 and wondering how to obtain a Tanzania tourist visa? Look no further, this article will cover all the details of applying for a Tanzania tourist visa as an Indian. 
Whether you want to experience the biggest wildebeest migration, reach the top of Africa, or relax on the beautiful beaches of Zanzibar, obtaining a visa is the first step on your big African trip.
Read on to find the step-by-step procedure and requirements to have a hassle-free visa experience.
Types of Tanzania Tourist Visa and Application Process
Tanzania offers different types of tourist visas to cater to the varying needs of travelers. The most common type of tourist visa for Tanzania is the single-entry visa, multiple-entry visa, and transit visa.
Tanzania is one of the few countries that lets Indians apply for a visa on arrival. Likewise, you can also apply for an e-visa from the Tanzania immigration website or directly from the Tanzania High Commission in New Delhi. 
The easiest of all the methods is to apply for an e-visa to have a hassle-free experience at the airport.
Where to apply for Tanzania e-visa
You can apply for the Tanzania e-visa from the official Tanzania immigration website – https://visa.immigration.go.tz/. The process is simple and barely takes 30 – 40 minutes. You don't have to specifically look for an agent and can complete the visa process all by yourself. Check the step-by-step process to apply for the Tanzania e-visa below.
What is the cost of a Tanzania tourist visa for Indians?
A Tanzania single-entry visa costs $50(~₹4,100), which lets you stay for 30 days maximum and has a validity of 90 days from the date of issuance. You can make the payment using a Visa or Mastercard or make a bank transfer to the account details provided when filling out the e-visa. 
Tanzania e-visa requirements for Indian citizens
Passport size photo less than 300kb

Passport bio-data photo(not PDF), size should be less than 300kb

Passport Validity: Before going to Tanzania, check your Indian passport. It should be valid for at least six months beyond your travel date. Make sure there are at least two blank pages for the visa stamp.
Copy of the return ticket: You need to provide your return flight details or details of your exit from Tanzania. Since the flights are expensive and if you don't receive the visa approval for some reason, it's better to get a dummy ticket.
This was my first time using a dummy ticket. I got it from my friend who has his own company. If you are also looking for dummy tickets, check them here: Advance Tickets
Hotel Address: You need to provide your hotel address, others who haven't decided can book a hotel on booking.com and provide those same details. You need to only provide the details, and no confirmation booking is needed
How to apply for Tanzania e-visa step-by-step process
Step #1: Go to the official website of Tanzania Immigration, click on New Application, and fill out your basic details.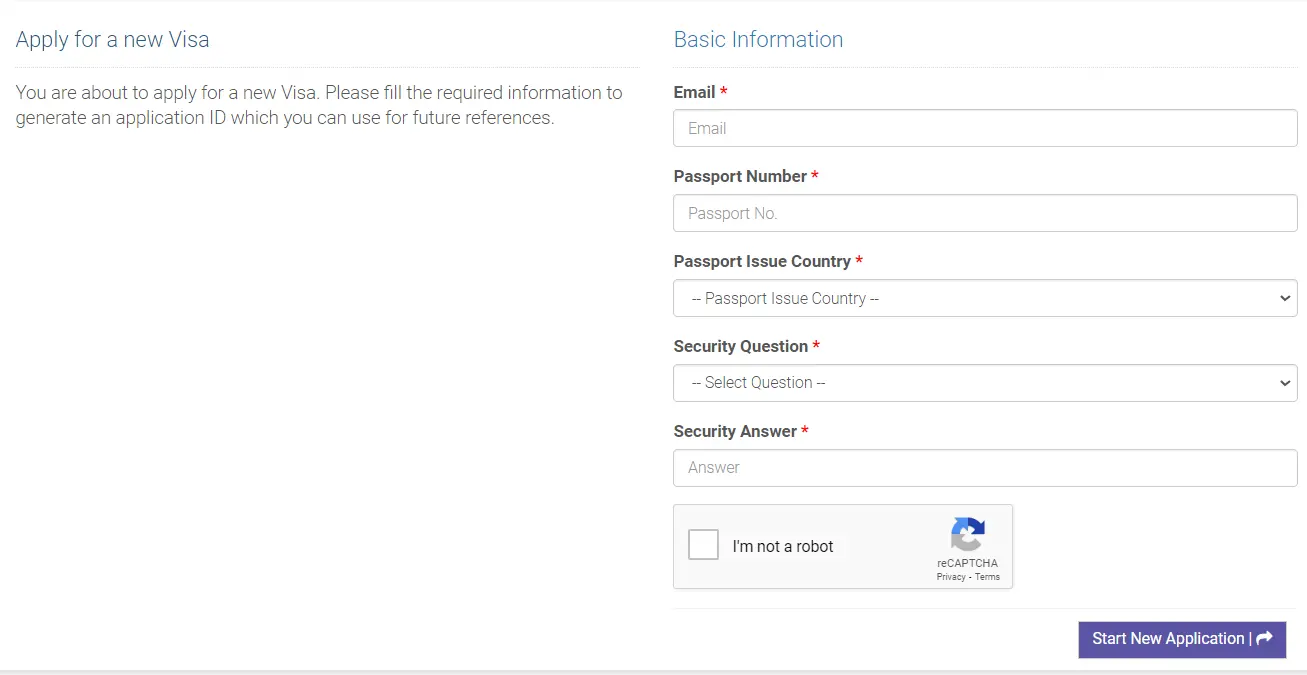 Step #2: Add your personal information as per your passport.
Step #3: After adding the basic information, add your contact, address, and employment information.
Step #4: Add the passport information, make sure you check all the details and add it as given in the passport.
Step #5: Next, provide your travel information, like the port of entry and whether you are applying for mainland or Zanzibar. Remember to add Delhi to the nearest embassy to handle the application.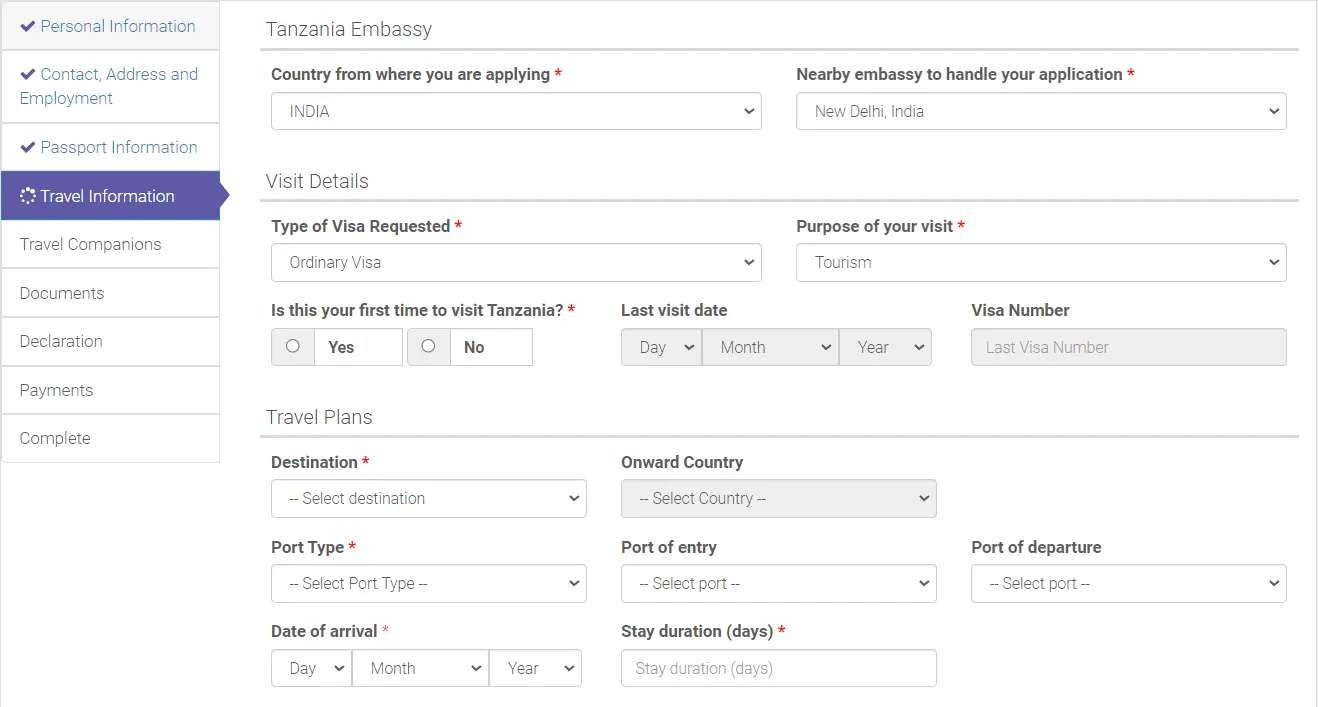 Step #6: Continuing from the previous step, you have to mention whom you are going to stay with and their address, if it's a hotel mention 'self' and hotel and add the address of the hotel.
Step #7: If you are traveling with a minor or a group please mention that.
Step #8: The most important section of the Tanzania e-visa process, add your passport photo, passport bio-data page, and the return ticket. All these documents are mandatory.
Step #9: Confirm all the details in the next step and make the payment of $50 using your visa or master card
It's better to finish the process in one go because the save application feature doesn't work accurately.
What is the Tanzania e-visa processing time?
While a lot of places will mention you can get the visa in 5 working days, it might not be always true. The official immigration website mentions 10 days, keeping that in mind I would really suggest applying at least 2 weeks in advance. I got my Tanzania e-visa 7 days after the date of submission.
Things to know about Tanzania visa on Arrival for Indians
Tanzania is one of the 29 destinations which lets Indians apply for an on-arrival visa according to the Henley Passport Index. The visa-on-arrival process for Tanzania is very straightforward, you have to fill out the application form and East Africa community form with your passport and stay details. 
Though they don't ask for passport photos, it's always best to carry some spare just in case. You need to have a return ticket as well to show your exit from the country. Once you have filled up the form you can pay the visa fees of $50 either using your US Dollars cash or with your visa or master card.
Zanzibar visa for Indians
Zanzibar is a semi-autonomous region and is part of the United Republic of Tanzania. A Tanzania e-visa also works for visiting Zanzibar. If you are directly visiting Zanzibar you have to mention that as the port of entry in Step 5(Check all the steps above).
If you have first landed in Mainland Tanzania, you don't have to apply for an e-visa again to visit Zanzibar.
Also Read: Zanzibar Travel Guide for first-time visitors
Is a Yellow fever certificate needed for Tanzania?
While the CDC recommends a Yellow fever vaccination is not needed, if you're visiting Tanzania, I was specifically asked for the vaccination at the airport. Since I was visiting Kenya and Tanzania I had the yellow fever vaccination and was allowed entry inside Tanzania.
In my opinion, it's better to have the vaccination when visiting Tanzania as well to avoid any issues at the airport.
Also Read: How to get a yellow fever vaccination in Bangalore
Which are the major airports for entry to Tanzania?
Kilimanjaro International Airport – Best for safaris and climbing Kilimanjaro
Dar es Salaam – Julius Neyere International Airport(JNIA) – Alternate for reaching Zanzibar
Mwanza Internation Airport – Best for Chimpanzee safaris
Abeid Amani Karume International Airport(Zanzibar) – Best for directly flying into Zanzibar
FAQ about Tanzania tourist visa
Q1. Do Indians get visa on arrival for Tanzania?
Ans. Yes, Tanzania is one of the few countries to provide visa-on-arrival facilities to Indians. In saying that, do remember to carry the necessary documents to be eligible to receive the visa on arrival.
Q2. How much is the Tanzania eVisa fee for Indians?
Ans. The Tanzania e-visa for a single entry is $50, which lets you stay for 30 days in the country over a validity of 3 months.
Q3. How long does it take to get a Tanzania visa for Indians?
Ans. It takes 7-10 business days for you to receive your Tanzania e-visa. However, it is recommended to apply well in advance before your planned travel dates to allow ample time for any unforeseen delays.
Q4. Where can I get a Tanzania eVisa?
Ans. You can directly apply for your Tanzania e-visa on the official Tanzania Immigration website: https://visa.immigration.go.tz/.
Q5. Can I enter Zanzibar with a Tanzania visa?
Ans. Yes, you can enter Zanzibar with a Tanzania visa, you have to specify Zanzibar as your port of entry if you're flying directly. Zanzibar is a semi-autonomous part of Tanzania and doesn't require a separate visa.
Q6. What documents are required for Tanzania eVisa?
Ans. These are the documents needed to apply for a Tanzania e-visa
Valid passport with 6 months validity

Return flight tickets

Hotel address
Q7. Which is better e-visa or Visa on Arrival?
Ans. In my opinion, it's better to apply for an e-visa as it takes the bare minimum time and saves you from all the trouble at the airport.
Q8. Is it safe to travel to Tanzania right now?
Ans. Unlike other countries in the region Tanzania comparatively is a very safe country and the locals there are very helpful and hospitable.
Q9. Is Tanzania worth going to?
Ans. After spending close to 3 weeks in Tanzania and exploring different parts of the region, I can confirm Tanzania is very underrated and should be on every wildlife lover's bucket list.
I hope this guide answers all your questions about how to get a Tanzania tourist visa. If you've any more questions about the visa or Tanzania you can add them below in the comments and I'll try my best to answer them!
Read other Zanzibar-related guides: