Kizimkazi Travel Guide: The Hidden Gem of Zanzibar
Are you planning to visit Kizimkazi as part of your Zanzibar itinerary and not sure what the place unfolds? This Kizimkazi travel guide will help you in exploring the hidden gem of Zanzibar.
Kizimkazi is an offbeat and hidden part of Zanzibar that not many tourists visit. Tourists generally prefer seeing the Stone Town, Nungwi in the north, or Paje & Jambiani on the east coast of the island!
Let's uncover what this part of the island holds!
Where is Kizimkazi?
Kizimkazi is a small fishing village, located in the southern part of the Zanzibar archipelago. Kizimkazi locally is also known as Kizimkazi Mkunguni or Kizimkazi Mtendeni.
What is Kizimkazi famous for
Kizimkazi in recent years has started to become a popular tourist destination for three main reasons
The Mkunguni beaches are some of the most beautiful beaches in Zanzibar and are only used by fishermen, thus they are still very pristine.

The current president of Tanzania Samia Suluhu Hassan is from Makunduchi, which is very close to Kizimkazi. That's one of the main reasons southern Zanzibar has started to pick up tourism and a lot of resorts are being built.

Kizimkazi is also famous for its dolphin tours, which might be the most unethical tour in all of Zanzibar. More on this a little later in the article.
What makes Kizimkazi so special?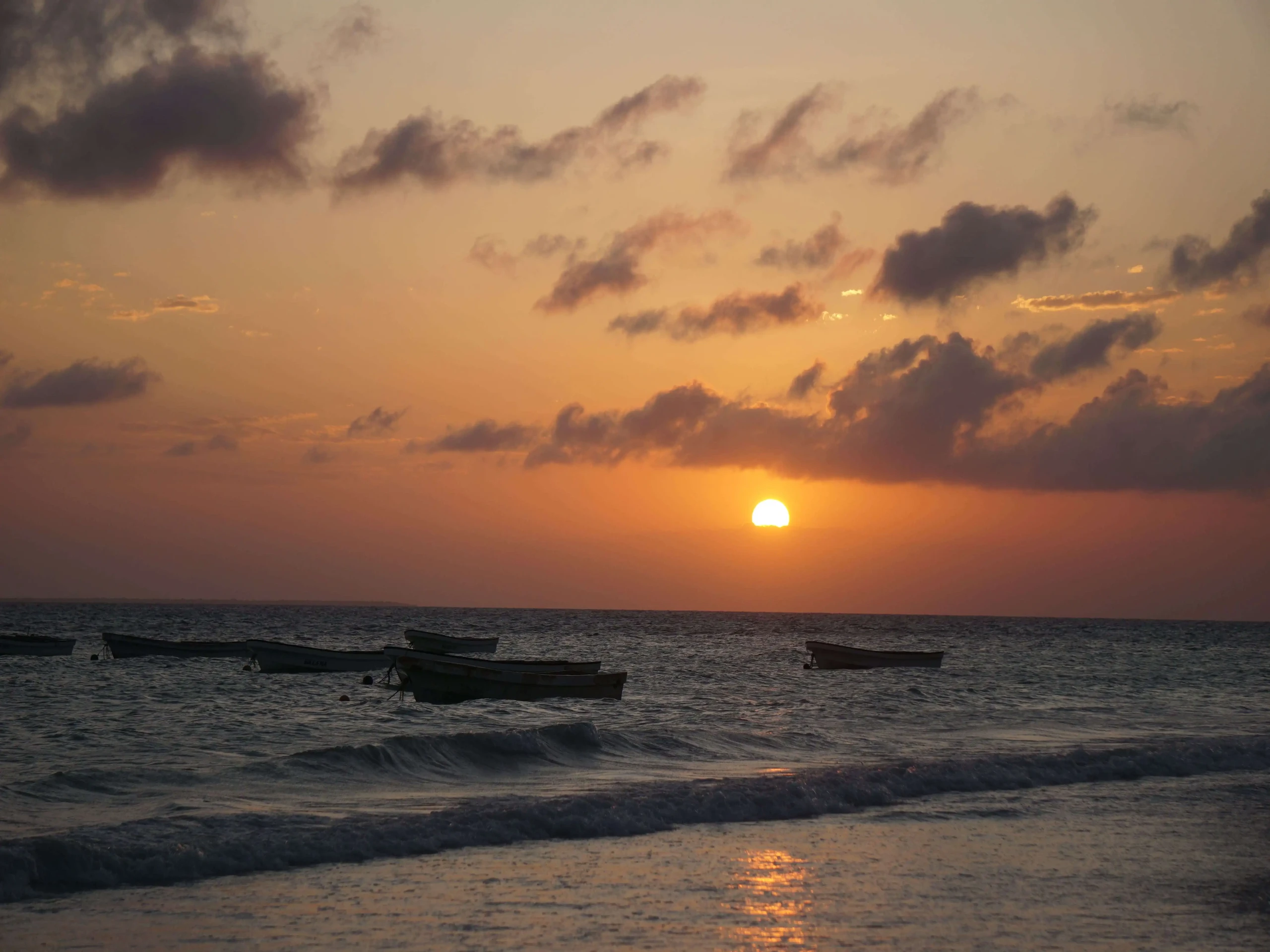 For me, Kizimkazi was that hidden gem where I barely saw any tourists. It was a perfect place to relax and enjoy the beauty and calmness of the place.
It was also special because of the place I stayed at called "Mama Root". The view as soon as you enter the property will make you fall in love with the place and you won't believe the breathtaking view of the sunset from just outside the property.
How to reach Kizimkazi
While Kizimkazi is tucked in the southernmost part of the island, it is very well connected to all the other parts with great roads.
It is close to 60 km from the Abeid Amani International Airport or the Stone Town and takes around an hour to reach there. 
You can either take a private taxi or dala dala to reach Kizimkazi.
By private Taxi
Here are the private taxi prices to reach Kizimkazi from different parts of the island:
Airport/ Stone Town to Kizimkazi: $50(~₹4,100)
Paje to Kizimkazi: $40(~₹3,300)
By dala dala
I traveled to Kizimkazi from Paje in the dala dala because I was traveling on a budget. I first took a dala dala from Paje to Kitogani and then another dala dala from Kitogani to Kizimkazi.
I did have to wait a lot at Kitogani because there are only a few dala dala that go to this part of the island. There are no dala dala after 6 pm so it's better to plan your journey before that
Paje to Kitogani: 500 TZS(~ 20cents or ₹16 )
Kitogani to Kizimkazi: 1000 TZS(~ 40cents or ₹32)
When is the best time to visit Kizimkazi?
Just like Zanzibar, Kizimkazi also has two main seasons to visit, Jun-Oct and Dec-Feb. The weather is generally sunny and dry during these months, making it an ideal beach destination!
My host at Mama Root also said that during December there are a lot of bigger fishing boats coming near the Kizimkazi shore for fishing and since there is too little wind the complete sea turns into a glass!
Since I visited there during July, it was a little windy but still a great time of the year to relax and enjoy the place!
May – Jun is the rainy season and not an ideal time to visit Kizimkazi.
How long to stay in Kizimkazi
The length of your visit depends on your personal preference. If I had the opportunity I wouldn't mind even spending a month there. 2-3 days would be an ideal time to spend in Kizimkazi as there's not much to do in this part of the island.
Where to stay in Kizimkazi
Unlike other parts of the island, Kizimkazi still has a limited number of places to stay. I stayed in just one property there and to be honest, it's one of the best places I have ever stayed at!
As soon as I entered the property, I was introduced to a beautiful beachfront and it was even special because it was almost sunset. Oliwia, the owner of Mama Root, has put in considerate efforts to keep the property sustainable.
What this means is she has used all the waste that the ocean leaves on the shores and upscaled it to use it as decoration or in other parts of the property. Unlike other hotels/resorts, the property doesn't have an open restaurant and only serves 3 meals! 
Since the property has limited rooms it gets sold out pretty soon, thus it's better to book your stay in advance! 
Price: $60/night(~₹5,000/night) and it's the cheapest place to stay with the best reviews on Booking.com
Website: Mama Root
Where to eat in Kizimkazi
I might not be able to give the best suggestions here because the majority of my meals were had at the Mama Root where I was staying. And the reason for that was because the food was so delicious!
The one other place where I went to eat in Kizimkazi is
Restaurant Stone Village & The Dream Garden Bungalow: This restaurant is 15-20 minutes away by walking from the main village and serves some great continental food. The route might be a little confusing so it's better to ask the locals around. 
Location: Stone Village Restaurant(Google Maps link)
Want to discover more about the local food of Zanzibar, find it here in this Zanzibar Street food guide
Things to do in Kizimkazi
Kizimkazi is a place for a peaceful getaway and it doesn't have many activities to try. I'm sharing with you some of the things you should not miss when in Kizimkazi:
Safari Blue(All Blue) Tour
Safari Blue, or what I like to call the All Blue Tour(One Piece reference), is a comprehensive day tour that includes a range of activities, from snorkeling and exploring mangroves to visiting a pristine sandbank, all while enjoying a delicious seafood lunch. 
The reason why I call this an all-blue tour is because one can see all the possible shades of blue in the water on this tour!
The reef is very untouched and makes for a great snorkeling spot. If you are lucky, you might spot dolphins and whales during this tour. Whales are only seen during their migration season which is generally July & August.
Safari Blue company first started this tour and named it after their own company name. The company does it in a dhow boat. Currently, you'll find a lot of companies doing this tour but Safari Blue is the original curator of this tour!
I booked this tour from Mama Root and to make it even more special they took me to a hidden lunch spot. If you want to experience the same, I would recommend booking the tour with them!
Price of the tour: $50/person(~ ₹4,100)
Go Swimming/ Snorkeling right outside Mama Root
The best part of staying at Mama Root is the beach is right outside the property and there is a reef that is very close to the shore and can be easily accessed during a low tide.
Even if you can't snorkel to the reef, it makes for a great place for swimming!
Kizimkazi also has the oldest mosque in Tanganyika(Tanzania + Zanzibar)
Why you should not take the dolphin swimming tour
You might wonder if the Dolphin swimming tour is the main reason one visits Kizimkazi or even Zanzibar and I'm saying you should not do this. It's mainly because of these two reasons
During the high season, you'll see 20-25 boats chasing the dolphins. The drivers don't care whether they hurt or cut the fins of the dolphins by accident.

When you swim very close to the dolphins you might assume them to be curious and friendly but they are signs of stress and disturbance.
Read more about why you should not swim with Dolphins here: Stephanie's Swimming with Dolphin experience
How can you do it ethically? It'd be to find a tour or guide that does not chase the dolphins
Conclusion
I got to know about Kizimkazi from my host in Stone Town and I cannot thank her enough for introducing this offbeat paradise to me. Kizimkazi for me was such a calm place with barely any tourists!
The trip was also special because of the hospitality at Mama Root! So if you plan to include Kizimkazi in your Zanzibar itinerary, you should consider staying at Mama Root.
If you are looking for more tips about the island you should read this Zanzibar Travel Guide & Paje Travel Guide.
Hope this guide helped you with your trip planning to Kzimkazi. If have you any more questions about Kizimkazi drop them below and I'll try my best to provide you with the details!