The Ultimate Travel Guide to Paje: Top Things to Do and See
Paje, also known as the kitesurfing hub of Zanzibar is located on the east coast of the island. But kitesurfing is not all the place has to offer. From exotic beaches to amazing nightlife, Paje has something for all types of travellers. This ultimate guide to Paje will ensure you the very best experience the destination has to offer!
Where is Paje?
Paje is an offshore village on the east coast of Zanzibar (or Unguja). It is a popular tourist destination with stunning white sand beaches and crystal clear waters. 
After travelling to quite a few countries, Paje tops the list of best beaches I have experienced. The place is suitable for adventure enthusiasts who like to kite or windsurf. 
It is an hour's drive away from the airport and Stone Town and is also famous for its nightlife.
Looking for more details about Zanzibar? Read this detailed Zanzibar travel guide
How to reach Paje
To reach Paje, here are a few options available based on where you're travelling from:
By taxi from different parts of the island
Paje is easily accessible from all the different parts of the island and you will be easily able to find a private taxi to reach here. Here are the approximate private taxi costs
Airport/ Stone Town to Paje: $50(~₹4,150) 
Kizimkazi to Paje : $40(~₹3,320)
Nungwi to Paje: $85(~₹7,000)
You can contact Amo Zanzibar Tours for your Taxi requirements!
Whatsapp: +255  774590020
Stone town to Paje by Dala Dala
If you are a budget traveller like me and travelling to Paje from Stone Town, you can also take the Dala Dala. Dala Dala is the minibus that runs on the island and is the cheapest mode of transportation.
To reach Paje from Stone Town, you will have to take multiple Dala Dalas. But travelling in them is an experience altogether. First, you take a dala dala from Stone Town to Kwerekwe Market/Centre and from there the next dala dala to Paje. 
You might have to wait because they only start moving once they are full. It took me close to two hours in the dala dala to reach Paje from Stone Town.
Stone Town to Kwerekwe market – 500 TZS(20 cents or ₹16)
Kwerekwe market to Paje – 2000 TZS (80cents or ₹65)
So the total trip only cost me 1$(~₹80) to reach Stone Town to Paje, it can't get any better than this. You will also be able to easily find the dala dala to all other destinations as they have the destination name written in front of them.
How long to stay in Paje
If you want to explore the places around Paje, 3 days is a great amount of time. If you are doing your kitesurfing session or PADI certification, 7-10 days would be an amazing time to soak in the sun and also get the hang of the activities!
Where to Stay in Paje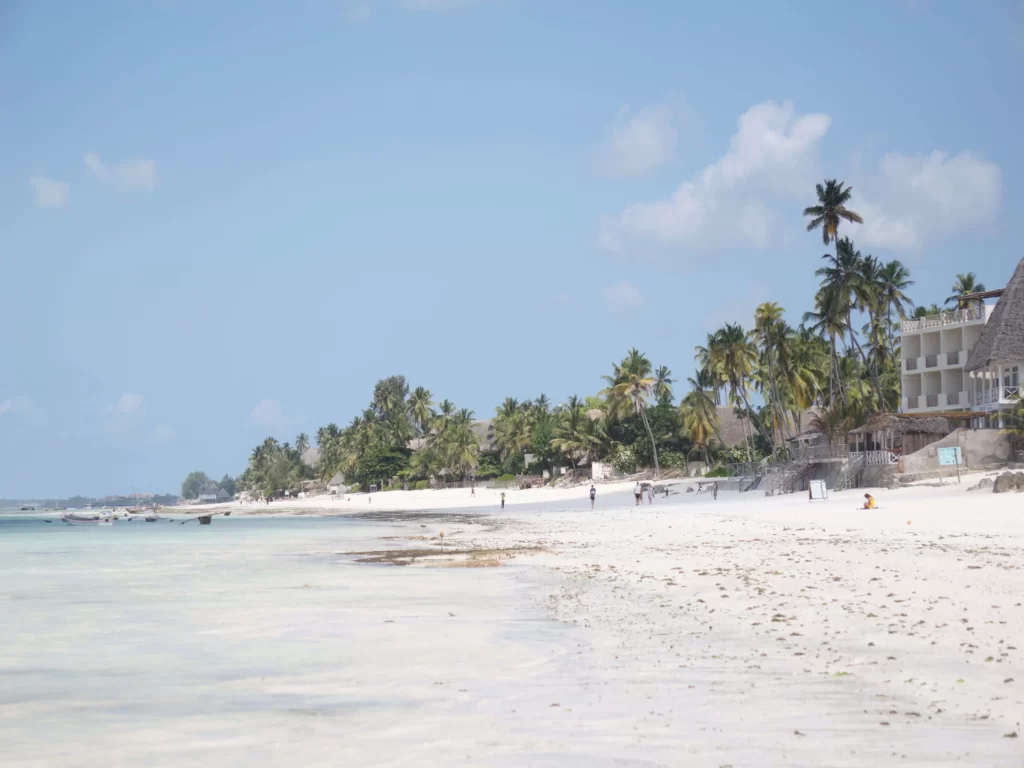 If you're travelling on a budget, I would recommend the Mambo Leo hostel which is a five-minute walk from Paje's main beach. The staff is really helpful and will help you with all the information you require about the place.
Another great spot amongst budget travellers would be New Teddy's Hostel, which is not really in Paje but in Jambiani. They have dorms starting from $20 and they have a pool as well. And the best part is their beachfront view where you can relax on your sunbeds!
If you're a couple or family or looking for something in the mid-budget range, I'd recommend Villa Kiota. They have amazing staff (I feel I can say this about the majority of the places I stayed at) and the food they serve is also very delicious. With the kind of services they offer for rooms starting at $50/night, this is a great deal!
How to get around Paje
Paje is well connected with all the other areas nearby like Jambiani, Makundichi and even Kizimkazi. The best way to get around Paje would be to hire a scooter as it gives you the freedom to do things as per your timings.
You can also rent a taxi if you are more in number. While the dala dala are the cheapest, you might not find them on all the corners of the island like the Mtende beach. If you are staying in Paje for more than a week, then the dala dala would be the most viable option.
Things to know before renting a scooter or self-drive car
An international driving license is not valid in Zanzibar thus you'll have to take a permit which will allow you to drive on the island

The permit can be obtained from the company you are taking the rental

You'll need to provide these two documents: Passport and Driving License(IDL) to the rental company to obtain the permit.

The cost of the permit is $10-15(~₹1,240)based on the company
Note: If you want to rent the vehicle on the same day, it might not always be possible because it takes time to obtain the permit!
I rented the scooter in Paje to see the places around and it was one of the best decisions!
Scooter rental Paje: Kapengaro Scooter Rent
Address: Kapengaro Scooter Rent, Paje
Contact: +255 777816589(Whatsapp)
Scooter cost: 20$/day(~₹1,660)
Things to do in Paje
Paje has some of the most beautiful white sand beaches and a lot of fun places to explore. Here is a list of some of the best things to do and see when in Paje:
Kitesurfing
One activity that you must try when in Paje is Kitesurfing. If you are an experienced kitesurfer, you are going to love the wind here. For beginners, you can find several schools offering kitesurfing sessions.
Ideally, if you are a new beginner, three days is a good time to get introduced to kitesurfing. 
I did enquire about a lot of schools and was happy with the information provided by B4 Kitesurf Paje, but was unable to join the classes this time. If you are looking for kitesurfing sessions, you can either contact B4 Kitesurf or the other schools offering lessons
Kitesurfing lessons: B4 Kitesurf
Whatsapp: (+255) 772 609 423
Kitesurfing Prices for 3 days session
Group: $395(~₹32k) for 9hrs and you share your kite with another person
Private: $450(~₹37k) for 6hrs of private lessons
Restaurant in the middle of the sea: Rock Restaurant
Have you ever been to a restaurant which lies in the middle of the sea? Well, you have the chance now! The famous Rock restaurant of Zanzibar is located in the middle of the sea and requires a boat to reach there. During low tide, you can also walk to the restaurant! A famous spot amongst the couples, the restaurant surely offers an amazing view while having your meals!
Before visiting the restaurant you'll have to make reservations, which can be done directly from their website.
Website: The Rock Restaurant
Timings: 12 pm – 2 pm (Lunch), 4 pm – 8 pm(Dinner)
Jozani Forest
Jozani Forest is the island's only national park and also one of the best places to spot the primates and wildlife of Zanzibar. If you're lucky, you might well spot the red colobus monkey(red-coated). 
A lot of tourists like to visit the Jozani Forest along with the Spice Plantation tour, but you can also visit the forest all by yourself.
Entry Fee: 25000 TSH(~₹830 or $10) or $12. It's better to pay in shilling or you end up paying the higher price in dollars.
Timings: 7:30 am – 5 pm
Beach Hopping
Paje is situated on the east coast of the island. The coastline stretches wide, offering a variety of different beaches to explore. Here are some of my favourite beaches from the trip
Paje Beach is famous for kitesurfing, swimming and soaking in the sun.

Jambiani Beach is an amazing white sand beach with little to no crowd.

Mtende Beach has to be the most beautiful and offbeat beach in all of Zanzibar. The beach is part of a reserve and thus has an entry fee of 2000 TSH. A great place to relax and soak in the sun! The beach is 30 km away from Paje.

Michamvi Kae Beach is the only beach close to Paje where you can spot beautiful sunsets. But it's not just the sunsets this beach is famous for. When you walk on the shores of the beach, it will also remind you of the Maldives because of its overwater bungalows.
Kuza Cave
Kuza Cave is a popular tourist attraction around Paje. It is a limestone cave formed over 1000 years ago and has the clearest turquoise water. The cave has fresh water, unlike the salt water on the beaches. 
The locals believe the water is therapeutic and helps in the healing of diseases. 
It also has a belief that after your swim if you make a wish, it just might come true!
The cave has entrance fees which helps the government school and the village!
Entrance fee Kuza Cave: $10(~₹800)
Note: You might see some tourists jumping in the water from the rocks nearby. Don't try this as it can be very dangerous!
Maalum Cave is another great cave to swim in but requires a reservation to enter as it is part of a restaurant. Maalum Cave is at a walkable distance from Paje. Make sure to make the reservations a day earlier as the spots get filled quickly
Entrance fee Maalum Cave: $20(~₹1600)
Safari Blue(All Blue)
This tour is done from Kizimkazi, but if you aren't travelling to Kizimkazi you can also ask for a pickup from Paje. It's a boat trip which includes snorkelling, visiting the sand bank and having amazing seafood there.
I also like to call this the All Blue tour because you end up seeing every possible shade of blue in the sea! This was such an amazing experience and was all worth the price! If you are lucky, you might well spot the dolphin or the whales (during the migration season). I did this tour with the help of my property Mama Root in Kizimkazi.
Safari Blue Tour Cost: $50(~₹4,100) + Transportation Cost from Paje (The larger the group size, the cheaper the tour will be)
Another tour which is famous in Paje is the dolphin watching and swimming tour. I didn't want to do this tour myself because it wasn't done ethically and was hurting the dolphins. 
What happens on this tour once a boat driver spots the dolphins, they start chasing them and in doing so they end up hurting the dolphins by going too close with their boats and damaging their fins.
 You shouldn't also swim too close to the dolphins as it's not safe for both the dolphins and us. If you want to do it ethically, try not to swim too close to them and chase them!
Planning to visit Kizimkazi? Read this detailed Kizimkazi travel guide which will answer all your queries about the place
Scuba Diving
Zanzibar is also famous for scuba diving. Whether you are a beginner or experienced, Zanzibar has a lot of different sites to explore. With its crystal clear turquoise water and vibrant marine life, it offers a memorable experience and is a must-do activity when in Paje.
Where to eat in Paje
Paje offers a variety of dining options from local street food to some amazing dining restaurants. Whether you are looking for local Zanzibar cuisine, seafood, international dishes, or even vegan options, you will find a restaurant that suits your needs. 
Here is a list of places you can visit in Paje for some amazing food
Africana BBQ

Chamu Restaurant

Sativa Cafe

Lecker Lecker Restaurant

Paje evening street market for local street food

Panyopa Restaurant
Want to know what local food to try? Read this Zanzibar local cuisine guide
Paje Travel Tips
You will need a Type D or Type G travel adapter when travelling in Zanzibar.

There are very few ATMs around Paje though the majority of the places do accept US dollars. If you are travelling from Stone Town, it's better to get some money exchanged there as the conversion rate is not significant in Paje.

Paying in local currency will be cheaper than paying in US dollars.

You might find some beach boys wearing Maasai scarves trying to sell you souvenirs, it's better to say no if not interested!

The majority of the accommodations have mosquito nets but it's always better to carry your mosquito spray.

Don't forget to carry sunscreen with you.

At night, it's better to not walk around the beach by yourself as it is not as safe as Stone Town.
Frequently asked questions about travelling in Paje
Q1. Should I stay in Jambiani or Paje?
Ans. If you are looking for an active nightlife, I would recommend you to stay in Paje. If you are looking for a calm and quiet place to relax, Jambiani is your best option.
Q2. How safe is Paje?
Ans. Paje is considered a relatively safe area in Zanzibar, but it's better to not go around the beach by yourself during the night.
Hope this Paje comprehensive travel guide helped you with your trip planning. If have you any more questions about Paje or Zanzibar, drop them below and I'll try my best to provide you with the details!