The Ultimate Zanzibar Travel Guide For First-Time Visitors(2023)
Are you planning your first trip to the beautiful island of Zanzibar? With its stunning white sand beaches, crystal clear turquoise waters, rich history, and vibrant culture, it's no wonder that Zanzibar is becoming an increasingly popular destination for travelers. After spending a little more than a week on the island, this comprehensive Zanzibar travel guide will help you plan a memorable and hassle-free trip to Zanzibar.
The guide will cover Stone Town, the east coast, and the south coast of Zanzibar. Yes, Nungwi or northern Zanzibar is not included because I felt it was very touristy and was packed with resorts. Read till the end to know all the top tips and places you should not miss when in Zanzibar.
Where is Zanzibar?
Zanzibar is not an island, it's an archipelago located off the coast of East Africa in the Indian Ocean. Zanzibar is a semi-autonomous region and is part of the United Republic of Tanzania. The archipelago mainly consists of two big islands, Unguja and Pemba. 
Unguja, the main island, is informally known as Zanzibar. Zanzibar is located 25 – 30 km away from the mainland of Tanzania. Zanzibar is also referred to as the spice island because of its rich cultural history and demography.
Whether visiting before or after your Tanzania safari, this tropical island is a great spot for all kinds of travelers: budget, luxury, or couples!
History of Zanzibar
Zanzibar was a strategic trading hub, attracting merchants from all over the world. Arabs, Persians, Indians, and Europeans all left their mark on the island, shaping its culture, economy, and society.
Zanzibar became an important center for the spice trade in the 19th century, particularly for cloves. It was also a major slave trading post during this time. In 1964, Zanzibar gained independence from British colonial rule and later merged with Tanganyika to form the modern-day country of Tanzania.
Is a Visa needed to visit Zanzibar?
As I mentioned earlier, Zanzibar is a semi-autonomous region of Tanzania. Thus, having a Tanzania visa also permits you entry to Zanzibar. No separate visa is needed for Zanzibar.
You can apply for the Tanzanian eVisa at the official website here: https://visa.immigration.go.tz/.
The visa grants you 90 days of entry to Tanzania and Zanzibar and costs $50. It usually takes a week for the visa to get processed.
Likewise, you can also get a Visa on arrival to Tanzania for which you need to make the payment in US Dollars, it's the same as that of eVisa. You can check the list of countries that are granted visas on arrival here.
The best time to visit Zanzibar
Zanzibar has two main seasons one can visit. The first one is June-October, which is the dry season on the island and is also famous because of the tourists coming to Tanzania to experience the Migration safari! At this time of the year, it's generally sunny and dry, making it ideal for enjoying the beautiful white sand beaches. Late July is also a great season to visit Zanzibar because it's also the migration season of the humpback whales, so who knows, you might get lucky spotting them.
The other popular tourist season to visit Zanzibar is from December to February. The weather is perfect, with temperatures ranging from 26 to 30℃ and a pleasant breeze. In the southern part of the island, specifically Kizimkazi, you'll find a true paradise. The ocean is calm and serene, with hardly any breeze, creating a unique experience of walking on glass-like water.
To visit Zanzibar when it's least crowded, go between March and May. This is when the island gets its share of rain, but it also means lower prices for accommodations and activities. It's a great option to travel to Zanzibar on a budget.
How to reach Zanzibar
You can reach Zanzibar either by flying to the island or taking a fast ferry.
Fly to the island
If you're coming from outside of Tanzania, the fastest option to reach Zanzibar is to fly to the Abeid Amani Karume International Airport. Many airlines have direct flights to Zanzibar, or you can also take a flight to Dar es Salaam and take another domestic flight from there.
Take a ferry from Dar es Salaam
You can also reach Zanzibar by taking a fast ferry from Dar es Salaam. This is the cheapest way to reach Zanzibar. The ferry is super comfortable and air-conditioned. The ferry takes 1hr 45 mins from Dar es Salaam to reach the port of Zanzibar. Ticket prices for the economy seats are as follows:
Economy seats 
 Residents                                                          
Adult – 30,000 TZS                                       
Child – 25,000 TZS                                       
Tourists
Adult – 35 USD
Child – 25 USD
The economy seats are the cheapest tickets, and the price only goes upwards from there.
You can book your ferry tickets at no extra cost directly from the ferry website: https://azammarine.com/
Here are also the boarding and dropping points in Dar es Salaam and Zanzibar:
Dar es Salaam: Azam Marines & Kilimanjaro Fast Ferries
Zanzibar: Zanzibar Port (walking distance from Stone town)
The best part is while on my way back from Zanzibar to Dar es Salaam on the ferry, I saw the whales (at the end of July).
Note: You will find many people trying to help you with the bag once you have collected your tickets or on the way to the ferry. It's better to say no to them because eventually they'll ask you for money. 
What is the currency in Zanzibar?
Zanzibar, like Tanzania, uses the currency Tanzania Shilling (TZS). The majority of hotel and activity prices will be quoted in dollars. If you're going to a restaurant or a coffee house, you might see prices in the local currency.
The majority of the places accept the cards for payment but they'll also include a 3-5% surcharge. Another great alternative is to get your dollars converted to the local currency. Now, the bigger problem I faced when looking for money exchange while I was staying in Stone Town was that none of them were highly rated. I asked my host, who helped me by pointing to a local shop, which gave me the best rates for dollars.
The current currency conversion rate stands at 1 USD ~ 2500 TZS.
The location of the shop in Stone Town: Suma Store
 You need to ask for the Suma store once you reach the location, it's a clothes shop, once you have reached there you need to get to the 3rd floor and ask for money exchange.
In the other parts of the island as well you might be able to find money exchanges but the exchange rate wouldn't be that great, so it's best to get it exchanged in Stone Town
You can also withdraw cash from the ATMs around the island but those too have high withdrawal fees.
KCB and DTB were the only bank ATMs that had no withdrawal charges
Which language is spoken in Zanzibar
Swahili is the national language of Tanzania and Kenya which is also spoken in Uganda, Rwanda, and a few other countries. It has a lot of similar words from Arabic, English, Portuguese, and German. Swahili is also said to be one of the easiest African languages for English to learn. I mean you already know 'Hakuna Matata' from The Lion King which is a Swahili phrase for no worries.
Here are a few other words that you should know to have an even more memorable trip and to interact with the locals!
Jambo/Habari – Hello
A reply for Jambo would be Jambo and a reply for Habari would be Nzuri which translates to Everything is fine
Mambo/ Mambo Vipi – How are you?/ How are you, my dear? (Generally said by the youngsters or people of the same age)
When someone says Mambo you can reply with Poa – Which means cool
Asante/ Asante Sana – Thank you / Thank you so much
Karibu/Karibu Sana – Welcome/ Very Welcome
Using sana at the end of Asante or Karibu is a form of respect and how happy you are or when referred to many people
Rafiki – Friend
Sawa – OK (I got used to saying Sawa so much that the locals appreciated it)
Pole pole – Slowly slowly, there's also a famous proverb "Pole Pole, No hurry in Africa"
Hakuna Matata – No Worries (Almost 90% of the tourists know this phrase because of the Lion King)
Hii Ni Mboga/Kuna nyama kwa hii chakula – Is this vegetable?/Is there meat in this food?
Pili Pili/ Yenye Viungo – Spicy
Sitaki asante – I don't want, Thank you
Tutaonana Baadaye – See you later
Which sim card to get in Zanzibar
You can either opt for Tigo(previously Zantel) or Airtel Sim for having decent coverage throughout the island. The process is very simple. All you have to do is carry your passport to the center and they'll do the remaining work for you. 
I chose Tigo, and the packages start at 2000 TSH for 1 GB of Data for a week. I chose a monthly package worth 25000 TSH [~10$] (20k for the data and the remaining 5k for the sim) which gave me 10 GB of data for a month! Airtel also costs similar to Tigo. Below is the price sheet for Tigo for reference. 
You will find a lot of smaller shops selling SIM cards but it's always better to take them from the registered center.
Address: Tigo Registered Centre
How many days are enough for Zanzibar?
Zanzibar might seem like a small island but has an area of 2461km². It depends on a personal preference as to how many days one wants to spend. If you are coming to Zanzibar after your safari, 3-4 days is an ideal time to relax and explore some parts of the island.
If you want to experience all the 4 corners of Zanzibar 7- 10 days is an ideal time where you can spend 2-3 days in each part. It is also ideal if you want to get your scuba certification or want to learn kitesurfing! You can relax on the beaches and go for other activities like snorkeling, swimming in freshwater caves, looking for primates in the Jozani forest, learning about the spices on the farm tour, or heading to Prison Island to see the tortoise!
Where to visit in Zanzibar
As I mentioned earlier, Zanzibar is not a small Island, thus knowing exactly what lies in each part would be a great way to decide how much time you want to spend on the island and where you want to stay.
Stone Town (West of the island)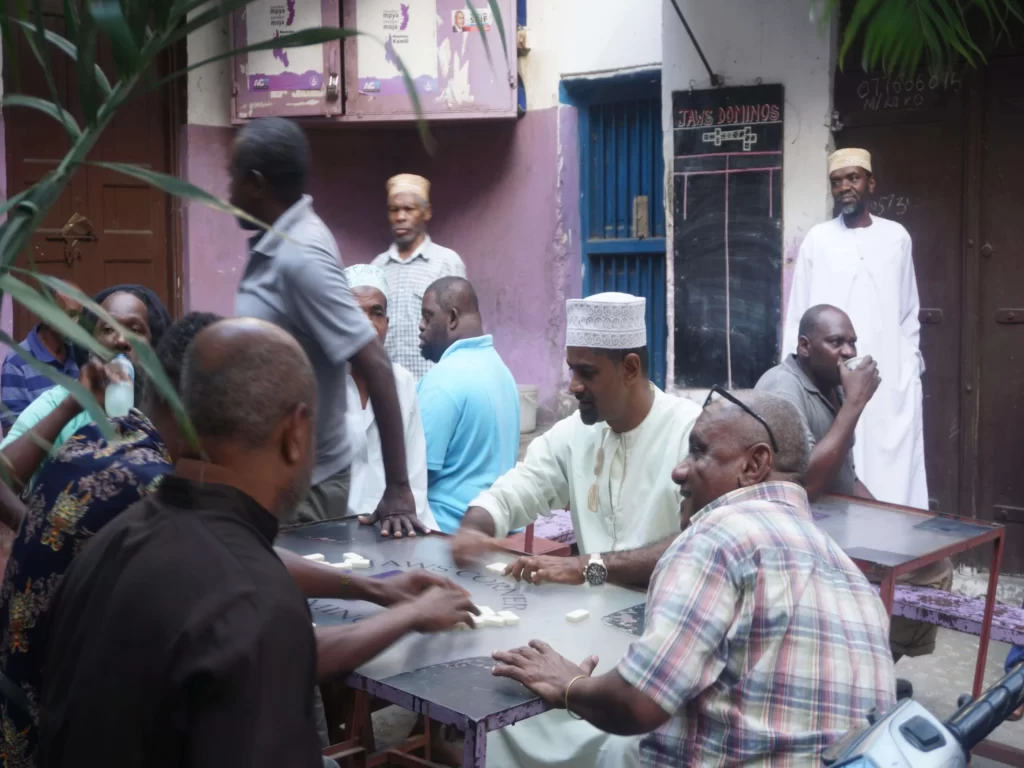 The Stone Town is the old town of Zanzibar City, which was also the hub of trading! It's best to go around Stone Town on foot to see the old buildings and experience the local food. The Old Fort and the slave market are some of the most prominent sites to not be missed when in Stone Town. 
You should also visit the Zanzibar Coffee House or Swahili House, which are some of the tallest buildings and give you a 360° view of Stone Town. During the evening, you should head to the Sunset jump spot, where you'll find a lot of locals doing acrobatics and jumping in the water. After which you should try the street food at Forodhani Market. I  highly recommend trying the Urojo and Zanzibar pizza at the night market.
For all the things to do in and around Stone Town, head to the section of Things to do in Stone Town
Paje & Jambiani (East of the island)
Paje and Jambiani are two villages that fall on the east coast of the island. Paje, the more popular among the two, is a famous hotspot for kitesurfing. If you are seeking to have a calm and relaxing vacation, you should stay in Jambiani. 
Both these places are known for long stretches of white sand beaches and blue turquoise waters!
Heading to Paje? Read the detailed Paje travel guide
Kizimkazi(South)
Kizimkazi, or what I like to call the offbeat gem of Zanzibar. This place is famous because the current president of Tanzania is from Kizimkazi. While there are not a lot of resorts in Kizimkazi, it's the most peaceful place in all of Zanzibar, where you can just enjoy the views by relaxing on your sunbed or while reading a book.
Read more about the hidden gem of Zanzibar in this Kizimkazi guide
Nungwi(North)
While I didn't go north of Zanzibar, Nungwi is one of the most touristy places in all of Zanzibar, famous for a lot of activities like snorkeling and scuba diving. Nungwi is also famous for its vibrant nightlife, with numerous beach bars and clubs. If you are in Nungwi, you should head to Kendwa Beach for a beautiful sunset.
How to get around Zanzibar
Getting around Zanzibar is relatively easy and can be done through various modes of transportation. The most common way is to rent a taxi or hire a private car, which gives you flexibility but is also hard on your pocket. 
If you are on budget you can take the local dala dala, which are small buses that run everywhere around the island. There is no fixed time for the dala dala, and they only start once they are full. But they are really cheap and super fun to travel with as you can interact with the locals.
There are also smaller dala dala, which run for shorter distances. You can also rent boda boda/ piki piki which are bike taxis, and the easiest mode of transport but not suitable for longer distances.
Here are the approximate prices for private taxis around the island
Airport to Stone Town – US$ 20
Airport / Stone Town to Nungwi – US$ 60
Airport / Stone Town to Paje – US$ 50
Airport / Stone Town to Kizimkazi – US$ 55
Paje to Kizimkazi – US$ 40
Paje to Nungwi – US$ 85
You can contact Amo Zanzibar Tours for your Taxi requirements!
Whatsapp: +255  774590020
Driving by yourself in Zanzibar
The international driving license is not valid in Zanzibar thus if you want to drive by yourself, you need to have the Zanzibar driving permit. This can be arranged by the company you are renting your car or scooter from.
To obtain the permit you need to provide these two documents
Driving License

Passport
The Zanzibar driving permit costs 10$-$15 but you need to provide your documents in advance so that you can get the permit once you are renting the vehicle. It takes a day for any company to arrange the permit, so if you want to rent a vehicle the same day it wouldn't be possible. Please make sure to ask the company a day in advance at least.
I rented the scooter in Paje and that was the best decision to see the places around, the scooter cost: $20/day
Scooter rental Paje: Kapengaro Scooter Rent
Address: Kapengaro Scooter Rent, Paje
Contact: +255 777816589(Whatsapp)
The cost of renting a car starts from $25/day by Zanzibar express car hire, since I didn't rent a car myself I would suggest you check all the details before renting a car!
Where to stay in Zanzibar
The best part about Zanzibar is you can find accommodation for all budget types. Are you looking for a hostel or a top-notch all-inclusive resort you will find all of them here. Here are a few suggestions of the places to stay in different parts of Zanzibar:
Places to stay in Stone Town
Shoki Shoki Hostel: Best for budget travelers and dorms starting from 10$
Caravan Serai Amour: Right in the heart of Stone Town, Caravan Serai Amour is the perfect place to stay when in Stone Town. Noreen, the owner is very hospitable and the property has the best breakfast! They also provide tours all around Zanzibar, thus this is the perfect deal for mid-budge travelers. The price of the accommodation starts at $25/night.
Currently, the property is available on Airbnb and you can find all the booking links below
– Asmini Room
– Tabasamu Room
– Furaha Room
– Upendo Room
Places to stay in Paje
Mambo Leo Hostel: The best budget accommodation to stay in Paje with the best hospitality. The staff is really helpful
Villa Kiota: A mid-budget property in the heart of Paje with the best services and very close to the beach as well. The rooms start at $50/night
Places to stay in Jambiani
New Teddy's On the Beach: This is a relatively new property but with an amazing beachfront view of Jambiani Beach. They have an amazing pool and very ambient property. The best thing is they also have a dorm option which starts at $20/night. If you are looking for a property that is away from the crowd on the East Coast then New Teddy's is the best option
Places to stay in Kizimkazi
Mama Root: I had the most amazing experience staying at Mama Root! Kizimkazi is the perfect place to unwind and do absolutely nothing. The property offers stunning beachfront views and serves delicious food. Oliwia, the owner, has done an incredible job of upcycling and recycling waste from the ocean to enhance the property's sustainability. The rooms start at $60/night
Best things to do in Zanzibar
Zanzibar offers a multitude of exciting activities and attractions for visitors to enjoy. From pristine white sandy beaches to vibrant coral reefs, there is something for everyone in this tropical paradise.
Things to do in & around Stone Town
Take a walking tour or walk around by yourself in Stone Town

: Stone Town itself is a UNESCO Heritage site, which has some prominent sites like the Slave market, Anglican Church, and Old Fort. A lot of other important buildings are under construction!

You can also find the famous Freddie Mercury house, which has now been turned into a museum!

Forodhani Market

: You should visit the Forodhani market in the evening to try some of the best street food in Zanzibar.

Prison Island Tour & Nakupenda Sandbank trip

: Prison Island or Changuu Island is a 30-minute boat trip from Stone Town. Here, you can see the prison that was used for the slave trade. The island is habited by some of the oldest tortoises and thus is also called Tortoise Island. After this, you can also enjoy some sun on the Nakupenda sandbank which is only visible during low tide.

SUP along the Stone Town

: This is a very offbeat experience where you can Stand Up Paddle along the coast of Stone Town during sunset. It gives an amazing view of Stone Town and also the boats coming back to the dock after the day's shopping!

Spice plantation/farm tour

: This tour gives you a lot of insights into the spice plantation of Zanzibar and also how Zanzibar was a spice trading hub!

Visiting the Jozani forest: This forest, situated in the center of the island, is a great spot to spot the primates and wildlife of Zanzibar. If you are lucky, you will also be able to spot the red colobus monkey.
Things to do in and around Paje and Jambiani
Kitesurfing: If you are in Paje, you should try kitesurfing. You will find several schools that also provide introductory classes, or if you already know kitesurfing, you can rent the equipment!
Renting a scooter and driving along the East Coast: The best way to explore the East Coast is by renting a scooter. The roads are really beautiful and at times, you are driving right on the coast with amazing views
Visiting the Rock Restaurant: What makes this restaurant unique is it's right in the middle of the ocean and you need a boat to reach it, though during low tide you can also walk barefoot to the restaurant. The restaurant is a great spot for couples who want to enjoy their evening with the best views of the ocean!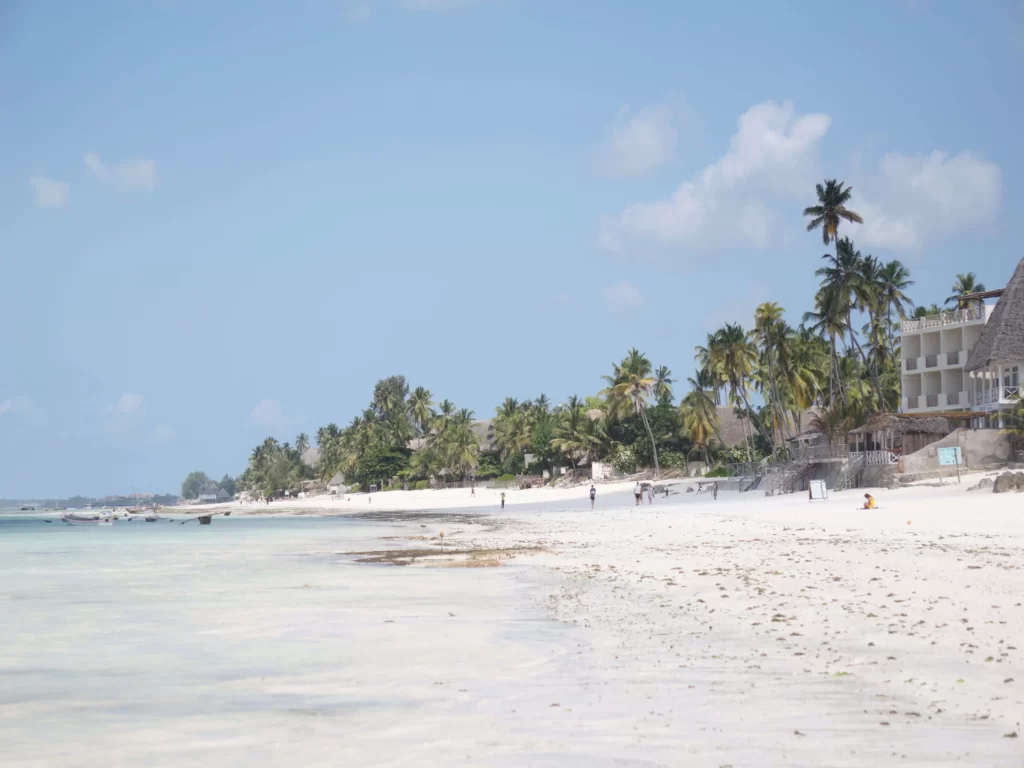 Beach hopping: While you might think it's the same coast, how much can the beach vary? Trust me, each beach has its specialty, and these are some of the beaches you should head to:
– Paje Beach for Kitesurfing
– Jambiani Beach for long stretches of white sand beaches with little to no crowd
– Makunduchi Beach – The beach is a little far from Paje and has the same amazing beachfront views
– Mtende Beach – The most beautiful and offbeat beach in all of Zanzibar
– Pingwe Beach – This is the beach where The Rock Restaurant is situated
– Michamvi Kae Beach for beautiful sunsets
Kuza Cave: Kuza Cave is an incredible limestone cave boasting crystal clear turquoise fresh water, making it a must-visit destination. Swimming in the cave is an incredibly therapeutic experience, and according to local belief, if you make a wish after your swim, it just might come true! So, go ahead and take a chance – who knows what magic awaits you?
Scuba Diving: With its crystal clear turquoise waters, vibrant coral reefs, and diverse marine life, Zanzibar is a great spot for diving lovers. Divers can witness a truly mesmerizing underwater ecosystem. Whether you are a beginner or an experienced diver, Zanzibar provides a wide range of dive sites suitable for all skill levels.
Things to do in and around Kizimkazi
Safari Blue: This is a complete day tour where they first show you around the mangroves and then take you snorkeling. The water is very clear, and you can spot a lot of fish and reefs! After this, they take you to a sand bank and cook a special seafood lunch for you there. The whole tour is an amazing experience and, if you're lucky you might also be able to spot either dolphins or whales on your way back.
The tour was started by the company Safari Blue and hence they named it after their company. These days everyone has started to offer this tour
Mtende Beach: Mtende Beach is under a reserve park thus, there is an entrance fee to the beach. It's a low-tide beach, so make sure you check the tide timings. You can also go snorkel here during the low tide!
What to eat in Zanzibar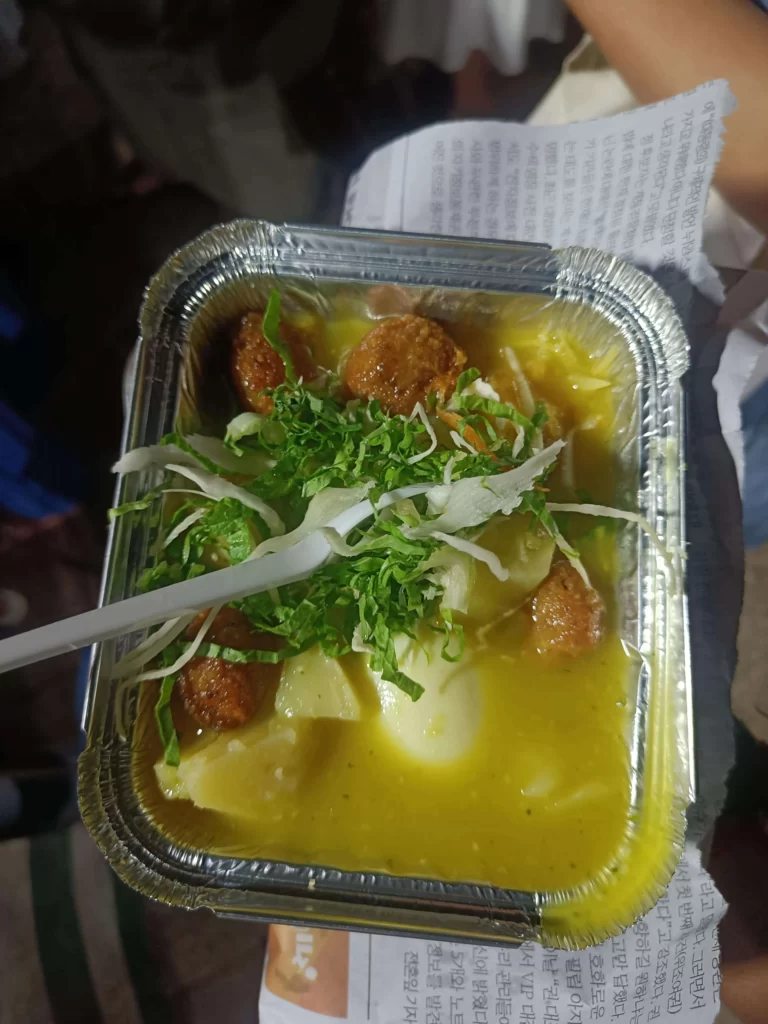 When it comes to food, Zanzibar offers an abundance of different food items influenced by Arab, Indian, and European cuisine. The street food is something you can not miss when in Zanzibar. Here is a list of local dishes which you must try when in Zanzibar
Zanzibar Pizza – Not really an authentic pizza, made by filling a dough with veggies and minced meat with eggs and spices and then fried on the pan
Urojo – A popular street food that originated in Zanzibar. It is a flavourful soup with potatoes, meat, and different spices garnished with manioca crumbs and coconut chutney
Mandazi – Deep fried doughnut to be had as a snack or with tea
Chips Mayai – Omelette made with chips (French fries)
Zanzibar Pilau – Fusion of Swahili, Indian, and Arab influences resulting in a blend of spices mixed with rice.
Wali Na Maharage – One of the staple dishes of Zanzibar, this dish is rice with beans and spinach with either meat or fish on the sides. Super healthy and fulfilling!
Places that you should not miss for trying out the best food in Zanzibar
Lukmaan Restaurant – Stone Town

Forodhani Night Market – Stone Town

Seven Spice – Stone town

Africana BBQ – Paje

Panyopa Restaurant – Jambiani

Mama Root – While they don't have a full-time restaurant and only cater to the guests staying at the place, all the meals here are super delicious and with a hint of local touch.
Here is a complete guide to what local foods to try in Zanzibar. Where I have explained all the local street foods and some authentic dishes you should not miss when in Zanzibar
What not to do in Zanzibar
As much as you know what are the best things to do in Zanzibar, here is a list of a few things you should avoid!
Do not dress inappropriately in Stone Town and near religious sites:

Since Islam is the most prominent religion on the Island, around 99% of the islands are Muslim. While you are in Stone Town or near religious spots, it's very important to wear appropriate clothes and cover yourselves!

Go swimming with dolphins

: Yes, I know this is one of the biggest attractions in all of Zanzibar. But because of such high demand, the boat drivers and the companies have stopped caring about the dolphins. Almost every company operates a swimming with dolphins tour, and in doing so, they end up harming or chasing the dolphins and in the end, also injuring the dolphins and cutting their fins! Thus, if you want to see the dolphins, see them from afar without harming them or swimming with them!

Cheetah's Rock: I was excited to discover Cheetah's Rock in Zanzibar, a conservation center where they have been rescued from sad circumstances and are being rehabilitated. I wanted to visit this place and after reading their reviews on Google wanted to figure out more before I paid for the tour.


When I spoke to their office, they didn't provide me with any information about how many animals have been sent back to the wild, and they were more keen on me making the tour without providing all the information I was looking for. From the reviews, this seems more like a zoo where you can get photos taken with the animals.

Don't drink tap water

: Tap water is not safe for drinking in Zanzibar, and it's better to use bottled water, which is easily available in all places! 
Is Zanzibar expensive?
Zanzibar can be considered an expensive destination mainly because of the cost of reaching the island. It is very much possible to find budget-friendly accommodation and local food is inexpensive, while the prices in luxury resorts and restaurants can be higher. Activities too might be a little expensive when compared to Southeast Asia.
Is Zanzibar safe?
As much as the media portrays Africa as not a safe place to travel, I was shocked to see it was quite the opposite. People were very friendly and helpful, and at no point did I feel unsafe around them.
Stone Town in general is safe even at night and there are cameras around the town to keep you safe. You have to be a little more careful it is not advised to go alone at night in Paje or Jambiani or for that matter, any other part of the island!
Be careful of the beach boys who dress up as Maasai and might not even be real Maasai!
Overall, I would say Zanzibar is safe, but you also have to be cautious yourself.
Tanzania beyond Zanzibar
Tanzania has a very diverse landscape, and while Zanzibar has these stunning white-sand beaches, there are other things you should visit when planning your trip.
Hiking the MT Kilimanjaro – Top of Africa

Hiking the only active volcano in Tanzania – Ol DOinyo Lengai

Planning a wildlife migration safari in Serengeti

Seeing different wildlife in Ngorongoro Crater & Tarangire National Park

Seeing the chimpanzees in Gombe National Park

Diving in Mafia Island
Zanzibar travel tips to help plan a memorable trip!
Ferry is an alternate cheap option to travel to Zanzibar.

You will need a Type D or Type G travel adapter in Zanzibar.

Don't wear inappropriate clothes in Stone Town or near religious sites

To see the baobab trees which are the thickest in the world and also try the Mabuyu seeds

Do not take SIM cards from random strangers posing as staff outside your accommodation

 Do walk on your own around StoneTown to see some of the old architecture and doors

While renting a vehicle do know you will need a vehicle permit and it's better to rent 2-3 days in advance

While the majority of the properties have mosquito nets, don't forget to carry your mosquito repellent spray/ cream

Don't drink water directly from the taps, it's better to get bottled water
Hope this ultimate guide helps you in planning a memorable trip to Zanzibar. If you have any other questions you can directly reach me on Instagram – stories.of.raku
FAQs about Zanzibar travel
Q1. Is Zanzibar cheap or expensive?
Ans. Zanzibar is suitable for all budget travelers, and while the flights to reach Zanzibar might be expensive you can still find budget accommodation. Local food is again really inexpensive and delicious
Q2. What is the best time to visit Zanzibar?
Ans. There are the best windows to visit Zanzibar, the first from Jun-Oct and the next from Dec-Feb, during both these periods there is less to no rain in Zanzibar which makes them the best seasons to visit this tropical paradise
Q3. Is 7 Days enough for Zanzibar?
Ans. 7 days are more than enough to explore some of the most prominent places on the island like Stone Town, Paje and Kizimkazi
Q4. What is the best side of Zanzibar to stay?
Ans. According to me, Kizimkazi is one of the best areas to stay in Zanzibar, if all you are looking for is relaxing around
Q4. Is malaria high risk in Zanzibar?
Ans. Malaria is at an all-time low currently in Zanzibar but this does not mean that we should not take precautions. It's best to always carry a mosquito repellent spray with you also consult your doctor about pre-medication for malaria.
Q5. Is Zanzibar worth the hype?
Ans. Yes, without a doubt! Zanzibar has some of the most beautiful white sand beaches around the world and with amazing local cuisine, everyone should visit it at least once!
Q6. What are the disadvantages of tourism in Zanzibar?
Ans. Tourism has been growing a lot in Zanzibar in the last 10 years and due to this, resorts are being built in almost every corner of the island. Waste management is something that needs to be controlled before over-tourism starts destroying the place and habitat around it!
Please know this post may contain affiliate links. When making a purchase through one of my links, I earn a small commission at no extra cost to you and it's a big help to keep the site up and running. Rest assured, I only promote products and services that I personally use and recommend.